PRESENTED BY FIJI WATER – SHARE YOUR OWN #HOMETOWNGUIDE HERE
Chris showcases the best of Long Island City, even if it is off the beaten path.
By Chris Cockren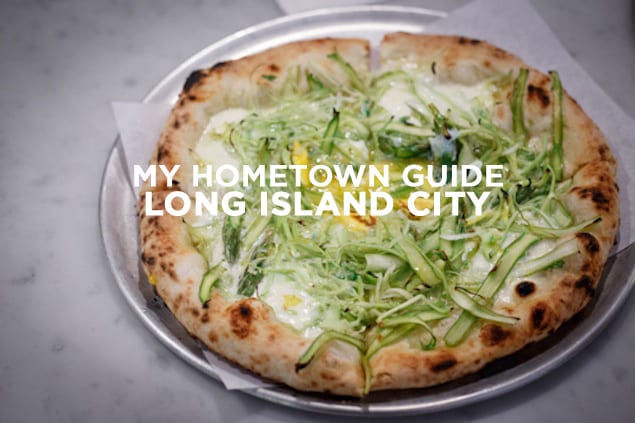 Long Island is pretty awesome. I've lived here all my life. It's both close enough and far enough from the city at the same time. It's my home.
A lot of my friends know me as "the food guy". Hey, where can we go out to eat? I want to take my wife out… what's a good restaurant around? Now full disclosure: typically when Asheley and I want to go out and eat, we head to the city. It's our "thing". Date night for us is a drive to the city and eating. Period.
But there are 5 favorites I have here on Long Island. Five places that I consistently go to for some seriously good food (2 of which are home of my all-time favorite meals ever). And sure, the city is totally great, but it's not my hometown.
You know that Ricky Martin commercial where he says "Welcome to my Puerto Rico." Haha, yup…
Welcome to my Long Island (complete with Long Island accent please).
If you asked me what I would want as my final meal on this planet, it would be a tie between Raan Thai and Noor Food. And it's funny, because the naive version of myself a few years back would have easily picked an upscale, fancy schmancy type place. It would have been the choice that would try to impress other people through my advanced palate, impeccable tastes, and adventurous eating excursions. But fast forward a few years, and I just want great food. Who cares if it's not getting picked up by every media outlet and being deemed trendy, hot, or the place to eat right now. Who cares if it doesn't have any awards or accolades. And who cares if it's off the beaten path in a sketchy strip mall (and really, often times those are the best places, anyway).
1. Raan Thai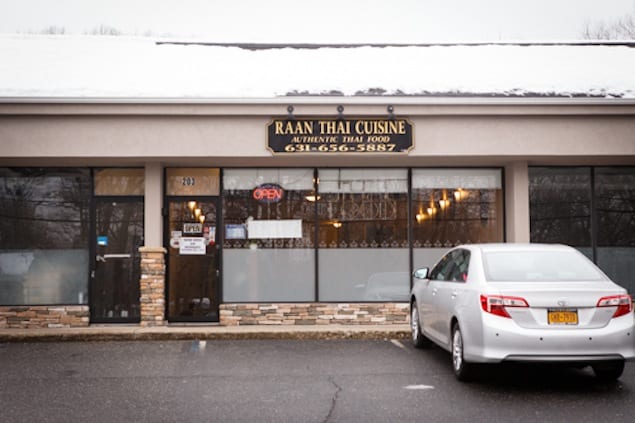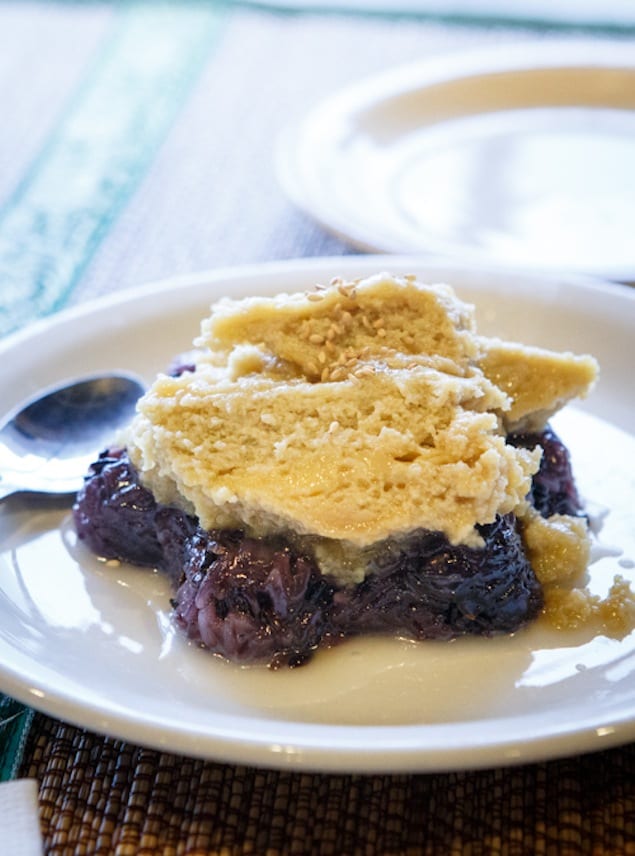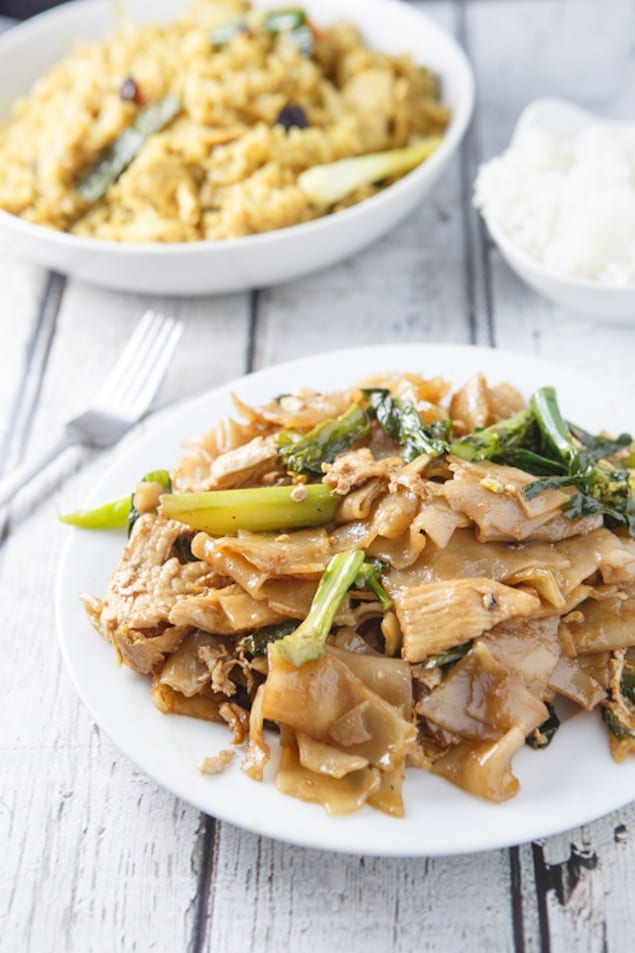 I have to thank my friends Steve and Valerie for this gem. They introduced me to Raan Thai about a year ago and now I'm there every chance I get. Asheley, who foolishly thought she didn't like Thai food, became a convert at this very restaurant. Raan Thai is one of those places that hasn't gotten a lot of exposure. I don't even think they have a website. It's located in a dingy, run down strip mall wedged between a tattoo parlor and a closed down nail salon and boarded up bar. But walk inside, and you'll be greeted by Apple's warm smile. She takes incredible pride in her restaurant. My order, almost every single time… who am I kidding, every time… is this Chicken Pad See Ew. Medium spicy. It's phenomenal. It's my ultimate comfort food. Everything is good and right with the world when I have this plate of noodle perfection in front of me. Another necessity… a side of their coconut rice. Because coconut rice is good. And Raan Thai coconut rice is great. I once overheard another table of 4 women trying to figure out what to order. It was obvious that one was a regular and the other 3 didn't even know there are other Asian dishes outside of takeout chicken and broccoli. She kept talking about how they needed to order the Pineapple Fried Rice.
I kinda did that condescending, judgmental huff under my breath (I know, I'm a terrible person) because really, pineapple fried rice sounds like the chicken and broccoli of Thai cuisine. It had to be something that they just served for us scared Long Island caucasians.
Wrong. It smelled incredible, even from the next table. I immediately ordered it next visit and now do so pretty much every time at this point. The complexity and fragrance of this fried rice is like nothing I've ever experienced. It's amazing. If you saw Black Sticky Rice with Thai Custard on the dessert menu, would you order it? I wouldn't. My buddy Steve told me I had to try this. It sounds super weird, but… People. This dessert is life changing. Utterly and completely. You will never be the same.
Raan Thai
203 Terry Rd
Smithtown, NY 11787
Phone (631) 656-5887
2. Noor Food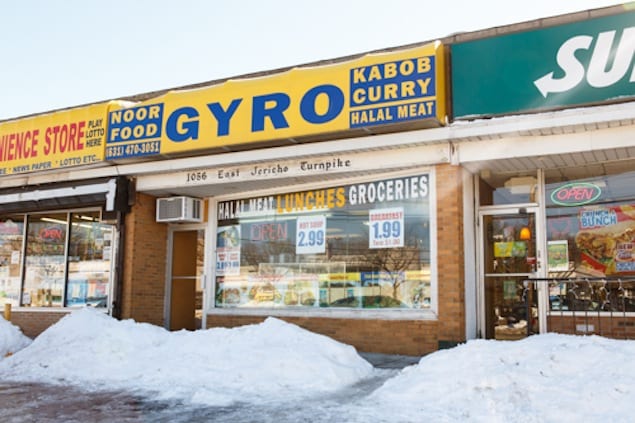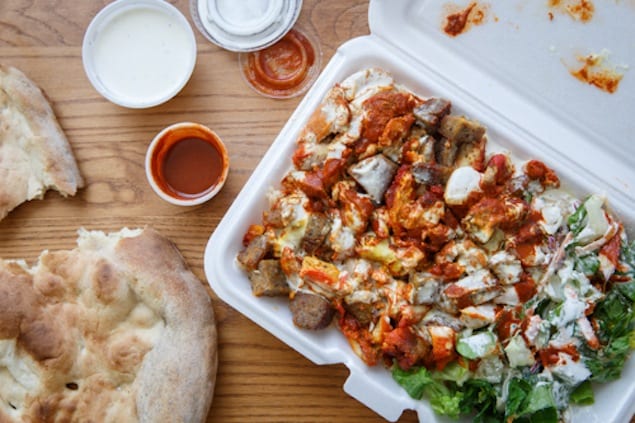 Big shout out to Tyler's brother Bradley for this one. He stumbled upon this little Halal grocery store in Huntington Station that also happens to serve up a ridiculously good platter of chicken, lamb, and rice. How good you ask? Tyler and I have a standing man date every other Tuesday. We get together to hang out, work on some blog stuff, and another venture I'm excited to tell you about soon. Every time, we get Noor Food. I'm not technically sure of the name of the dish above. It's literally just called "the combo platter". When we call up to order, it goes like this:
Me: Hi, can I get 2 combo platters?
Guy: Red sauce and white sauce?
Me: Yes, and 2 orders of naan.
Guy: butter?
Me: no.
And that's it, he hangs up. It's a beautiful exchange of words that I truly cherish and enjoy.
Inside the combo platter: A generous amount of lamb and chicken is marinated with all sorts of spices and is grilled on a flat-top griddle. It's ever so carefully arranged on top of seasoned basmati rice and served with a handful of lettuce, and slathered with a copious amount of creamy white sauce (yogurt-mayo based) and fiery red sauce.
Noor Food
1056 E Jericho Turnpike
Huntington, NY 11743
Phone (631) 470-3051
3. Avocados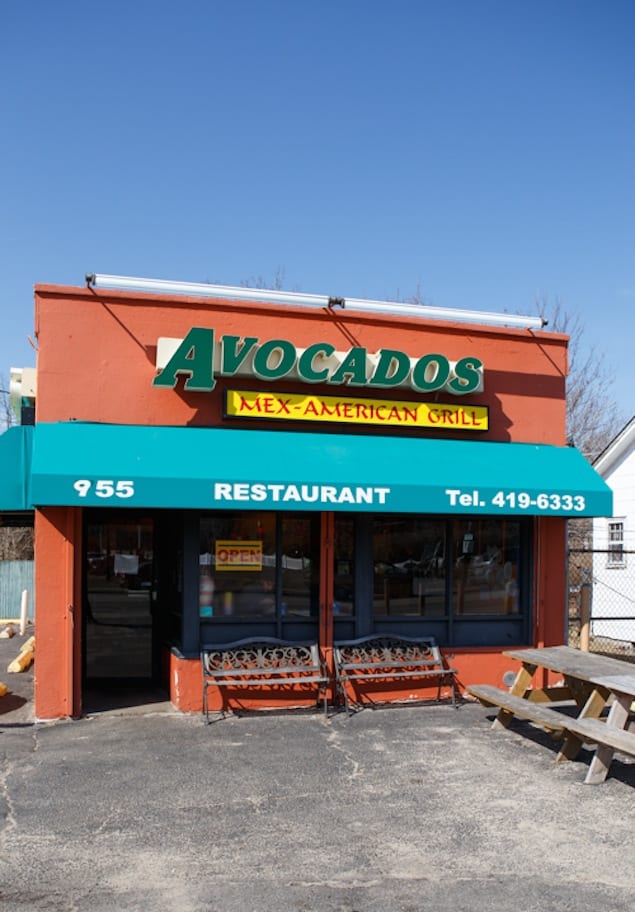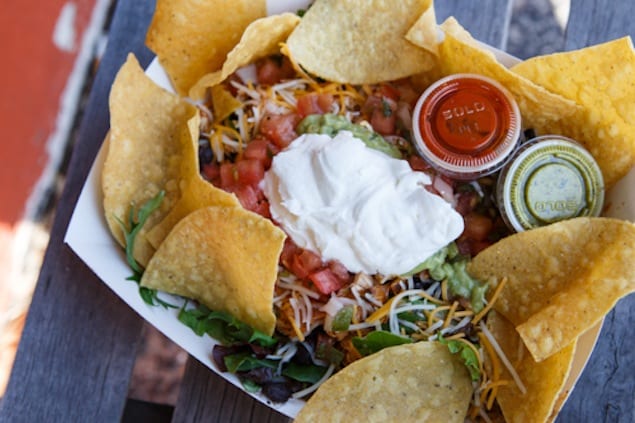 I'm a pretty big fan of anything resembling Mexican or Tex-Mex food. Always have been, always will. Avocados is one of our go-to places right by our home. They have this killer lunch deal. $7 gets you a drink and either a burrito, taco 3-pack, or a taco salad. I'll order a burrito if I'm in fatty mode, but most times, and probably my favorite thing on their menu, is the chicken taco salad. This thing is jam packed with the usual suspects… lettuce, beans, chicken, pico de gallo, sour cream, and guac. What really makes it for me though, is their honey cilantro lime vinaigrette and smoky chipotle hot sauce. One of these monster salads and I'm full for a long time.
Avocados
955 Montauk Highway
Bayport, New York 11705
Phone (631) 419-6333
Website
4. Pizzetteria Brunetti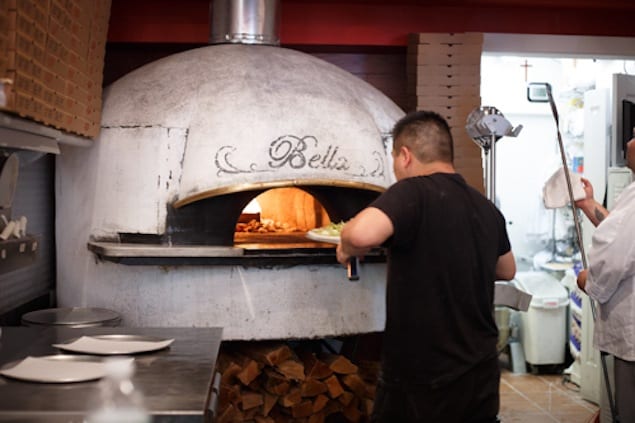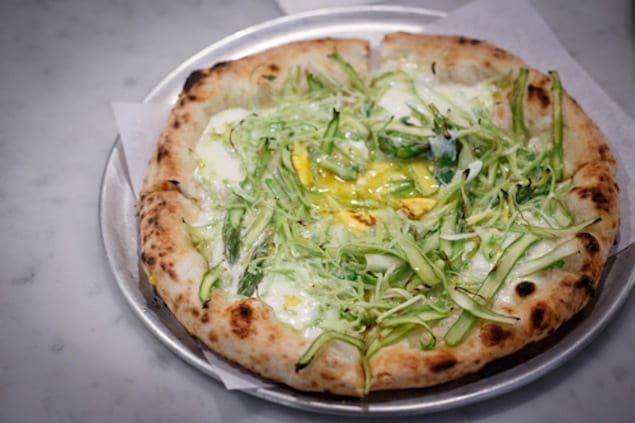 For better or worse, Long Island is probably best known for The Hamptons. Well that and Lindsay Lohan… but we're giving her back. Side note: there are a bunch of celebrities from Long Island: Billy Joel, all the Baldwins, Steve Guttenburg (Policy Academy, anyone?), Natalie Portman, Jamie-Lynn Sigler. That's right, Long Island is awesome. Respect. Sorry, back to the Hamptons. I digress. Admist all the glitz and the glamour of the Hampton's ridiculous opulence hides a little wood-fired pizzeria. You see a tiny little sign for Pizzetteria Brunetti from the street and walk in. Don't be fooled by the Häagen-Dazs ice cream shop front. That's not why we're here. Camoflauged way in the back of this make-shift food court of sorts is the son-and-pop owned pizzeria, complete with a beautiful wood-fired oven. There are a bunch of different pizzas to choose from, and the menu does change pretty regularly with the seasons. Last visit it looks like I got some sort of shaved asparagus pizza with a beautiful runny egg on top. The crust is legit. The toppings are always fresh. It's a good personal pizza, albeit the hefty Hamptons price tag ($15-20 per invidual portioned pizza).
And it looks like the place is doing pretty well for themselves, so much so that they just opened a storefront in NYC's West Village.
Pizzetteria Brunetti
103 Main Street
Westhampton Beach, New York 11978
Phone 631-288-3003
Website
5. Magic Fountain Ice Cream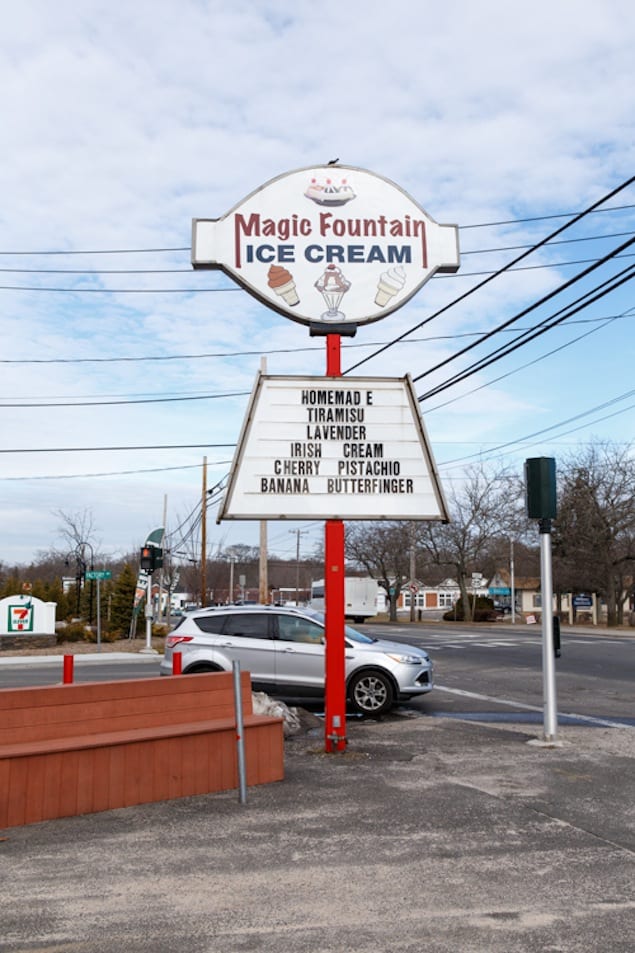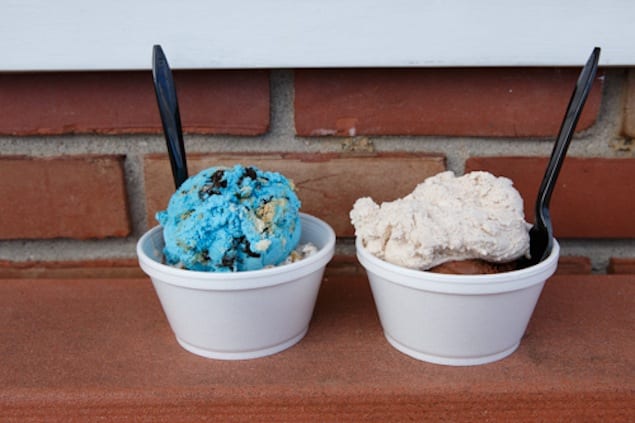 This little old-fashioned ice cream shop makes everything in house and has become quite the popular place. You're free to sample as many different ice creams as you want, which is helpful considering there is about 3,402 different flavors to choose from. Although I almost flat out pulled a 2-year-old temper tantrum when I found out they didn't have my normal order of red velvet ice cream last visit, I did really enjoy trying two different flavors… chocolate raspberry truffle ice cream, and the honey cinnamon, which to my uncontrollable delight tasted just like cinnamon toast crunch cereal. Asheley went with s'mores ice cream (she's a sucker for marshmallow), which was quite impressive. Somehow they managed to maintain the fresh crunch of the graham cracker within the ice cream. Pure wizardry. She also got that blue looking monstrosity scoop called Cookie Monster… also a great choice.
Magic Fountain Ice Cream
9825 Main Road
Mattituck, New York 11952
Phone 631-298-4908
Website