Homemade Tortilla Chips with Red Salsa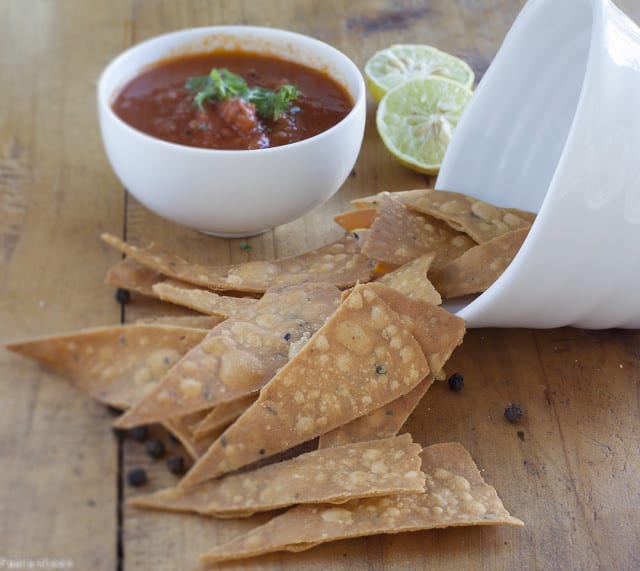 What better snacks than homemade tortilla chips with red salsa? The answer is that there isn't any.
By Nandita Nataraj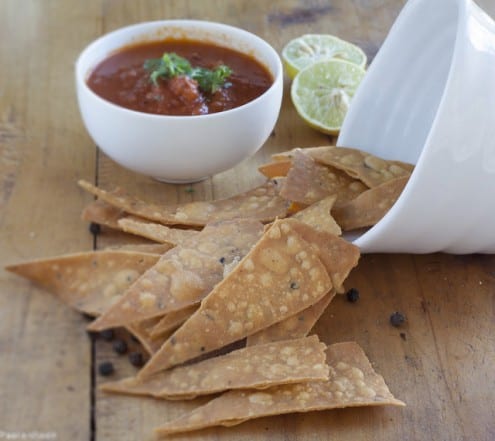 Homemade Tortilla Chips with Red Salsa
What better snacks than homemade tortilla chips with red salsa? The answer is that there isn't any.
Ingredients
For the tortilla chips:
Yellow corn meal- 1-1/2 cups
All purpose flour- 1 cup+ 2tbsp to dust
Salt- 1tsp
Paprika powder- 1tsp
Dried mixed herbs- 2tsp
Olive oil- 1tbsp
Warm water to knead the dough
Oil to deep fry
For the Red Salsa:
Tomatoes- 4 large, chopped into large pieces
Onion-1, chopped into chunks
Garlic- 2 cloves
Paprika powder- 1 tsp
Jalapeno chili- 1, chopped fine
pepper- ¼tsp
Salt to taste
Chopped coriander leaves- 1tbsp
Lime juice- 1tsp
Olive oil- 1tbsp
Instructions
For the tortilla chips:
In a large bowl, mix together the corn meal, all purpose flour, salt, paprika powder, dried mixed herbs and olive oil and mix well.
Add warm water gradually and mix into a soft pliable dough.
Allow the dough to rest for 15-20min. Divide the dough into sex equal portions and roll into balls.
Dust the balls with flour and roll into a thin tortilla or chapathi of 6-8" in diameter.
Dry Roast the tortilla lightly on both sides and set aside. Repeat the same procedure with the remaining portions of the dough.
Stack the tortillas on top of each other and cut them into 8 portions.
Heat sufficient oil in a wok and deep fry the tortillas till golden brown.
Drain on an absorbent paper and set aside.
For the Salsa:
Assemble all the ingredients except the olive oil and coriander leaves in a blender jar and pulse the contents 5-6times. Take care not to blend the contents to a fine puree. The mixture should be chunky.
Heat the olive oil in a wok and tip the blended salsa into the oil. Fry the mixture for a minute and set aside to cool. Stir in the chopped coriander and serve with tortilla chips.
Nandita Nataraj
Nandita was born, bred and spread in India, but right now lives in Tanzania where her quest for simple and exotic pleasures of food led to the creation of the blog Paaka-Shaale. She believes that food is not just a means to feed a body. But it is also meant to appeal the mind and satiate the soul.