Once you master the shape of the potsticker, you can fill them with anything you choose. For unique texture and flavor, this recipe uses three different mushrooms, shiitake, oyster, and button, for an umami rich appetizer.
By Pallavi Gupta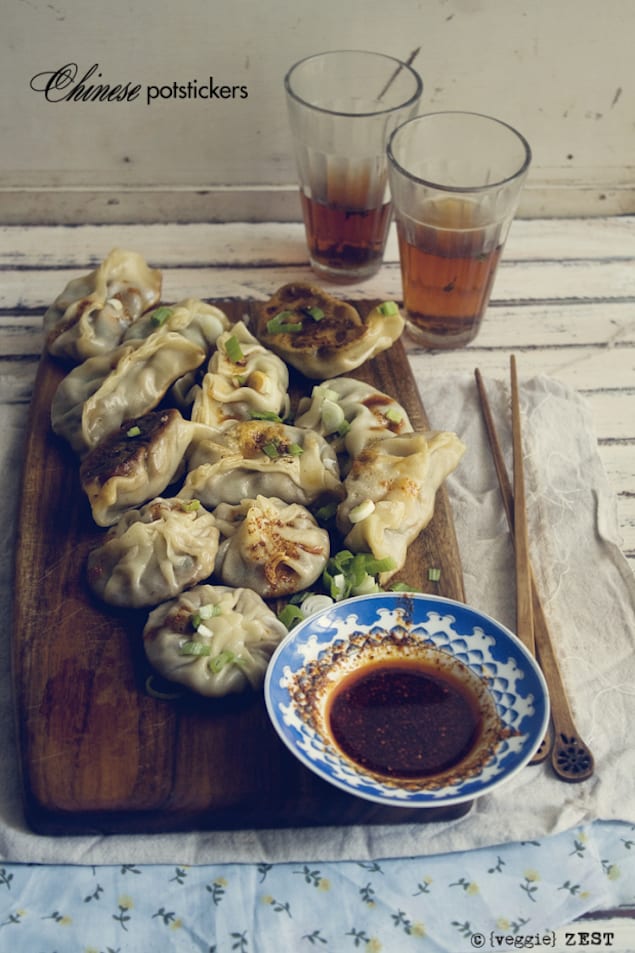 There is nothing as delicious as a fresh, homemade potsticker. These babies are so easy to make. I have not explained the way to create the shape for the dumpling but here is a nice video that demonstrates various dumpling wrapping techniques.
You can get creative with the stuffing and its actually therapeutic to put these potstickers together. I used a combination of three different types of mushrooms – shiitake, oyster and button mushrooms, each to give its own unique texture and flavor. This was my choice of combination but you should try mixing and matching other flavors like water chestnut, corn kernels, tofu, spinach etc.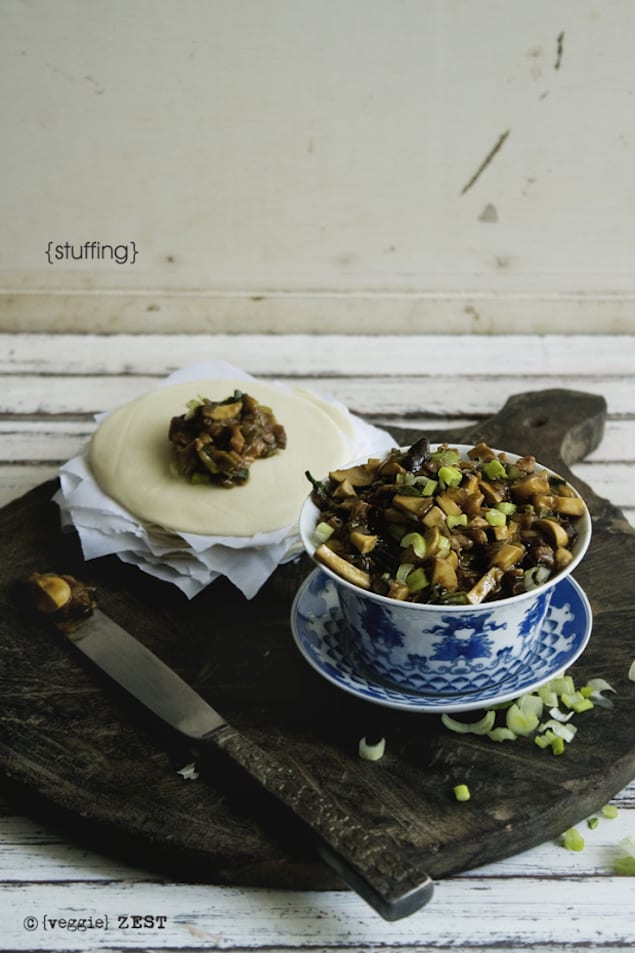 If you are really pressed for time or if you end up loving this recipe so much that you want to keep on making it frequently then you could make the potstickers – like make the dough, stuff them and shape them and put them in the freezer in an airtight container over the weekend and when you are ready to eat them, say on a weeknight..then just pull them out of the freezer and cook them as per the directions below. Fresh and hot potstickers on a weeknight – yes please.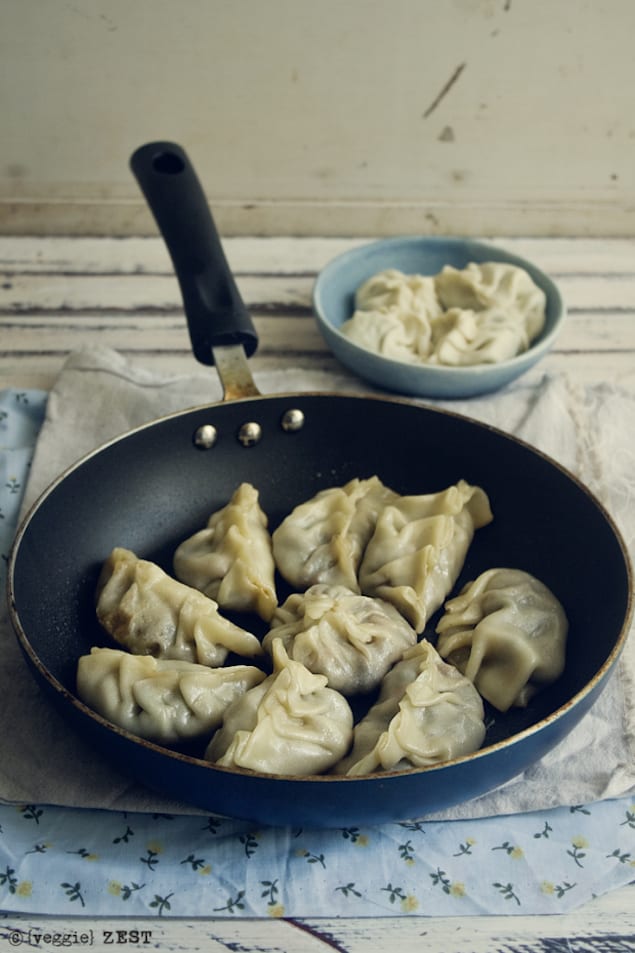 Homemade Potstickers with Three-Mushroom Filling
Once you master the shape, fill potstickers with anything you choose. For unique texture and flavor, this recipe uses shiitake, oyster, and button mushrooms
Recipe Type:
Appetizer, side
Ingredients
Wrappers
1½ cups all purpose flour
pinch of salt
Filling
4 to 5 dried shiitake mushrooms, soaked in hot water
4 to 5 button mushrooms, chopped into small pieces
2 to 3 oyster mushrooms, chopped into small pieces
2 scallions, finely chopped
1 clove garlic, minced
1 tbsp dark soy sauce
2 tsp light soy sauce
1 tbsp brown sugar
1 tbsp chili sauce, or less if you prefer it less spicy
2 tsp cornstarch
1 tbsp vegetable oil
Instructions
Wrappers
In a bowl roughly mix together the flour and salt. Add water slowly and using a spoon (because the water is hot) start bringing the dough together.
Once it all comes together as a lump, transfer it to your counter top and knead the dough for 8 to 10 minutes. Transfer the dough into a bowl, cover with plastic wrap and let it rest for 20 to 30 minutes.
Uncover and divide the dough into 12 equal balls and roll each piece of dough into a thin disc, roughly 8 cm in diameter.
Your wrappers are ready….place them on a large tray lined with plastic wrap so that they dont stick to each other. If you wanna stack them then place a piece of parchment paper in between them. Cover and keep aside till ready to use.
Filling
Drain the soaked shiitake mushrooms and squeeze all the liquid out. Chop them into small pieces.
In a bowl add all three mushrooms, scallions and garlic and mix roughly.
Add soy sauces, chili sauce, sugar and corn starch. Mix so that all the pieces of mushrooms are coated well in the sauce.
In a wok sauce pan heat oil. Add the mushroom mix and cook on medium low for about 3 to 5 minutes or till the mushrooms are soft and cooked through. Remove from heat and keep aside.
Make the Potstickers
Place a heaped teaspoon of filling into the center of each wrapper. Create any shape of potsticker as you desire, it doesn't have to be the traditional crescent shape, I even made some round ones where you place the filling in the center and pinch close the all edges together on the top….like a dumpling.
To Cook the Potstickers:
Heat the oil in a large frying pan over medium heat. Fry the potstickers flat side down for about 2 minutes until a golden crust forms on the bottom. Add water and immediately cover with a lid. Let the steam cook the potstickers for 4 to 6 minutes or until all the water has evaporated and the skin becomes somewhat transparent. Remove the lid and let them cook for another extra 30 to 40 seconds. Remove from pan and arrange on a plate.
Serve the potstickers warm with your choice of dipping sauce and an extra sprinkle of chopped scallions.
Pallavi Gupta
Pallavi is a vegetarian globetrotter, who currently lives in the southern part of India. Past ten years of her life includes living in six cities in three different countries. It has added to her vast exposure of cuisines from different parts of the world which is now reflected in her cooking. She shares her knowledge of vegetarian and vegan recipe from around the world via her blog Veggie Zest. When not cooking or photographing, she does graphic design.