Homemade Pickled Vegetables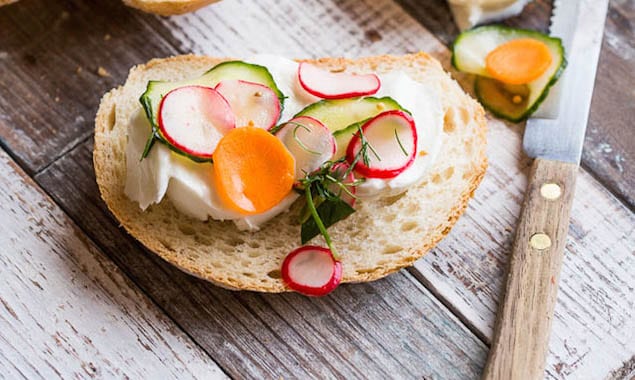 Pickling is a delicious way to bump up your sandwich and preserve summer produce for later in the year. Try the simple process of pickling your own vegetables.
By Simone Van Den Berg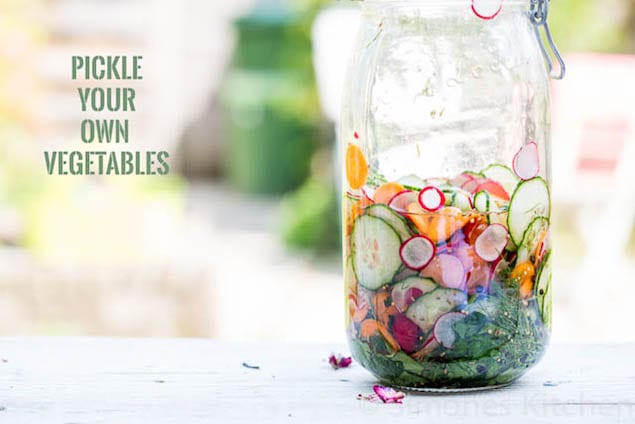 Here's another example of a simple job in the kitchen that I thought would take forever. Or maybe not forever but at least a few days and certainly not the twenty minutes (well ok a little more than that) that it took for these delicious veggies to be ready. Now you probably think; what a lot of nonsense for just a bit of something on a sandwich but trust me, it is so worth it! And very simple to make.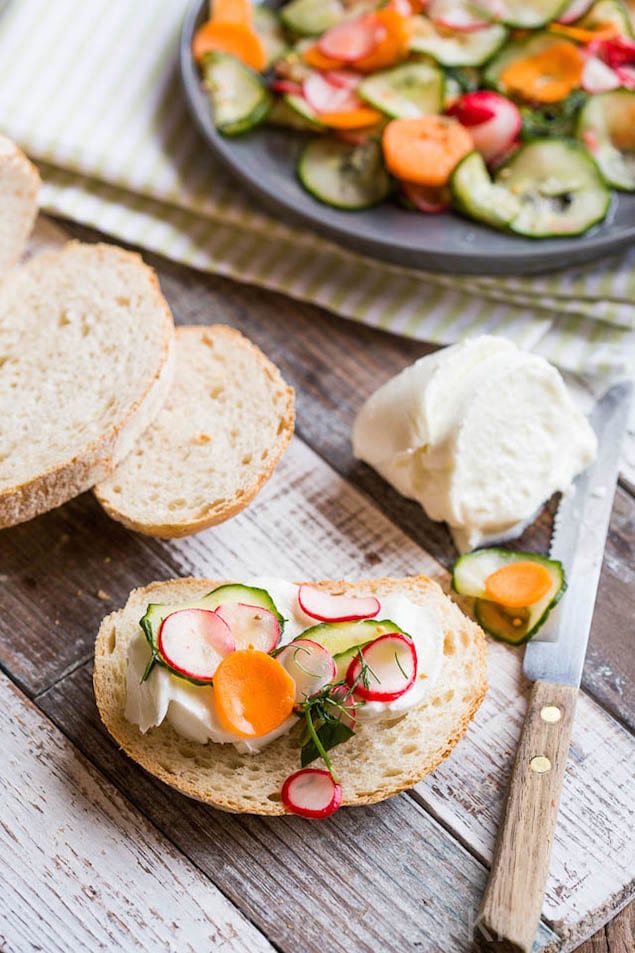 Homemade Pickled Vegetables
Pickling is a delicious way to bump up your sandwich and preserve summer produce for later in the year. Try the simple pickling your own vegetables.
Author:
Simone Van Den Berg
Ingredients
1 carrot, peeled and thinly sliced
1 cucumber, thinly sliced
200 gr radishes, thinly sliced
2 golden baby beetroots, skins rubbed and thinly sliced
2 tbsp sea salt flakes
1 cup (250 ml) white wine vinegar
½ cup (110 gr) sugar
½ cup (125ml) water
1 tsp mustard seeds
2 tsp fennel seeds (I ran out of mine so I used anisseeds instead. Worked well!)
1 tsp black peppercorns
½ cup flatleaf parsley, roughy chopped
½ cup dill sprigs, roughly chopped
1 x 200 gr burrata or mozzarella and sourdough bread to serve
Instructions
Place the carrot, cucumber, radish, beetroot and salt into a colander on top of a bowl and toss to combine. Allow to stand for 20 minutes before rinsing under cold running water. Drain well and set aside. Place the vinegar, sugar and water in a large jar and stir until the sugar has dissolved. Add he mustard seeds, fennel seeds, peppercorns, parsley, dill and vegetables and stir to combine. Refrigerate for at least 20 minutes before serving with the burrata and sourdough.
Simone Van Den Berg
Simone van den Berg is a Netherlands based freelance food photographer and food blogger. She has a passion for cooking, food and travel, which she shares on her blog Simone's Kitchen and of course right here on Honest Cooking.