Homemade Macaroni with Creamy Avocado Sauce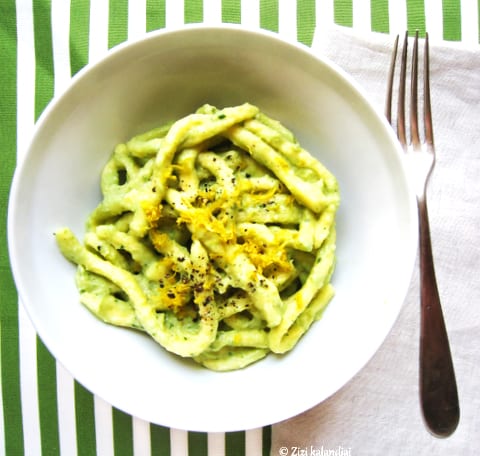 Homemade pasta is not nearly as intimidating as it may seem, but for a comforting dinner made quickly, top store-bought pasta with this vibrant avocado sauce.
By Zita Nagy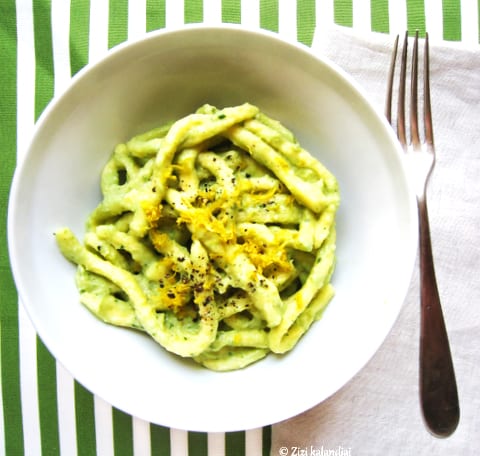 Homemade Macaroni with Creamy Avocado Sauce
Homemade pasta is not nearly as intimidating as it may seem, but for a comforting dinner made quickly, top store-bought pasta with this vibrant avocado sauce.
Ingredients
For the pasta
2 organic eggs
200 g semolina flour + more for dusting
a pinch of salt
For the avocado sauce
2 ripe avocados, peeled and pitted
3 garlic cloves, peeled
1 lemon's freshly squeezed juice + lemon zest
small handful of basil
salt, pepper
1 tablespoon olive oil
Instructions
To make the sauce place all the ingredients in the food processor. Start blending it until becomes very smooth. Set aside.
To make the pasta dough mix together the flour with the eggs and salt in a bowl. Using your hands knead the dough until it gets elastic, kind of soft and doesn't stick to your fingers anymore. Set aside for 15 minutes. In smaller portions press the dough through the pasta machine making macaronis or any kind of shape. Sprinkle them with flour.
In the meantime bring salted water to a boil in a medium sized pan. Add in the macaronis (in portions). When the noodles begin to float (3-5 minutes) on the top, remove with a slotted spoon, drain and rinse well and place pasta into a bowl. Follow this procedure until all the macaronis have been cooked. Pour sauce over the pasta and toss until fully combined. Garnish with lemon zest, pepper and serve immediately. (This dish does not reheat well due to the avocado in the sauce.)
Zita Nagy
Zita's love for cookbooks and delicious food started at the age of 9. Whenever she went home from school her little brother and she would wait for mom to make dinner for them. Until the dinner was ready, she was turning the pages back and forth and was staring at photographs of amazingly looking dishes in mom's cookbooks to kill her appetite somehow. She couldn't have known then, that she would be collecting cookbooks after reaching adulthood and would still be, just like in her childhood, staring at awesome photos of delicious dishes. The only difference is that she does the cooking now. She loves traveling, going to the organic market and browsing foodblogs. Her vegetarian food and travelblog is Zizi's Adventures.