Homemade Lavender Kombucha
Lovely, healthy lavender spiked kombucha
By Julia Mueller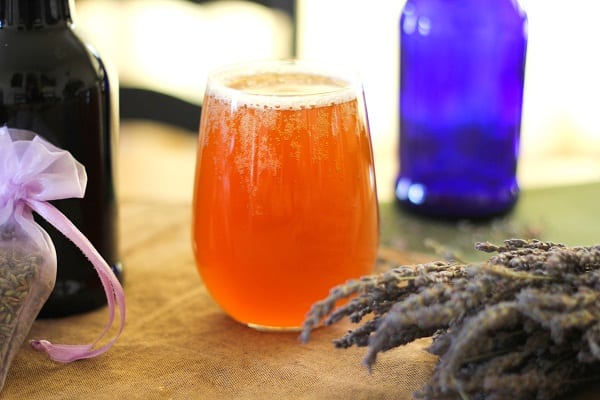 Probiotics are delightful creatures. Kombucha is a natural bubbly beverage with an abundance of probiotics. It is brewed using tea and sugar through a fermentation process that requires a symbiotic culture of bacteria and yeast (SCOBY). Kombucha can help achieve digestive balance, boost your energy level, detox the liver, and possibly help maintain a healthy weight.
For almost a year, my boyfriend and I have been brewing kombucha at home.  We have made all sorts of flavors by adding 100% juices, dried fruit and more recently, lavender buds.  Remember from my Lavender Chocolate Chip Cookie post, lavender also has great health benefits, such as eliciting relaxation and helping ease insomnia, calming headaches and relieving indigestion. Put kombucha and lavender together and you achieve an all around healthful elixir.
If you made a resolution about health this year, you would not be alone. Whether you are looking to drop the weight you collected during the holidays, exercise more, or add vegetables to your diet, you have company. In my experience, balance is very important; kombucha helps to create this balance. If brewing kombucha at home is not your thing, no biggy. If I were to encourage any health habit it would be to get probiotics into your life regularly through natural foods such as store-bought kombucha, yogurt, kefir, or other fermented foods such as sauerkraut.
I posted a how-to on kombucha brewing back in May, so simply follow the steps in my earlier post along with the recipe below. Essentially all we do when we flavor kombucha is allow the kombucha to complete its first fermentation and then add juice or more flavored tea to the beverage and allow it to go through a secondary fermentation. Brewing kombucha at home can be risky, so if you are new to home-brewing, please consult someone who has experience if you have questions.
Follow the normal steps you take to store your kombucha, leaving the lavender buds in the kombucha (you'll be straining the buds out when you're ready to drink the kombucha). I bottle my kombucha, so from here, I pour the lavender kombucha into a pitcher and then pour from the pitcher into the bottles.
Do you want your kombucha to go through a secondary fermentation? If no, then simply refrigerate your lavender kombucha and strain the kombucha before drinking.
If you would like to put the kombucha through a secondary fermentation, store the bottles (or whatever vessel it's stored in) in a warm, dark room and leave for 3 days. This will allow the probiotics to process the newly added sugar. After the secondary fermentation is complete, refrigerate it and strain the lavender buds out when you're ready to drink it.

Homemade Lavender Kombucha
Lovely, healthy lavender spiked kombucha
Ingredients
2 gallons homemade kombucha (see: http://www.theroastedroot.net/how-to-make-homemade-kombucha/)
1 cup dried lavender buds
8 Black Tea bags
1-1/4 cups granulated sugar
1 gallon water
Instructions
In a large pot, heat a gallon of water until boiling.
Romove pot from the heat, add the black teabags and lavender buds.
Allow the tea to steep 12 minutes then remove the teabags, but leave the lavender buds in.
Add the sugar and stir to dissolve
Allow tea to cool to room temperature.
When cool, Carefully pour already prepared homemade kombucha into the pot with the lavender tea.
Julia Mueller
As a fitness and nutrition enthusiast, Julia writes a food blog called The Roasted Root, where she share recipes that are mostly vegetable and meat based along with stories of her travels and day-to-day activities. Julia loves enjoying fresh home cooked meals with her friends and family, and the process of developing recipes, photographing, and sharing them.