Smile. Eat cookies. But not just any cookies… these homemade healthy Samoas. They're the best.
By Kelly Morisson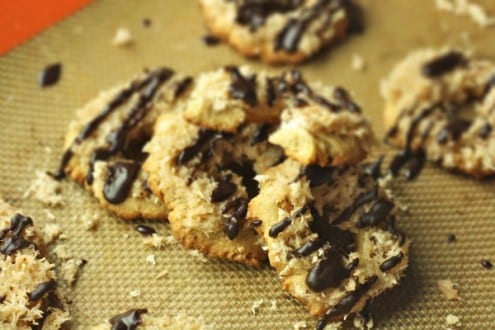 Homemade Healthy Vegan Samoas
Smile. Eat cookies. But not just any cookies… these homemade healthy Samoas. They're the best.
Ingredients
For cookies:
¾ cup white whole wheat flour OR almond meal
½ banana, mashed
2 Tablespoons coconut oil (For a lower fat version, please see below.)
3 Tablespoon erythritol OR cane sugar
1 teaspoon vanilla extract
¼ teaspoon salt
For coconut caramel:
¼ cup erythritol OR cane sugar
6 Tablespoons unsweetened shredded coconut (I used reduced fat.)
2 Tablespoons almond milk
For chocolate topping:
2 Tablespoons chocolate chip
2 Tablespoons almond milk
Instructions
Preheat oven to 325 degrees Fahrenheit. Line a baking sheet with parchment paper or a silicone mat and set aside
Place the coconut oil in a large bowl and microwave for one minute, or until melted. (You can do this without a microwave by melting the coconut oil on the stovetop and then transferring it to the bowl.) Add in the eythritol or sugar, mashed banana, and vanilla extract until incorporated. Stir in the flour and salt until completely combined, but do not over mix.
Roll the dough into 1½-inch balls, flatten into cookie shapes, and place evenly apart on the prepared baking sheet. Using a small cookie cutter or the large end of a piping tip, cut the center out of the cookie. Bake at 325 degrees for about 12 minutes, or until firm and golden. Let cool on a wire.
Meanwhile, in a medium skillet, cook the erythritol over medium low heat until completely melted, stirring constantly as it burns very easily. Once melted, add in the shredded coconut and continue to cook and stir until golden. Stir in the almond milk until completely incorporated (it will sizzle- that's good!).
Working quickly, spread the coconut caramel mixture in an even layer on the cooled cookies (a butter knife works well for this). As the mixture cools, it will become less pliable and easy to work with (but definitely less hot, see note below). Let the cookies cool once again.
In a small microwave-safe bowl, microwave the chocolate chips and 2 Tablespoons of almond milk. Cook for 1 minute and stir until completely distributed and thickened. Feel free to add a little almond milk if you feel the mixture is too thick. (Note: You can double or triple the chocolate coating if you want to dip the bottom of the cookies with chocolate as well.) Drizzle the chocolate mixture onto the cookies and let them cool before eating/storing. These will keep in an airtight container (come sort of Tupperware is ideal) in the fridge for about 2 weeks, or in the freezer for about 2 months. Good luck keeping them around that long.
Notes
For a low fat version, feel free to substitute the coconut oil for an extra 2 tablespoons of mashed banana (I would still warm the banan in the microwave before stirring in the sweetener). Keep in mind that the shortbread will not taste as authentic. I imagine you can use any kind of fat you want for the coconut oil. I also think applesauce could be subbed in place of the mashed banana. I love using white whole wheat flour, but I imagine any kind of wheat flour will work. For a low carb/paleo version, use almond meal or almond flour. Feel free to use erythritol, xylitol, cane sugar, sucanant, brown sugar... go for it. It's your sweetener, your rules. I haven't tried them all, but I'm 99.7% sure they all will work. I made a modest amount of chocolate topping for this recipe to keep the calories down, but you are welcome to double (or even triple) the chocolate topping component if you want to dip the bottoms of the cookies in chocolate like regular Samoas.
Kelly Morrison
At the age of thirteen, Kelly Morrison founded Foodie Fiasco, a popular healthy recipe website that provides the ultimate guide to having it all: happiness, decadence, and loose pants. Five years later, she currently resides in West Hollywood, CA, where she spends her days developing recipes, photographing food and her cats, and writing bios in the third person.