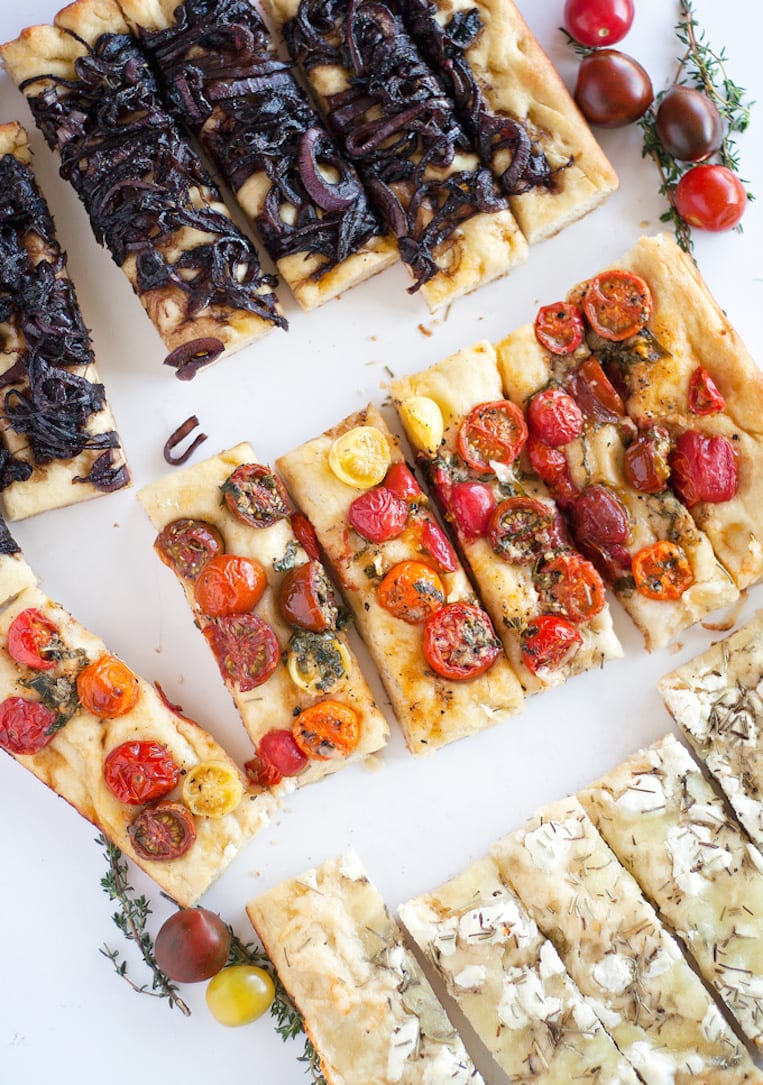 I make focaccia quite a bit, it is a favorite around our house and something my fiance requests… a lot! I usually just go with a standard rosemary focaccia bread and it's delicious. We sometimes use it as bread for our slow cooker pulled pork or on the side of a salad or pasta. Really, you can do no wrong with focaccia.
Then I stumbled upon this recipe and with a few tweaks it easily became my new favorite bread. The best part is that it has three delicious toppings -sauteed balsamic onions, heirloom tomatoes with garlic and basil, and three cheese rosemary – and you can basically have it as a meal.
Let's get back to those toppings. I had never made sauteed balsamic red onions before and I am sad that this is just now coming into my life at 30! They are sweet and tangy, with the richness of balsamic vinegar that has been cooked and reduced slowly. I ate the little bit that didn't make it on the bread with a spoon!
And what's not to love with heirloom tomatoes. I've been eating them pretty much non-stop the last few weeks, and these are deliciously flavored with garlic, basil, white wine vinegar and other deliciousness.
Cheese! Oh the cheese! How can you go wrong with crumbled goat cheese and grated mozzarella and parmesan. It was gloriously good.
I really thought my favorite was going to be the cheese, but surprisingly it was the balsamic onion followed very closely by the heirloom tomatoes. My fiance loved the cheese the best, but really ate them all with no hesitation.

Homemade Focaccia Three Ways
Focaccia is the blank slate of the bread world. Try it yourself at home with three different toppings: Balsamic Onions, Heirloom Tomatoes, and a Three-Cheese blend.
Ingredients
Focaccia
3¼ cup bread flour
½ cup semolina flour
1 packet (2¼ teaspoons) active dry yeast
2 teaspoons sugar
2 teaspoons sea salt
1¼ cup warm water
¼ cup olive oil
Balsamic Onions
2 tablespoons olive oil
2 medium red onions, sliced thin
2 teaspoons fresh thyme leaves
6 tablespoons balsamic vinegar
Heirloom Tomatoes
6 large basil leaves, chiffonade
1½ cup cherry heirloom tomatoes, cut in half
2 teaspoons olive oil
2 teaspoons white wine vinegar
2 cloves garlic, minced
salt and pepper, to taste
Three Cheese and Rosemary
4 ounces soft goat cheese
4 ounces Parmesan cheese, grated
4 ounces mozzarella cheese, grated
2 teaspoons chopped fresh rosemary
Instructions
Focaccia
In the bowl of a stand mixer fitted with a dough hook, combine the bread flour, semolina flour and salt. Make a small well.
In a small bowl, combine the sugar and water and stir. Sprinkle over the active dry yeast and mix together. Set bowl aside until mixture starts to bubble and is foamy on top.
Pour yeast mixture into stand mixer bowl and slowly combine until everything starts to come together. Turn up the speed of the mixer and let dough hook knead the mixture for 5 minutes or until you have a smooth, springy, soft dough.
Lightly oil a large bowl with olive oil and transfer dough to the bowl. Cover with a damp towel or plastic wrap and let sit in a warm place for 30 minutes or until doubled in side.
Balsamic Onions
While the dough is rising, in a large sauce pan over medium high heat add the olive oil.
Once the olive oil is hot, add the sliced onions and cook until onions become soft, about 5 minutes.
Add the balsamic vinegar and thyme and let cook until mixture has reduced, about 2 minutes. Set aside to cool.
Heirloom Tomatoes
Combine the basil, tomatoes, white wine vinegar, and garlic together. Toss to combine and season with salt and pepper. Set aside.
Three Cheese and Rosemary
Mix the three cheeses together with rosemary and set aside.
Once the dough has risen, prepare a baking sheet by coating the bottom with ¼ cup olive oil.
Place dough into the pan and spread to the edges.
Push dough roughly on the top of the dough, creating dips and wells for all your toppings and the delicious olive oil.
Divide the balsamic onions, heirloom tomatoes and three cheese mixture into thirds on the top of the bread. Press the tomatoes down a little on the dough.
Leave to proof for 20 additional mixtures and then bake at 450 degrees F for 20 minutes or until golden on top and soft in the middle.
Let cool for a few minutes and then remove from pan.
Cut as desired and serve.
This will keep in an airtight container for up to 7 days in the refrigerator.