Homemade Chinese Chicken Stock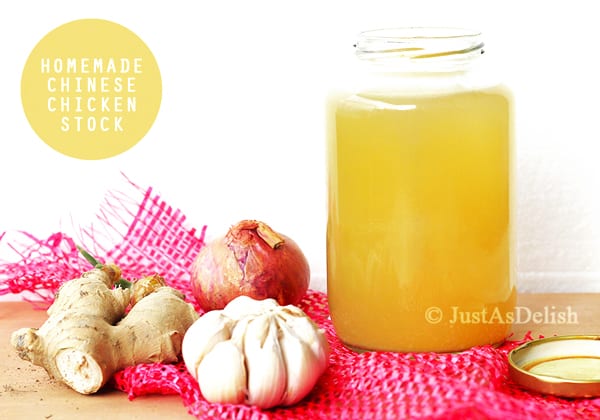 Really traditional Chinese chicken stock is essential in making excellent Chinese noodle soups, and adds a rich flavoured base to any savoury dishes.
By Shannon Lim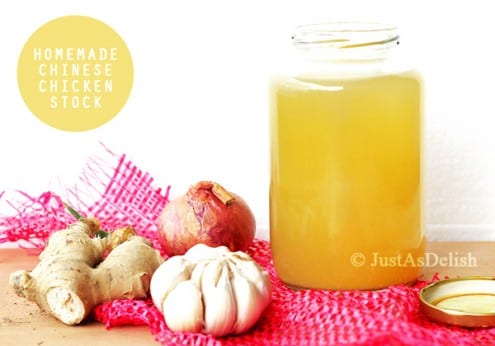 For busy parents, store-bought liquid chicken stock might be the easiest, just remember to read the ingredient list on the packet that it's made of real ingredients and not flavourings.

Homemade Chinese Chicken Stock
Really traditional Chinese chicken stock is essential in making excellent Chinese noodle soups, and adds a rich flavoured base to any savoury dishes.
Author:
Shannon Lim, adapted from Simple Chinese Cooking by Kylie Kwong
Ingredients
1.5 kg chicken carcass – trim off excess fat & cut half pieces
2 inch Ginger – thickly sliced
10 Garlic Cloves
1 Red Onion
1 medium Carrot
3.5liter Water
Instructions
Bring water to a boil in a 5 liter pot. Place chicken carcass in a big bowl and pour some boiling water over the bones to blanch off the impurities and scum.
Drain the bones and place them with the remaining ingredients into pot and bring to boil on high heat.
Reduce heat to a gentle simmer for 3 hours. Skim off the impurities and fat with a ladle.
Pour the stock over a fine sieve into a big bowl. Don't press the vegetables or the soup won't be clear.
Cool down and store in refrigerator for up to a week or in freezer for 2–3 months.
Shannon Lim-de Rooy
Shannon's kitchen is her playground and creative outlet, where she loves to experiment with recipes. As a Malaysian, her food influences are mainly Malay, Chinese and Indian cuisine but her curiousity in other culture lead to cross cultural cooking. On her blog JustAsDelish.com, she pursue her mission in creating healthy and delish food.