A delicious chicken shawarma recipe that is easy enough to make at home, no spit roasting required. It may not be traditional, but make up a plate with banana peppers, garlic, sauce, pita, and hummus and you are in for a treat.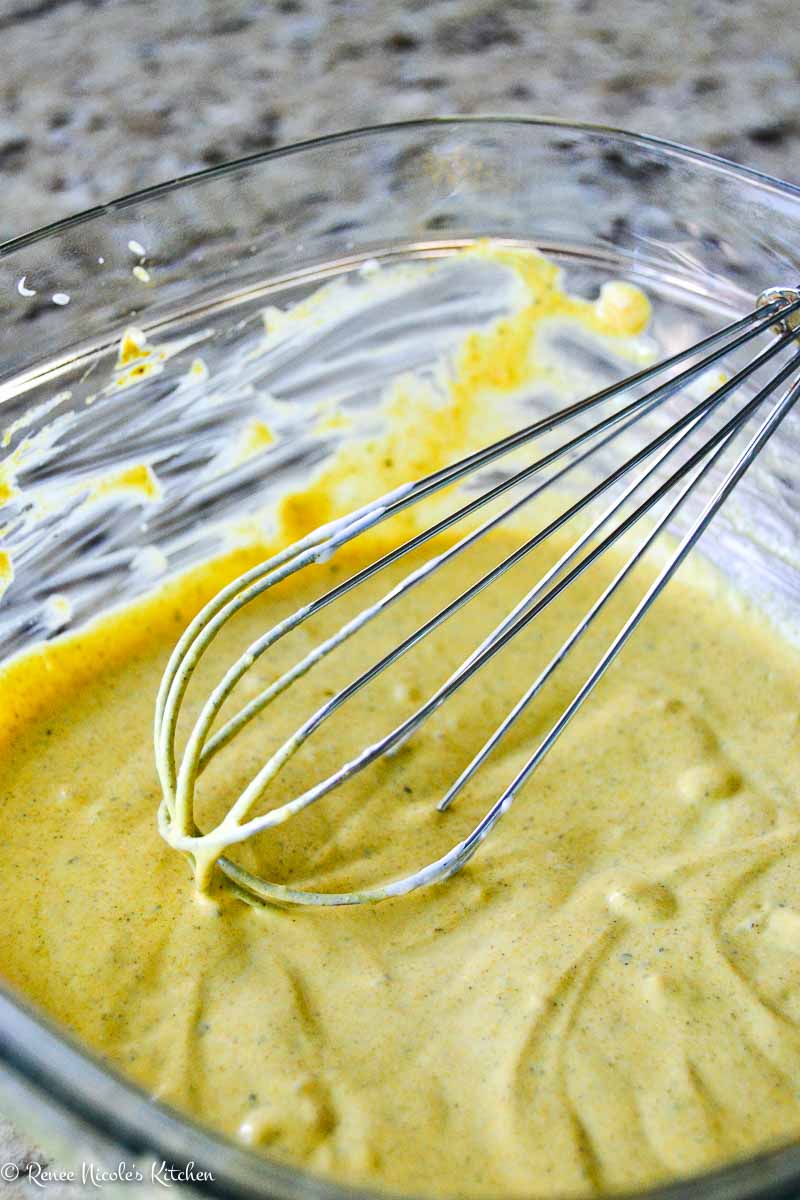 Dig into this chicken shawarma platter: chicken, banana peppers, garlic sauce, and classic hummus served up with warm pita bread. It's not traditional, but it is so good!
Warning: This recipe is not traditional. It doesn't include slow roasting large amounts of chicken over a spit, the spice combination has not been passed down through generations, and I use canned (gasp!!) chickpeas for my hummus. Whew! It feels good to get that off my chest!
This chicken shawarma plate was originally inspired by the chicken and hummus from Oasis Mediterranean Restaurant in Lexington, Kentucky, where I went to college. I was introduced to it by my best friend and it didn't take long before we were picking up a to-go order at least once a week to share while watching reruns of Sex and the City.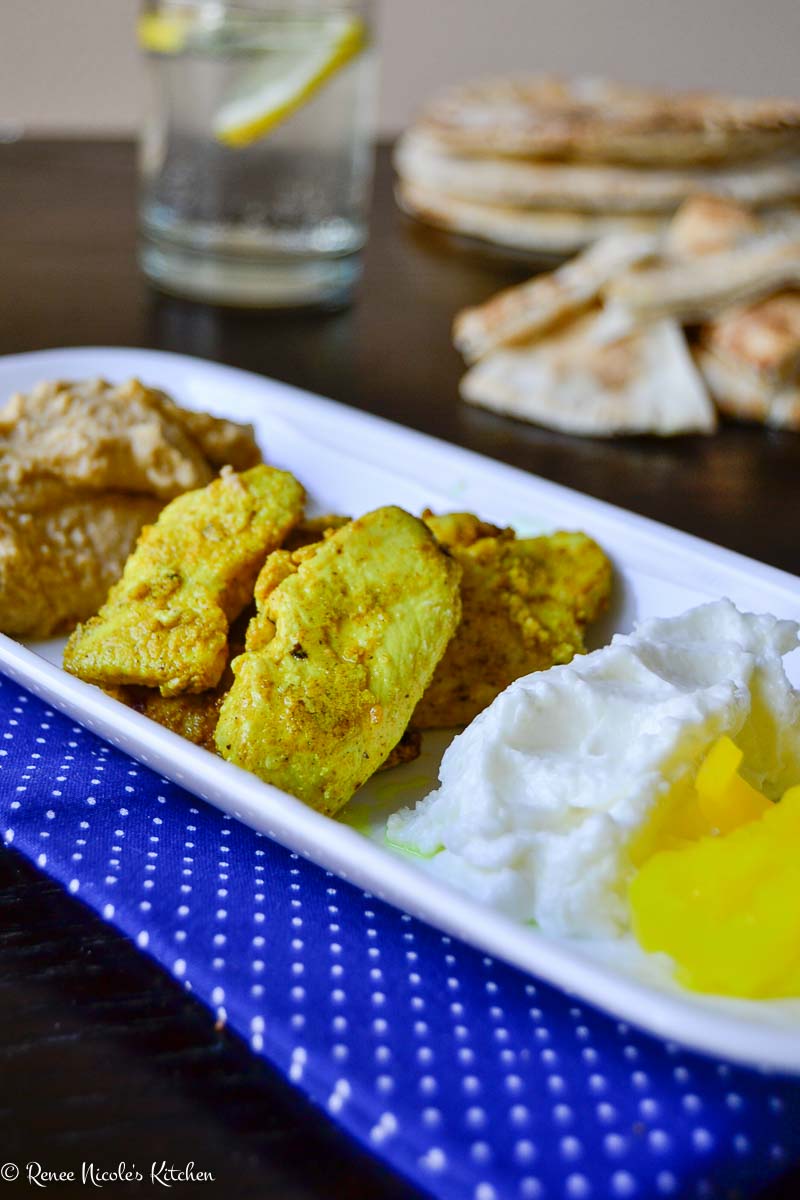 Over the years I've searched high and low for an easy way to recreate it at home. Note the key word: easy. While my final result is quite different from the original inspiration, according to my tastebuds it's still very, very good. The best part is that all but the chicken can be made in advance which makes getting dinner on the table much quicker.
My rendition of chicken shawarma, like the original, is best when you have all 5 elements: warm pita bread, garlic sauce, pickled banana peppers, classic hummus, and spiced chicken. The garlic sauce, chicken, and hummus come from recipes I have perfected over the years, while the pita and banana peppers are store bought ready for use.
The ideal pita for chicken shawarma is thin and soft. The best place to find them is at a Mediterranean restaurant, but if that isn't an option you can usually find them at the grocery store too. Someday I'll figure out how to make pitas puff up without setting off the smoke detector, but for now I use what I can find.
The banana peppers provide a little bit of crunch with a tangy and slightly sweet flavor that comes from the pickling process. They come in a jar and you can find them near the salad dressing section of your grocery.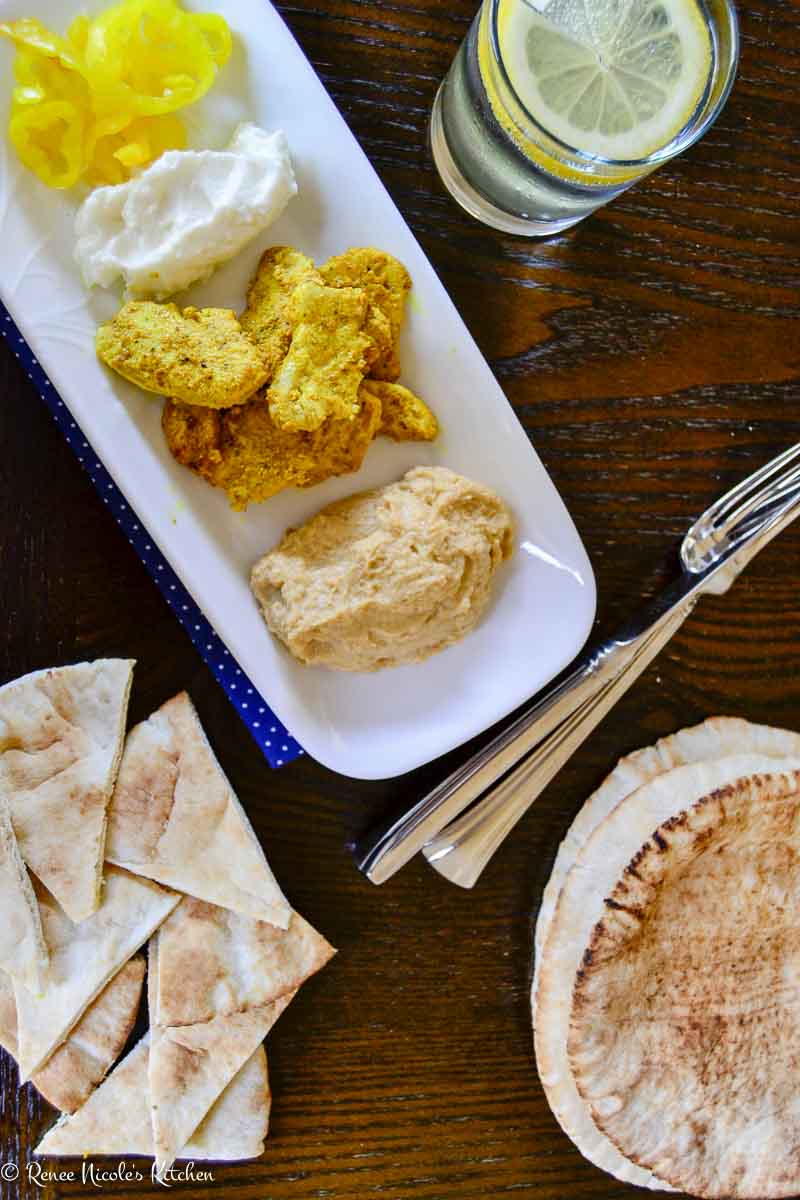 Click here for the easy hummus recipe (and scroll down).
Print

---
Author:

Renee Sitavich

Total Time:

1 hour 15 minutes

Yield:

4

servings

1

x
For the Chicken:
1/2 cup

low fat greek yogurt

1/3 cup

milk

1 TBSP

lemon juice

1 tsp

turmeric

1/2 tsp

garlic powder

1/2 tsp

onion powder

1/2 tsp

cinnamon

1/2 tsp

garam masala

1/2 tsp

ground ginger

1/2 tsp

kosher salt

1/2 tsp

coriander

1/2 tsp

black pepper

1

lb of chicken breast or thighs
For the Hummus:
Click the link above for the perfect hummus recipe!
For the Toum:
6

–

8

garlic cloves (

1 ounce

of garlic)

1/2 tsp

salt

1

egg white

1 TBSP

water

1 TBSP

lemon juice

1 cup

vegetable oil
For Serving:
1

jar of pickled banana peppers

4

–

6

pitas
---
Instructions
Make the Chicken:
In a medium sized bowl combine together the spices, add the yogurt, milk, and lemon juice then whisk to combine.
Slice the chicken into strips about 1/4 inch thick and 2 – 3 inches in length.
Stir the chicken into the marinade until it's completely coated, then refrigerate a minimum of 30 minutes or up to two days.
Make the Hummus:
Place the chickpeas, garlic, olive oil, lemon juice, tahini, cumin, salt, paprika, and water into the container of a food processor, mini chopper, or blender and pulse to combine.
If needed, add more water 1 tablespoon at a time, to reach the desired consistency.
Make the Toum:
Place the garlic, salt, lemon juice, water, egg white, and vegetable oil into the bottom of the mason jar.
Place the immersion blender into the jar, touching the bottom. Turn it on high and let it do it's work.
As you start to see the oil emulsify and turn white, begin to rock the immersion blender gently back and forth to help draw in the ingredients. In about 2 – 3 minutes you will have a super thick, super flavorful garlic sauce that will keep for about 2 – 3 weeks in the fridge.
Cook the Chicken:
Heat a large skillet over medium heat. Add in just enough olive oil to keep the chicken from sticking. Add the chicken to the skillet a few pieces at a time and sauté for about 1 – 2 minutes on each side, being careful not to overcrowd the pan.
Assembly and eating!
Cut the pitas into 6 triangles.
Open up the first pita triangle and layer on the garlic sauce, followed by a banana pepper or two, then a couple chunks of chicken and a dollop of hummus.
Gently wrap the tips of the triangle around the filling and enjoy!
Notes
When making the hummus in advance it may dry out and thicken up in the fridge. A little extra water will get it back to the right consistency.
For the toum do not use olive oil. Select a refined, neutral oil that is liquid at room temperature – I like canola oil.
Prep Time:

1 hour

Cook Time:

15 minutes

Category:

Main
Renee Gardner
Hi! I'm Renee, the recipe developer, food photographer, and mastermind behind Renee Nicole's Kitchen. My favorite foods are pizza, red wine, and popcorn, but not always in that order. When I'm not focused on food I enjoy sleeping in, reading fiction novels, and long walks with my goldendoodles, Tuck and Tahoe.