Homemade Baked Mozzarella Sticks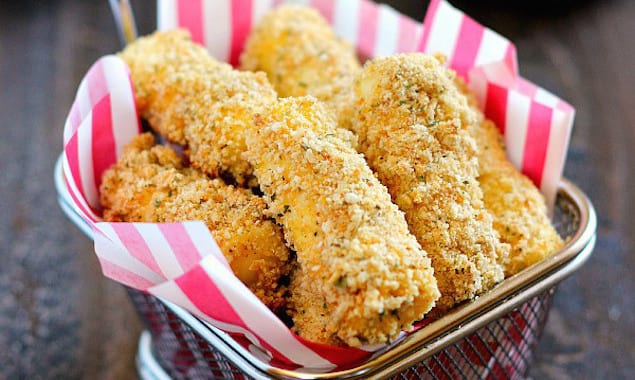 Full of melty cheese and packed with flavor, these baked mozzarella cheese sticks are less greasy than the fried version, but still satisfy your cravings.
By Gayle Spice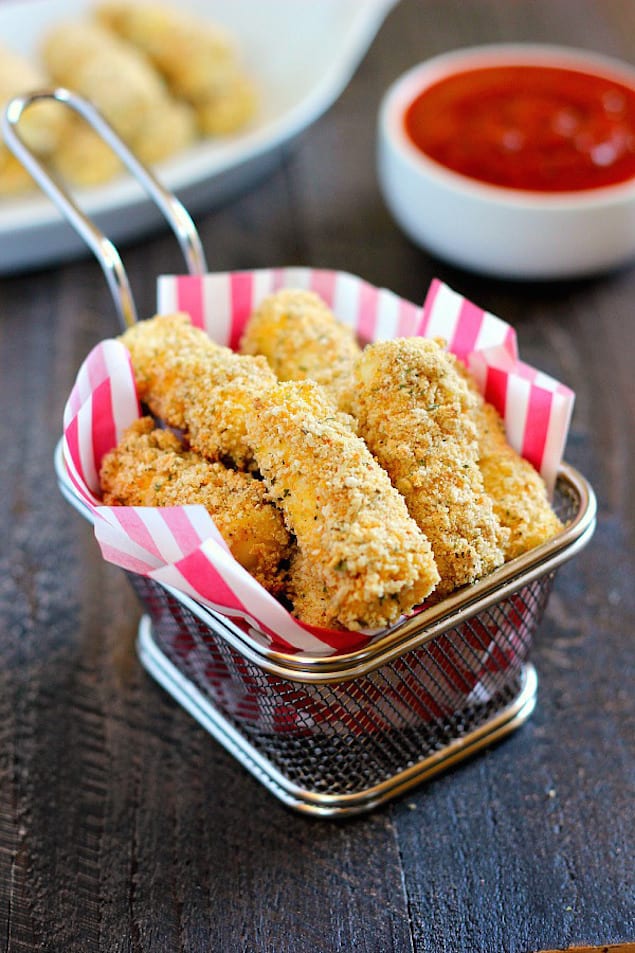 Ever have one of those days where you just want to devour everything and anything that you can possibly find in your kitchen? That's usually me when I get home from work in the afternoons. I will pretty much grab anything that will tide me over until dinner. Sometimes I crave salty foods like chips and pretzels, while other times I reach for some of these pecans, peanut butter or chocolate.
So when I got home from running errands last weekend, I felt my stomach starting to growl. But instead of reaching for the salty stuff, I decided to whip up one of my favorite snacks, but turn it into a healthier version. And these Baked Mozzarella Sticks did just the trick. Full of melty cheese and baked, these mozzarella sticks are healthier than the fried kind and perfect to satisfy the munchies.
Looking for more snack recipes? I've got you covered!
Spinach and Brie Bites
Pepperoni Bruschetta
Cheddar Sausage Balls

Homemade Bake Mozzarella Sticks
Full of melty cheese and packed with flavor, these baked mozzarella cheese sticks are less greasy than the fried version, but still satisfy your cravings.
Recipe Type:
Appetizer, Side, Snack
Ingredients
12 mozzarella cheese sticks
¼ cup all-purpose flour
2 eggs
½ cup Italian flavored breadcrumbs
¼ teaspoon garlic powder
Dash of pepper
Marinara sauce for dipping, if desired
Instructions
Cut cheese sticks in half. Set aside. Line a large baking pan with parchment paper or silpat baking mat. Set aside.
In a medium bowl, add the flour.
In a small bowl, lightly whisk the eggs.
In another medium bowl, combine the breadcrumbs, garlic powder, and pepper. Lightly stir.
Dredge each cheese stick in the flour mixture, then dunk into egg mixture, and finally coat all sides with breadcrumb mixture. Repeat with each cheese stick.
Place onto lined baking tray and freeze for 30 minutes to 1 hour (to ensure that cheese doesn't melt too much when baking).
Preheat oven to 400F.
Bake for 8-10 minutes, or until lightly golden on outside.
Serve with marinara sauce for dipping, if desired.
Gayle Spice
Gayle is the blogger behind Pumpkin 'N Spice, a bog dedicated to easy and delicious recipes, sweet treats, and comforting meals that can be whipped up in no time.