Holiday Ideas – Black and White Olives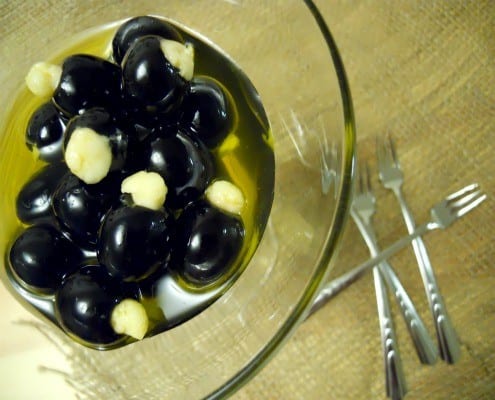 The holidays are all about the parties, and sometimes you need a delicious but quick idea to serve your guests before the real meal is served.
By Marnely Rodriguez
Gourmet Gifts by Dinah Corley is your salvation! Sure, it has hundreds of ideas on what to make your hostess, but these ideas can be easily translated and used at your own dinner parties.
Revamp black olives by filling them with any hard cheese; Dinah recommends Feta, but I used Monterray Jack and it worked just as well. Marinate the olives in your best olive oil and serve 24 hours later. Don't make the same mistake I did though! Keep them in a cool, dry place if you're serving them that same night…NOT the fridge! Olive oil will definitely solidify, and if it does just bring it to room temperature by taking it out of the cold environment for 30 minutes to an hour.
As a hostess gift, place the olives in Mason jars, with a lovely ribbon around it and a label indicating the olive variety and cheese it is stuffed with. You can always personalize the seasonings in the olive oil; maybe add a dash of cayenne to kick it up a notch or a touch of vanilla bean paste to add a layer of sweetness to olives? Whatever your flavors are, I'm sure you'll be making a jar of these for yourself as well!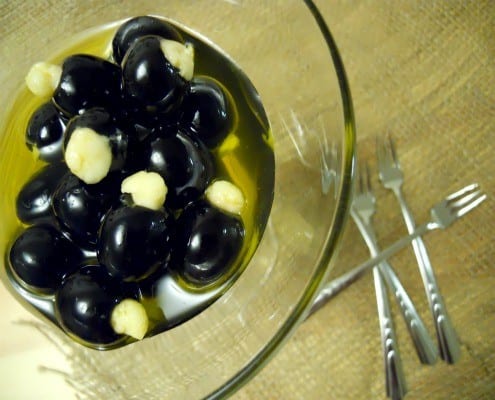 Holiday Ideas: Black & White Olives
What is black, white, and delicious all over? These olives answer the question in spades. Not only are they delicious, they're simple and economical, and everyone loves them. The shopping list is short and simple, and the prep time is under an hour, yet the outcome is surprisingly upscale. Bring the olives to room temperature before giving or serving them. - from Gourmet Gifts
Author:
Dinah Corley, author of "Gourmet Gifts"
Ingredients
12 ounces extra-large pitted black California olives
4 ounces feta cheese
1 teaspoon dried oregano
4 garlic cloves
6 fresh or dried bay leaves
½ to ⅔ cup olive oil
Instructions
Drain the olives and rinse them under cold water. Lay the olives out on a tray lined with paper towels and set them aside.
Drain the feta in a strainer or colander. Using a large fork, mash it with the dried oregano until it forms a smooth paste. Using your hands, stuff the pitted olives with the feta mixture.
Alternatively, you can put a "dab" of cheese mixture on the fat end of a chopstick and use that to stuff the olives. Wipe any excess cheese from the olives with a damp paper towel.
Set the stuffed olives on the paper towel–lined tray and cover them loosely. Put the olives in a cool, dry place to cure for 24 hours.
Sterilize a wide-mouthed glass jar and lid (1½- to 2-cup capacity) by washing it in hot, soapy water and drying it in a 190°F oven.
Peel the garlic cloves and split them in half. Layer the olives, garlic, and bay leaves in the warm jar and fill the jar with the olive oil. Cover the jar tightly and store the olives in adark, cool place for 24 hours. Refrigerate the jar until you are ready to assemble and deliver the gift. The olives should be stored in the refrigerator but served at room temperature.
Notes
Recipe reprinted with permission from the publisher, The Harvard Common Press.
Marnely Rodriguez-Murray
Marnely Rodriguez-Murray is the author of the food blog Cooking with Books. A graduate of The Culinary Institute of America, she has worked as an Overnight Bread Baker in Colorado, a Chocolate Maker in Virginia as well as a Pastry Cook on the whimsical island of Martha's Vineyard, just to name a few. She currently resides on Martha's Vineyard with her chef-husband, where they are both on an endless search for Caribbean flavors, new culinary trends and gastronomic inspiration.