Tamara Novacoviç serves a flavorful combination perfectly suited for the holiday season.
By Tamara Novacoviç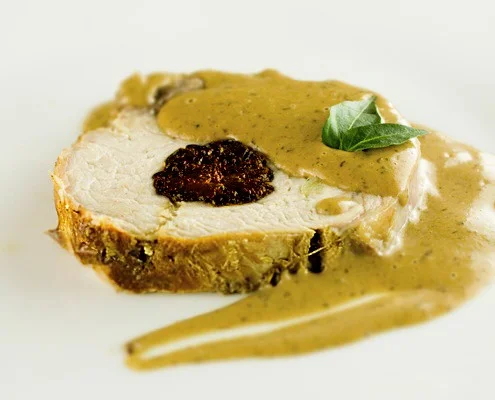 These days are all about cakes and cookies, but something savory has to be served on our holiday tables, right? Here's one idea for your holiday dish: pork chops filled with prunes and prune sauce to serve over them.
You can ask your butcher to prepare the meat for you in order to fill it easier. Last winter, while in beautiful Prague, my boyfriend and I ate similar dish, only it wasn't filled with prunes and the sauce was made from berries. I love the combination of dried fruit like prunes and berries with pork or beef. It's the ultimate pleasure. I don't eat a lot of meat, but this I love.
Each prune you put into meat is filled with a cube of butter, which ensures its juiciness. The rest of prunes are cooked with sour cream and heavy cream and later pureed to make beautiful sauce that you pour over these chops. I believe this is best served with cooked gnocchi.
Holiday Cooking: Pork Beef Steak with Prunes
This is a great combination of dried fruit and meat and idea for your holiday table.
Ingredients
35.2 oz (1 kg) pork chops
5.2 oz (150 g) prunes, pitted
vegetable oil
2 tbsp butter
0.4 cup (100 ml) sour cream
0.8 cup (200 ml) heavy cream
0.6 cup (150 ml) white wine
2 garlic cloves
salt
pepper
optional: chopped fresh parsley
Instructions
Prepare the meat: wash and dry it. You can ask your butcher to prepare it for you, so that you get kind of meat log which you later on pierce through the middle and put prunes inside.
Put a cube of butter into each prune and put prunes in the middle of the meat, in the whole you pierced through it. Sprinkle with salt and pepper. Put into greased baking pan.
Heat oven to 392 F(200 C). Bake meat for about 80 min. Occasionally pour wine and water over it.
In a skillet, heat some oil and add chopped garlic. Add the remaining prunes, chopped. You can add chopped parsley. Pour heavy and sour cream over it and saute for about 10 minutes. Puree, so that you get smooth sauce. Pour this sauce over meat and return to oven for another 10 minutes. Take the meat out, let rest for 10 minutes and cut into pieces. Serve each peace warm, pour some sauce over it. It's best served with cooked gnocchi.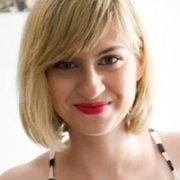 Tamara Novakoviç
Tamara Novakovic is a passionate self-taught cook, food blogger, freelance food writer and photographer behind bite-my-cake.blogspot.com. Her life journey has led her through Faculty of Humanities in Zagreb, Croatia to discovering passion for making cakes. She is currently a weekly food columnist for Croatian newspaper V magazine and food magazine Repete.