Mix up this seasonal martini for your next holiday party to get everyone in a cheery spirit.
By Roberta Pipito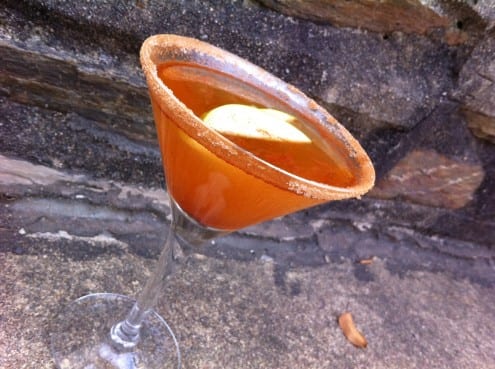 Holiday Caramel Apple Martini
Mix up this seasonal martini for your next holiday party to get everyone in a cheery spirit.
Ingredients
Ice Cubes
3½ shots of Apple Juice
2 Shots of Caramel Flavored Vodka
1⅓ tablespoon of Ground Cinnamon
1 Tablespoon of Sugar
Instructions
In a shaker add ice, apple juice, vodka, ⅓ teaspoon of cinnamon and shake it all up. On a flat plate mix remaining cinnamon and sugar together. This will be for the iem of your martini glass.
Slightly wet your finger tip and go around the edges of the glass. Dip the rim on to the cinnamon and sugar mix, lightly coating it all around. Pour what's in the shaker into the martini glass. Garnish with some apples. Enjoy!
Roberta Pipito
Roberta Pipito is a chef, food blogger and wine and beer aficionado. Her work continues to expand in the foodie world, and can be seen on www.homemadedelish.com.