Hoisin chicken rice bowls is a healthy Asian entree loaded with chicken, red peppers, and mushrooms.
By Amy Casey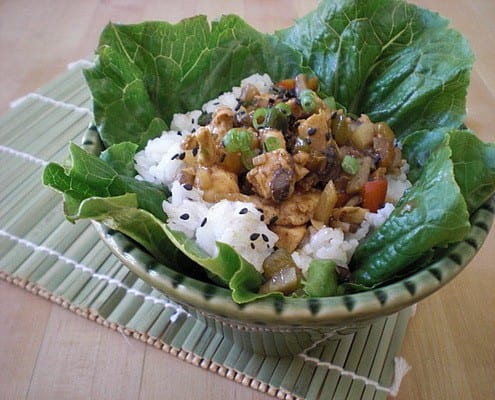 Having chicken breasts in your freezer takes stress out of getting dinner on the table for your family.  They are versatile and can be made into countless entrees for dinner.  Hoisin Chicken Rice Bowls are an ideal make ahead dinner for a busy night. Diced chicken, red peppers, mushrooms, and garlic are sautéed in a little peanut oil and seasoned with a salty and spicy sweet combination of teriyaki and hoisin sauces. Serve in a crisp lettuce lined bowl filled with steaming rice and you have a better than Chinese take out meal.
Hoisin Chicken Rice Bowls are a go-to meal for my family. I make a big batch because it tastes freshly made when reheated, and I can get a few meals out of it. Make a triple batch and freeze some for a quick dinner when you are pressed for time. Imagine your delight when you pull your homemade dinner from the freezer and all that needs to be done is heat it up. The simple things in life make everyone happy.
Hoisin Chicken Rice Bowls
A healthy Asian entree loaded with chicken, red peppers, and mushrooms
Ingredients
1 tablespoon peanut oil
1 large red pepper, diced small
1 10-ounce package baby portebello mushrooms, diced small
2 garlic cloves, minced
2 pounds of boneless, skinless chicken breasts, diced small
1 8-ounce can water chestnuts, drained, diced small
2 teaspoons teriyaki sauce
4 tablespoons hoisin sauce
3 cups of hot cooked rice
romaine lettuce leaves
1 teaspoon black sesame seeds
2 scallions, thinly sliced
Instructions
Heat peanut oil over medium high heat in a large sauté pan. Add red pepper and mushrooms and sauté for 5 - 6 minutes until tender. Add garlic and sauté an additional minute. Add chicken to pan and cook for 6 - 8 minutes or until cooked through. Stir chicken and red pepper mixture occasionally while it cooks. Add water chestnuts, teriyaki sauce and hoisin sauce and stir to coat the chicken and vegetables. Continue cooking until heated through.
To serve, line a single serving size bowl with romaine leaves. Top with a large scoop of rice, some of the hoisin chicken, and a sprinkle of the sesame seeds and scallions.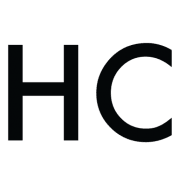 Amy Casey
Amy Casey, of northern New Jersey, is a food columnist for the New Jersey Herald and cookbook author. She has developed a wealth of recipes as a personal chef and also while cooking for her own family of five. See more of her recipes in her just published cookbook for e-readers Dinner for a Year – 52 Easy and Delicious Recipes to Spice Up Your Family Menu Planning.