High Gastronomy – Dinner in the Sky at Brusselicious 2012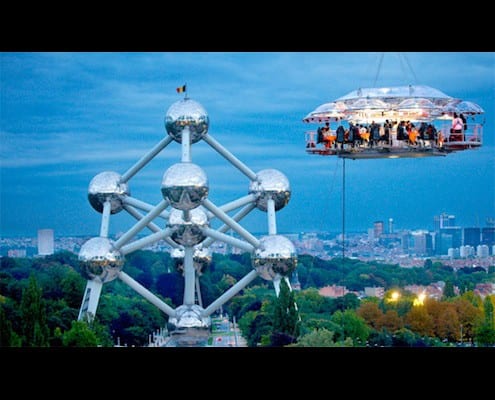 The famous high altitude Dinner in the Sky pop up restaurant will be one of the main attractions at the four-week Brusselicious food festival this summer.
By Eric Sohl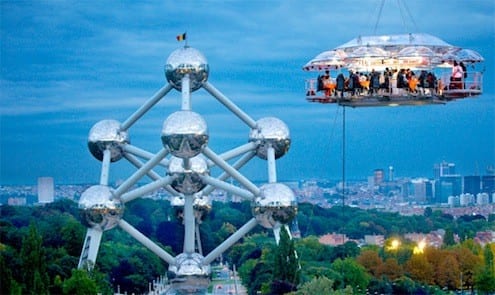 Brussels has always loved Surrealism, so naturally the Brusselicious 2012 food festival just had to offer a Surrealist experience to raise high the flag of our gastronomy.
Dinner in the Sky has met the challenge by providing a unique occasion to discover Brussels' high cuisine in the most extraordinary manner possible: 22 guests and a 'starred' chef will share an unforgettable gastronomic experience in the skies over the capital, enjoying an unparalleled view of Brussels and its surroundings while delighting in rare dishes and fine wines.
7 Great Chefs of Brussels:
Each day a renowned Brussels Chef will treat 22 guests to a delicious lunch and 2 dinners:
•    Yves Mattagne of Sea-Grill**
•    Lionel Rigolet of Comme chez Soi**
•    Pascal Devalkeneer of Chalet de la Forêt**
•    David Martin of La Paix*
•    Giovanni Bruno of Senza Nome*
•    Luigi Ciciriello of La Truffe Noire*
•    Patrick Vandecasserie of La Villa Lorraine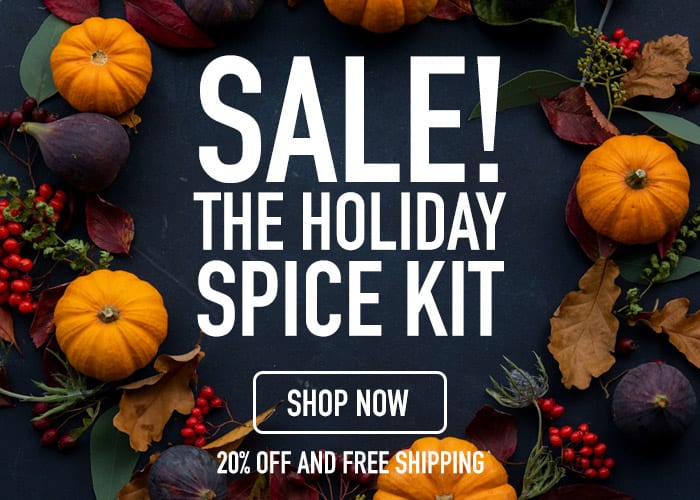 Where and When ?
For 1 week each, 4 different emblematic sites are the venue for the Dinner in the Sky:
•    From 4 to 10 June: The Royal Palace
•    From 11 to 17 June: the Atomium
•    From 18 to 24 June: the Esplanade of Cinquantenaire
•    From 25 June to 1 July: the Bois de la Cambre
Eric Sohl
Eric Sohl is Editor in Chief of Tasting and Living.com He has a strong appetite for international food and travel. Together with a team of bloggers based in Brussels, Belgium, he scouts the world to report back on all things foodie.