Enjoy this scrumptious herb meatballs recipe from Bryan Pickard.
By Bryan Pickard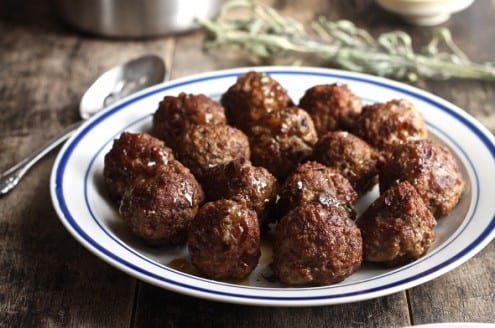 Although I prefer fresh herbs in general, the ones we dried last fall still smell and taste outstanding. I chose the earthy flavours of sage and thyme with a few refreshing notes of mint, knowing this combination would compliment and not overpower the beef, which I got from Scenic Valley Farm over in Margaree and highly recommend. For a sweet and sour sauce to drizzle on before serving, I reduced some maple syrup and apple cider vinegar, but if you're in the mood for pasta, skip that and go with a tomato sauce. Enjoy!
Herb Meatballs with Maple Sweet and Sour
Enjoy this scrumptious herb meatballs recipe.
Ingredients
Herb Meatballs
• 1½ lbs ground beef (or a mix w/pork)
• 1 egg
• ¼ cup parmesan cheese, grated
• 1 tablespoon dried sage
• 1 tablespoon dried mint
• 1 teaspoon dried thyme
• 2 teaspoons sea salt
• few cracks or black pepper
• dash of hot sauce (optional)
• grapeseed or sunflower oil
Maple Sweet and Sour
• ½ cup maple syrup
• 4 tablespoons apple cider or white wine vinegar
Instructions
Herb Meatballs
In a large bowl, mix all the ingredients well.
Form 20 golf-sized balls and lay them on a plate or pan.
In a shallow pan, heat the oil on medium-high until it sizzles.
Lower the heat and cook the meatballs in two batches, about 7-9 minutes each, turning them once in a while to cook on all sides.
Set aside on a plate and repeat.
Serve with the maple drizzle and some sea salt flakes.
Maple Sweet and Sour
In a small saucepan, simmer the maple syrup and vinegar for about 5 minutes.
Bryan Picard
Bryan Picard is a wild and homegrown food enthusiast. He lives in the Maritimes in Canada and has worked the kitchens as a cook and chef for the past ten years. He writes on his blog The Bite House.