A simple and stunning heirloom tomato puff pastry from Jerri Green.
By Jerri Green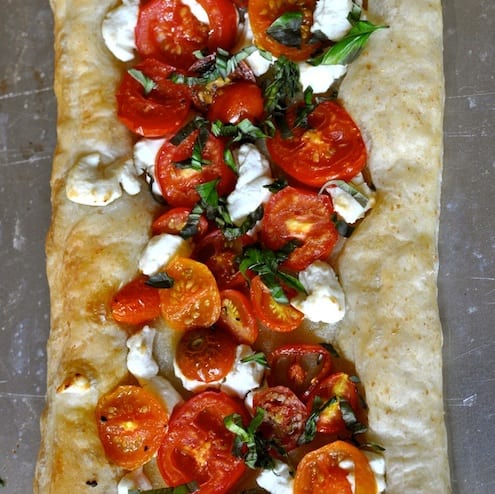 Remember when Sean Combs became Puff Daddy and then he was Puffy? Or maybe it was the other way around. And then he was P.Diddy or some craziness. It devolved from there I'm sure. I guess we have Prince to thank for all of this. I bring this up for two reasons – (1) I just heard Snoop Dogg is trying to change his name to Snoop Lion after a life changing trip to Jamaica. Not happening. He can clean up his songs and his image all he wants, but he still resembles a dobberman pincher. (2) This recipe has puff pastry and it also made me think of Puffy, or whatever his name is now.
Sorry for the the digression, but now to the food. This gorgeous dish is thanks to the over abundance of tomatoes in my house this time of year. My carnivore won't eat them unless they are in ketchup or marinara form, but he will grow them – lots of them. That combined with the numerous heirloom varieties I get in my CSA mean I have to come up with lots of ways to use tomatoes. And this dish couldn't be easier.
See Also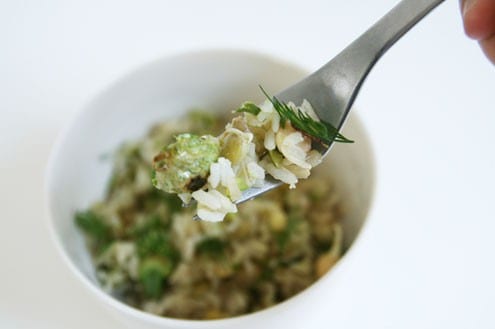 A simple and stunning heirloom tomato puff pastry
Recipe Type:
appetizer, vegetarian main
Ingredients
a sheet of puff pastry, thawed
flour for dusting
several small tomatoes
fresh goat cheese, about half a small log
5-6 fresh basil leaves
a drizzle of olive oil
fresh cracked pepper and kosher salt
Instructions
Preheat your oven to 375 degrees.
Roll out the pasty to form a long rectangle.
Spray a baking sheet with non-stick spray and place the the dough on.
Slice the tomatoes and layer them on the pastry.
Add salt and pepper to taste.
Drizzle with oil.
Sprinkle with goat cheese crumbles.
Bake for 15-20 minutes until pastry puff and gets golden brown.
Once ready, chiffonade the basil leaves and put on top.
Slice and serve warm.
This would make a beautiful starter at a dinner party. I had this as my main course along side sauteed green beans and buttered brown rice. My carnivore husband had grilled chicken with the same sides. Like I said, he'll grown them but not eat them. In any case, this dish is sinfully good and simply stunning. It is my favorite puffy of any kind, whatever you call it.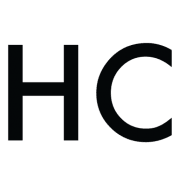 Jerri Green
Jerri Green is a vegetarian that lives with and loves a self-proclaimed carnivore. She makes meals work for everyone while juggling the mounting demands of motherhood. Nothing fancy but always fresh, she draws on her southern heritage to bring satisfying food to the table each and everyday.