Heirloom Tomato Margherita Pizza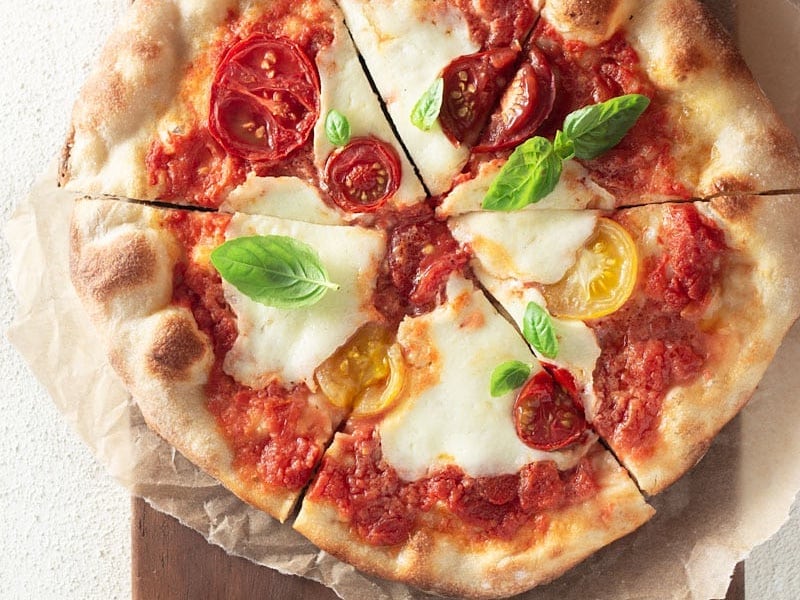 Margherita pizza is my favorite classic pie. The sauce and cheese are key to success. Sliced heirloom tomatoes add a fresh, summertime touch.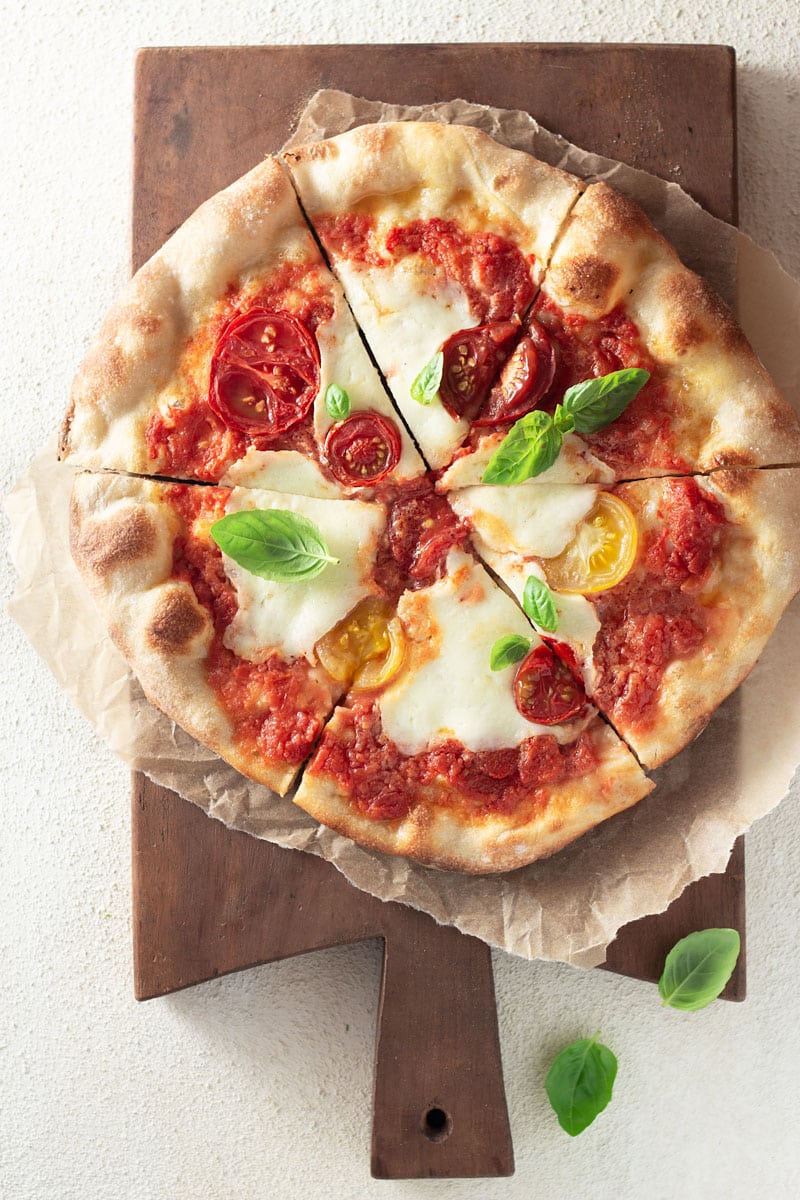 I've made pizza here and there in the past, and this crust recipe is definitely my favorite. If you haven't heard of Roberta's, it's a well-regarded pizzeria in Brooklyn. Definitely my favorite Brooklyn pizza shop. It has fun, hipster vibes and a fiery hot pizza oven that busts out beautiful personal pies. The menu has its fair share of creative options, so it's definitely worth multiple trips.
What makes Roberta's dough so great? I think it's the combination of all-purpose and 00 flour that gives the dough an amazing texture. 00 flour is finely milled and has a lower gluten content than all-purpose flour, giving the pizza some added tenderness. This dough creates a crispy crust with a really great toothsomeness to it. Another great thing about Roberta's dough recipe is that it can be made the day before and left to rise in the fridge. With pre-risen dough, pizza day is a cinch.
Another great pizza dough recipe I recently tried was from French Guy Cooking. His recipe actually uses all 00 flour, resulting in a more tender and delicate crust. I'm not sure if this dough can be made ahead and refrigerated, but it's another really delicious option worth a try on your next day off.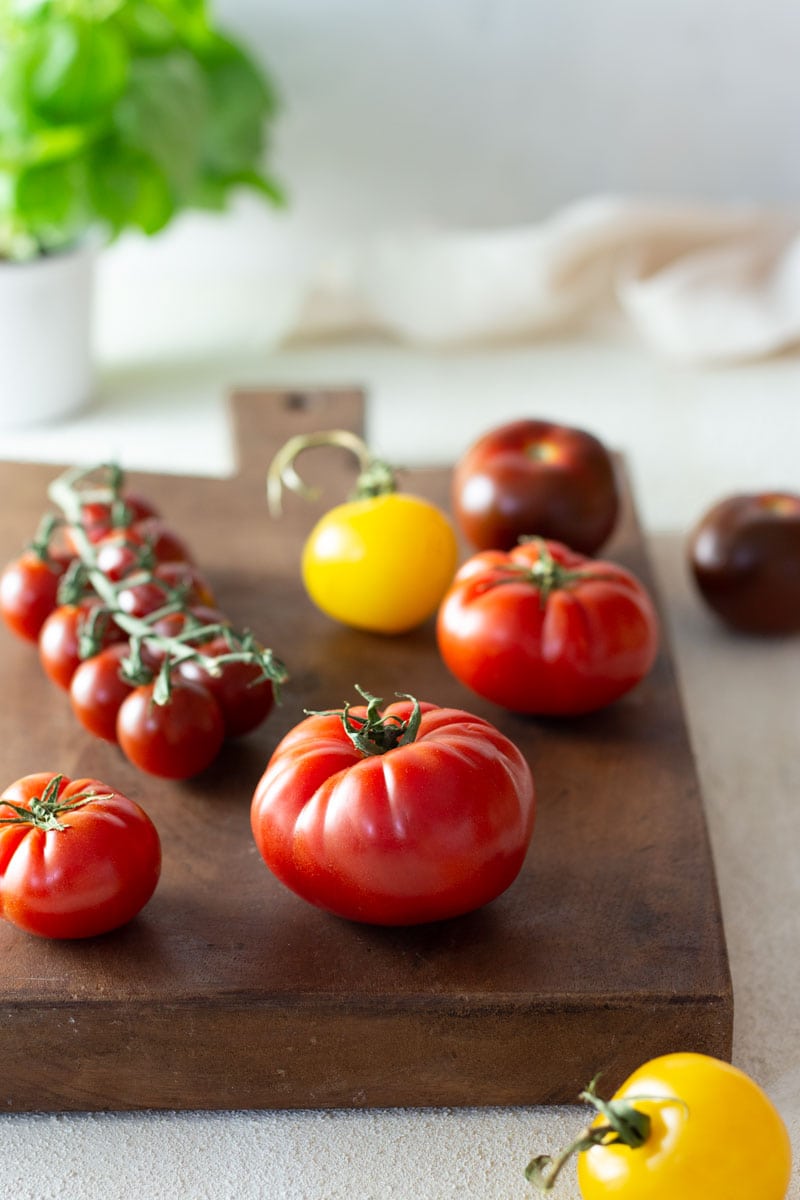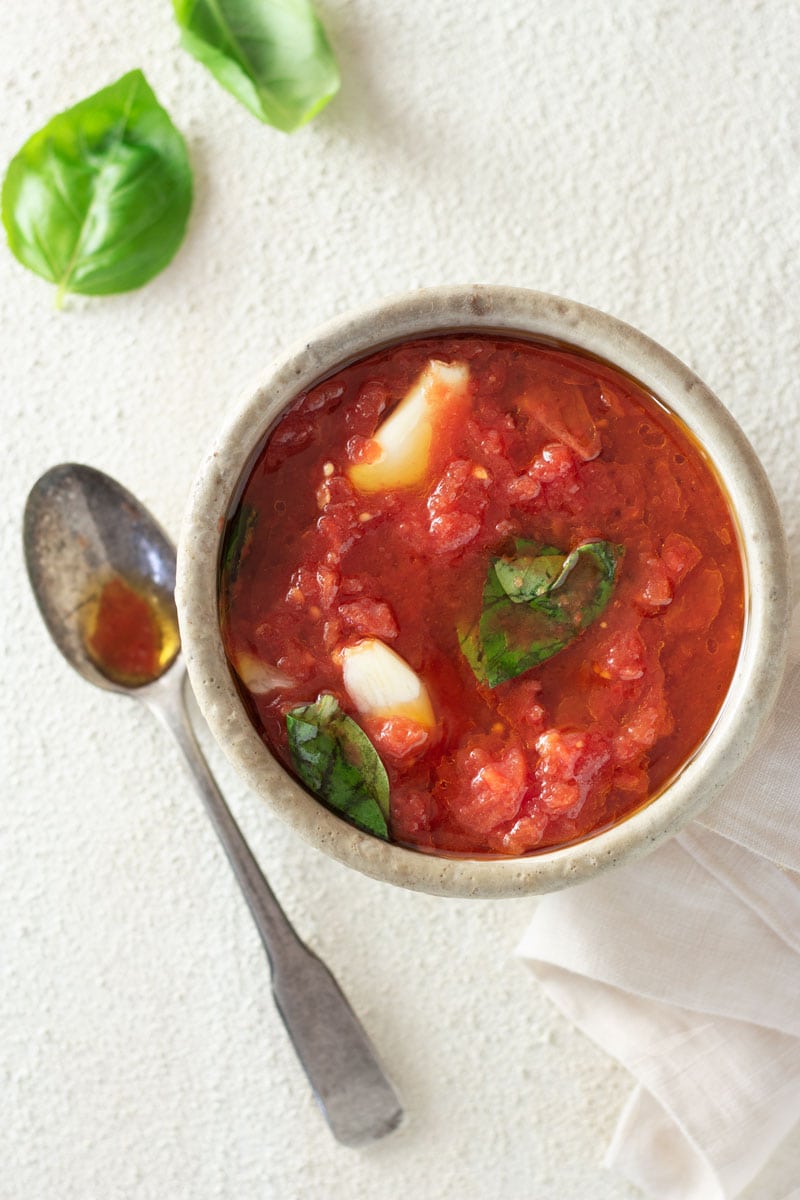 The next element to a great pizza is the sauce. Simple is best in my opinion, and I want only the best in this Heirloom Tomato Margherita Pizza. Dried oregano might work in some cases, but I chose to keep things fresh here. Good quality whole San Marzano tomatoes, hand crushed, garlic, basil and olive oil marinate and merge flavors to create the perfect sauce.
Cheese is of course the other critical ingredient. Fresh buffalo mozzarella is top of the list in my book. It's rich, creamy and so flavorful. If you can't find the buffalo variety, standard cow's milk moz will work  just fine. And keep in mind, that with pizza less is more when it comes to cheese. There are no double cheese pizzas in my house.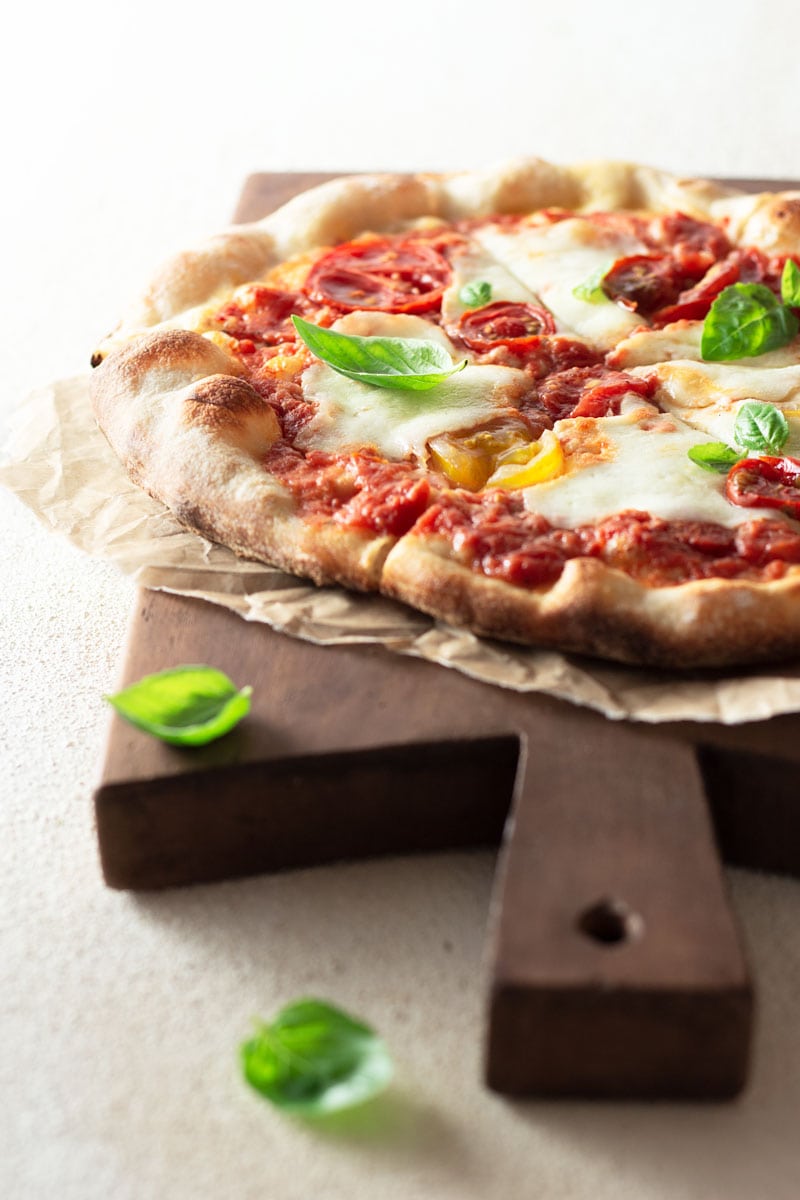 Summertime is time for tomatoes, so that's exactly why I decided to make this Heirloom Tomato Margherita Pizza. Heirloom tomatoes are uniquely shaped and pigmented, and incredibly delicious. I got a wonderful mix of tomatoes at my local farmer's market and gave a slice or two of each a showcase in this pizza. After the pizza makes its way out of the oven, a kiss of basil adds the perfect finishing touch. Okay so what are you waiting for? Make this Heirloom Tomato Margherita Pizza now!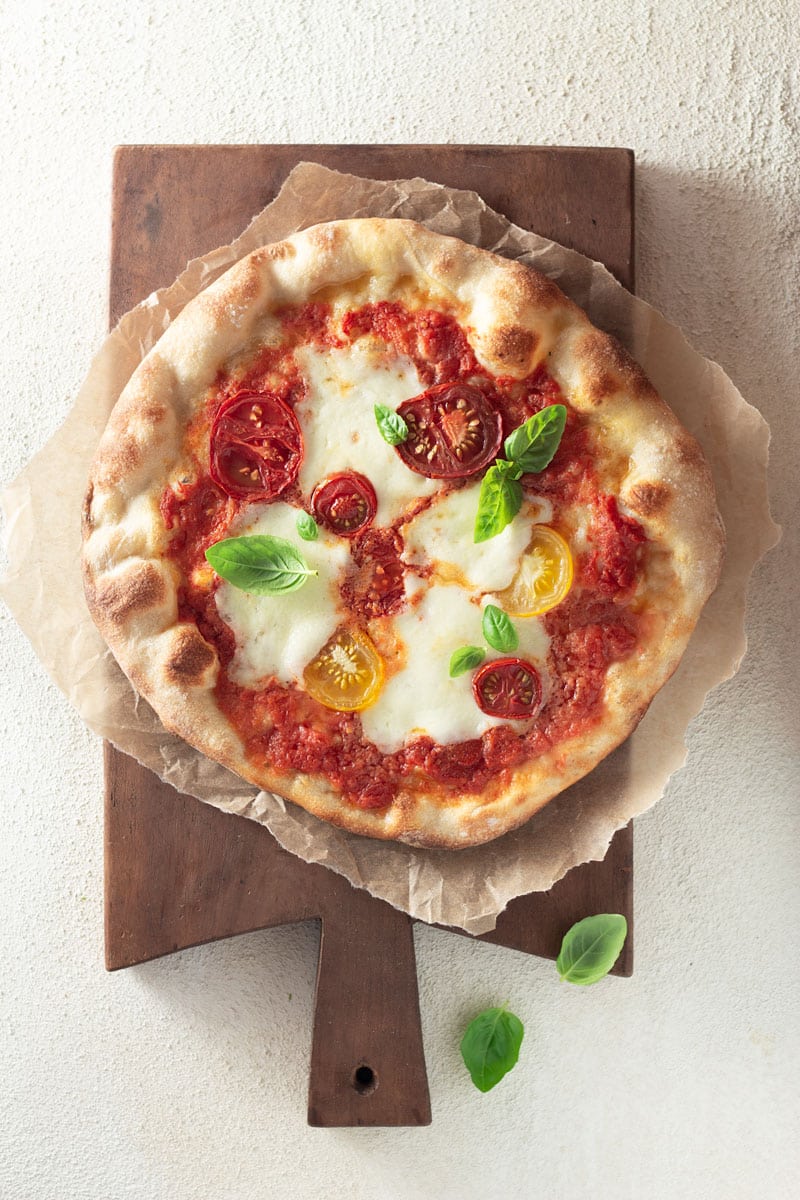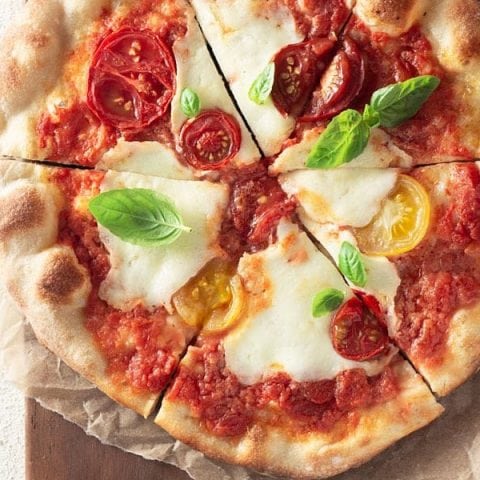 Heirloom Tomato Margherita Pizza
Sabrina Russo
Margherita pizza is my favorite classic pie. The sauce and cheese are key to success. Sliced heirloom tomatoes add a fresh, summertime touch.
Servings
2
, 10 inch pizza pies
Ingredients
Pizza Dough

Roberta's Recipe or enough for 2, 10-inch pies

5

whole San Marzano tomatoes from can

~½ cup

2

tbsp

extra virgin olive oil

2

garlic cloves

smashed, but kept intact

3-4

large basil leaves

bruised

Kosher salt

8

oz

fresh mozzarella

preferably buffalo

10-14

slices

mixed tomatoes

Basil leaves

for garnish
Instructions
Make dough: If using Roberta's pizza dough recipe, I suggest making the dough the night before and allowing it to rise in the fridge for 8-24 hours. Remove from fridge and allow to rise further at room temperature for about 30-45 minutes before baking (when oven is half-way heated).

Mix sauce: In a bowl, add canned tomatoes and crush with hands or fork until chunky. Stir in oil, garlic and basil, and season with salt. Mix sauce at least one hour or up to three hours ahead. Cover and keep at room temperature until ready to use.

Preheat oven: Place a pizza stone on the bottom of the oven. One hour before baking, heat oven to 500°F or highest setting. According to my thermometer, my oven reaches 550°F.

Prepare toppings: While oven is preheating, arrange tomato slices on a plate. Season with salt and cover until ready to use. Before using, blot with paper towels to absorb excess moisture. Slice cheese into 1/4 inch rounds right before using.

Roll and top dough: Transfer first dough ball to a lightly floured surface. Use fingers to stretch and shape into a thin, 10-inch round. Flour a pizza paddle or overturned pizza sheet. Transfer dough to paddle. Remove and discard basil and garlic from sauce. Spoon over a thin layer of tomato sauce and spread from the center outward, leaving a 1 inch border. Top with half and cheese and tomatoes.

Bake and serve: Transfer dough from pizza paddle to baking stone. Bake for about 7-10 minutes or until crust is browned. Using the pizza paddle or two spatulas, remove the pizza from the oven and allow to cool slightly on cutting board before slicing. Repeat with remaining dough ball. Top with basil. Enjoy.
Sabrina Russo
My Three Seasons represents the 3 key factors that are most important to me in cooking. #1 Seasonal ingredients #2 Proper Seasoning (don't skimp on that salt!) #3 Cooking like a Seasoned chef (technique is everything). My name's Sabrina. I live in NYC. I'm a registered dietitian with professional cooking and food styling experience. Come cook with me.