This Lobster Pizza is loaded up with spinach and gouda and is a decadent treat for any night of week.
I think I've died and gone to Heaven… No Seriously!! THIS IS THE MOST SCRUMPTIOUS PIZZA I HAVE EVER HAD!! No, Seriously….. It is super easy and so delicious! Want to pretend you are in heaven too? Make this Lobster Pizza!
My nephew and his four year old have been coming over most Sunday afternoons for dinner and fun. Wayne is a stupendous cook in his own right and we have a blast hanging in the kitchen and coming up with fun stuff to eat! His four year will absolutely eat ANYTHING you put in front of him, I love it! This was one of the creations.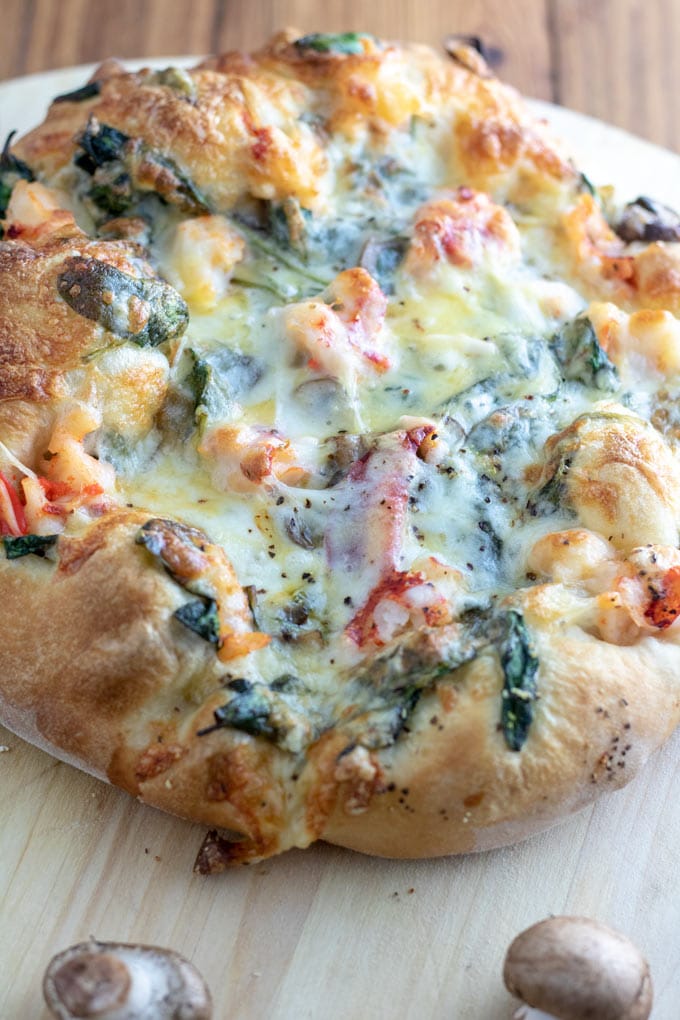 This will remind you of lobster alfredo. But this is totally better than lobster alfredo!
After a trip to the local fish monger we were armed with our culls, which are not prefect (usually missing a claw) so they are only $6.99 a pound. Which is cheap for our area.
See Also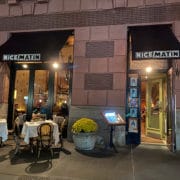 OTHER DELICIOUS PIZZAS I'VE CREATED:
Chicken Florentine Pizza
Thin Crust Grilled Chicken Pizza
Tuna Pizza
Deep Dish Breakfast Pizza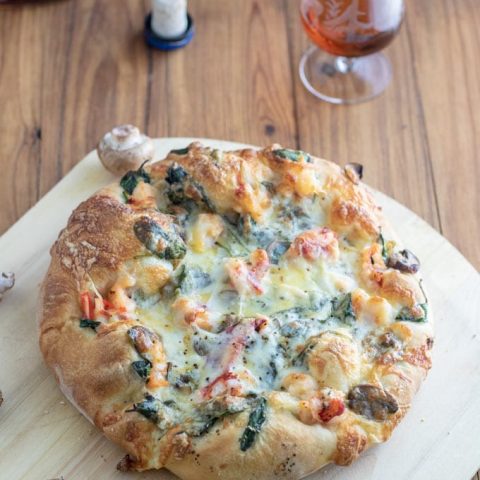 Heavenly Lobster Pizza
Beth Neels
Ingredients
1

Tbsp

. Olive Oil

3

Tbsp

. minced onion

1

c

. sliced mushrooms

2

c

. baby spinach leaves

1

Pizza Dough

store bought or homemade

a little corn meal to sprinkle on pan

1

c

. cooked lump lobster meat

1 1/2

c

. shredded Gouda Cheese

about 1/2 cup shredded Mozzarella
Instructions
Saute' onion in olive oil until soft. Add mushrooms and continue sauteing until lightly browned. Add spinach and stir until just wilted. Remove from heat.

Preheat oven to 450°F. If you have a pizza stone, heat the stone.

I sprinkle corn meal on parchment paper and then slide the parchment onto the stone because I don't have a pizza peel.

Stretch dough and roll into 10-12" round.

Place on parchment paper.

Cover with a kitchen towel and let dough rest for about 5 minutes.

Spread mushrooms and spinach evenly across dough.

Top with lobster and then the cheeses.

Bake for 18-20 minutes until golden and bubbly