Savory oatmeal with a twist of miso to start your day off right with a serving of vegetables. This miso oatmeal is great for days when you want a quick breakfast, or even great as light lunch or dinner.
By Shannon Lim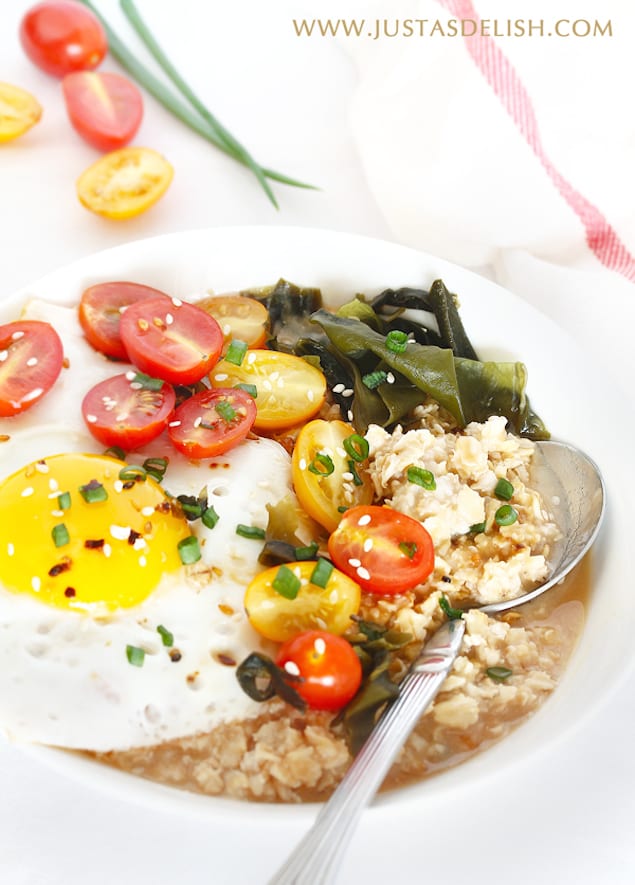 Most of us associate oats with sweet breakfast, either banana oatmeal or granola. Not many are aware that there are many great savory oatmeal recipes and I hope you'll try one soon. To some of you, savoury oats might sound odd or yucky. Oats are a great grain to use like any other grain like rice or quinoa and you don't have to use it just for a sweetened breakfast.
I've become too accustomed to sweet breakfasts and it's time to get me back to my Asian roots of having a savoury breakfast. Yup, our rice, noodles, and rice porridge for breakfast are the norm. I love my naturally sweetened big breakfast oats, but on the days I have savoury breakfast, I get more satisfied and energized throughout the whole morning. I've come across a couple of savoury oatmeal recipes – mostly with cheese or soy sauce. Somehow these two combinations just doesn't quite strike me as something I would like to try. Hence, I experimented with miso. But after I tried it, I am loving it more than sweetened oatmeal! This miso oatmeal is so good that every mouthful is completely satisfying.
See Also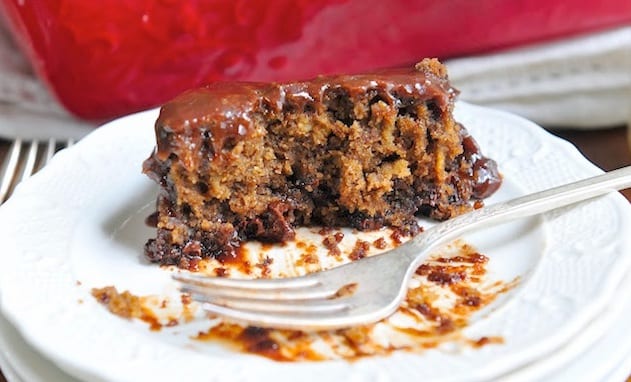 This miso oatmeal is great for days when you want a quick breakfast, or even great as light lunch or dinner. I use the same method as my Big Breakfast Oats – just soak rolled oats in boiling water for a 3-5 minutes until it softens. Rolled oats are already edible, so I just soaked them instead of cooking. Then stir in diluted miso into the oats and throw in any ingredients that can be eaten raw. I had with me cherry tomatoes, wakame and homegrown spring onion. I think capsicum (peppers), zucchini, cucumber and onion would work too. Let me know what works for you. If you prefer to cook the rolled oats, stir in diluted miso after that. If you have a little more time, saute mushrooms with some greens would be a delightful addition too. Steel cut oats can be used instead of rolled oats too, it has a does have a lovely texture and require some time to get it cooked.

Hearty Miso Oatmeal
This miso oatmeal is great for days when you want a quick breakfast, or even great as light lunch or dinner.
Recipe Type:
Main, Breakfast
Ingredients
6 tablespoon Rolled Oats (add more if you like)
250ml (1 cup) Boiling Water
½ tablespoon Miso Paste
a handful Cherry Tomatoes - cut into half
a sprinkle of Wakame (dried seaweed)
1 Spring Onion - finely cut
1 teaspoon Sesame Seeds
Instructions
Place oats in a bowl or deep plate and add into boiling water until the water covers the oats by 1 inch. Let it soak for 3-5 minutes until it soften (The time depends on the quality of your rolled oats).
Meanwhile, heat up a frying pan to fry an egg. Cut the cherry tomatoes and spring onion. In a small bowl, mix miso paste with 2 tablespoon of hot water.
Stir in diluted miso into the softened oats, top with egg, tomatoes, wakame, spring onion and sesame seeds. Add more miso if you prefer saltier flavour.
Shannon Lim-de Rooy
Shannon's kitchen is her playground and creative outlet, where she loves to experiment with recipes. As a Malaysian, her food influences are mainly Malay, Chinese and Indian cuisine but her curiousity in other culture lead to cross cultural cooking. On her blog JustAsDelish.com, she pursue her mission in creating healthy and delish food.