Hearty Eggs with Harissa Spiced Chickpeas and Mixed greens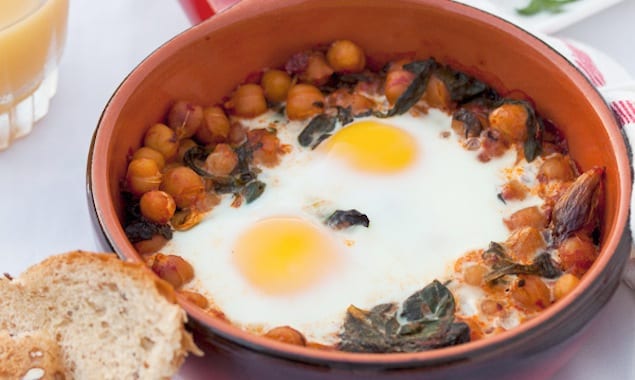 This dish with harissa spiced chickpeas is quick, easy, and full of bursting flavors. It is great on its own for a fast lunch or a perfect side to chicken or fish at dinner. A bit spicy, a little earthy with a hint of rustic tasting harissa, this is a beautifully balanced dish.
By Lail Hossain
This egg dish with harissa spiced chickpeas is quick, easy, and full of bursting flavors. It is great on its own for a fast lunch or a perfect side to chicken or fish at dinner. A bit spicy, a little earthy with a hint of rustic tasting harissa, this is a beautifully balanced dish. If you don't want to add the eggs, just enjoy the chickpea as warm salad with crusty bread.

Hearty Eggs with Harissa Spiced Chickpeas and Mixed greens
This dish is quick and bursting with spicy, earthy flavors. It is great on its own for lunch or as a side to chicken or fish.
Ingredients
15.5 oz can of chickpeas (1 ½ cups cooked)
1 tablepoon olive oil
1 cup onion, sliced
2 garlic cloves, crushed
4 tablespoon Saffron Roads Harissa Simmering Sauce
½ teaspoon, salt or according to taste
5 oz mixed greens (spinach, argula, spring greens, etc.)
4-6 eggs
Instructions
Rinse and drain the chickpeas.
Heat olive oil in a saucepan; add onion, garlic and sauté over medium heat until caramelized. This should take about 6-8 minutes.
Add the harissa sauce and stir through chickpeas, salt and two tablespoons of water. Simmer for about 6-8 minutes until thick.
Add mixed greens and stir it through the mixture. Once the greens are a bit wilted, turn off the stove.
Preheat oven to 350 degrees Fahrenheit.
Spoon chickpea mixture into two shallow ovenproof dish or remekins.
Make 2 or 3 indents in mixture with a spoon, and crack an egg into each.
Bake until eggs are just set about 12-15 minutes.
Serve hot with pita or crusty bread.
Notes
Alternatively, the eggs can also be cooked on stovetop instead of baking. Add additional ½ cup water to the chickpeas, crack the eggs and cook until eggs are done.
Try a variation of this with chard or kale.
Use other legumes such as white beans, kidney beans, etc.
Lail Hossain
Lail Hossain finds cooking to be an explosion of creativity. She is enthusiastic about modifying a laborious step of an old recipe, and experimenting with different ethnic recipes by adding her own spin to it yet keeping the recipes simple, healthy, and delicious. Originally from Bangladesh, Lail shares her journey of food, creativity and family in her blog "With A Spin". She is also very passionate about highlighting Bangladeshi cooking to the international culinary space.