SPONSORED POST: We're celebrating the rest of summer with recipes and wines from Beaujolais that will usher us into fall in delicious style. Be sure to enter below for a chance to win the ultimate picnic set!
This hearty chopped salad is loaded with crisped prosciutto, chickpeas, feta, chicken and even small, round pasta. It's a refreshing, easy meal paired with an approachable red wine.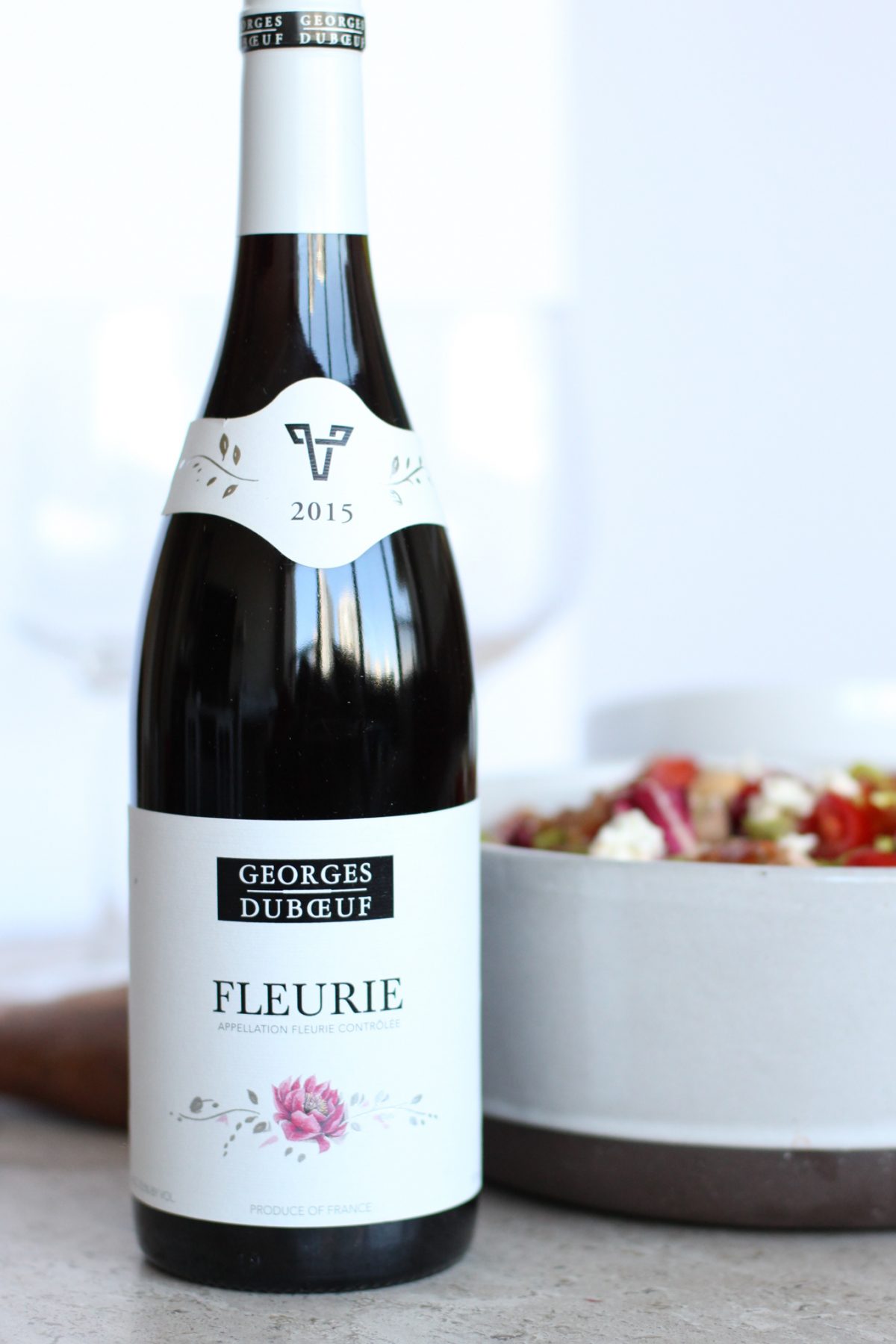 It's no secret that I love spending my nights cooking up something awesome and serving it with a delicious glass of wine. You've seen me do that time and time again. But in this particular instance, I decided to forego anything too heavy or flashy, and go with a salad. It's not boring, I promise! My brother actually came up with this recipe one night when he was craving our favorite Portillo's Chopped Salad… and immediately texted the family about it. I don't think he even meant to make it healthier, but by using a simple homemade vinaigrette, we're already leaps about bounds healthier than the fast food chain ? He also crisped up prosciutto instead of bacon – which is another family favorite. If you've never done it, I highly recommend you try it. I honestly like it even more than bacon. There. I SAID IT!
But there are two other reasons why I love this recipe. #1: it makes a TON, so you can keep it for leftovers all week. And #2: it pairs perfectly with my new favorite red wine, Fleurie, Georges DuBeuf. Yes yes yes.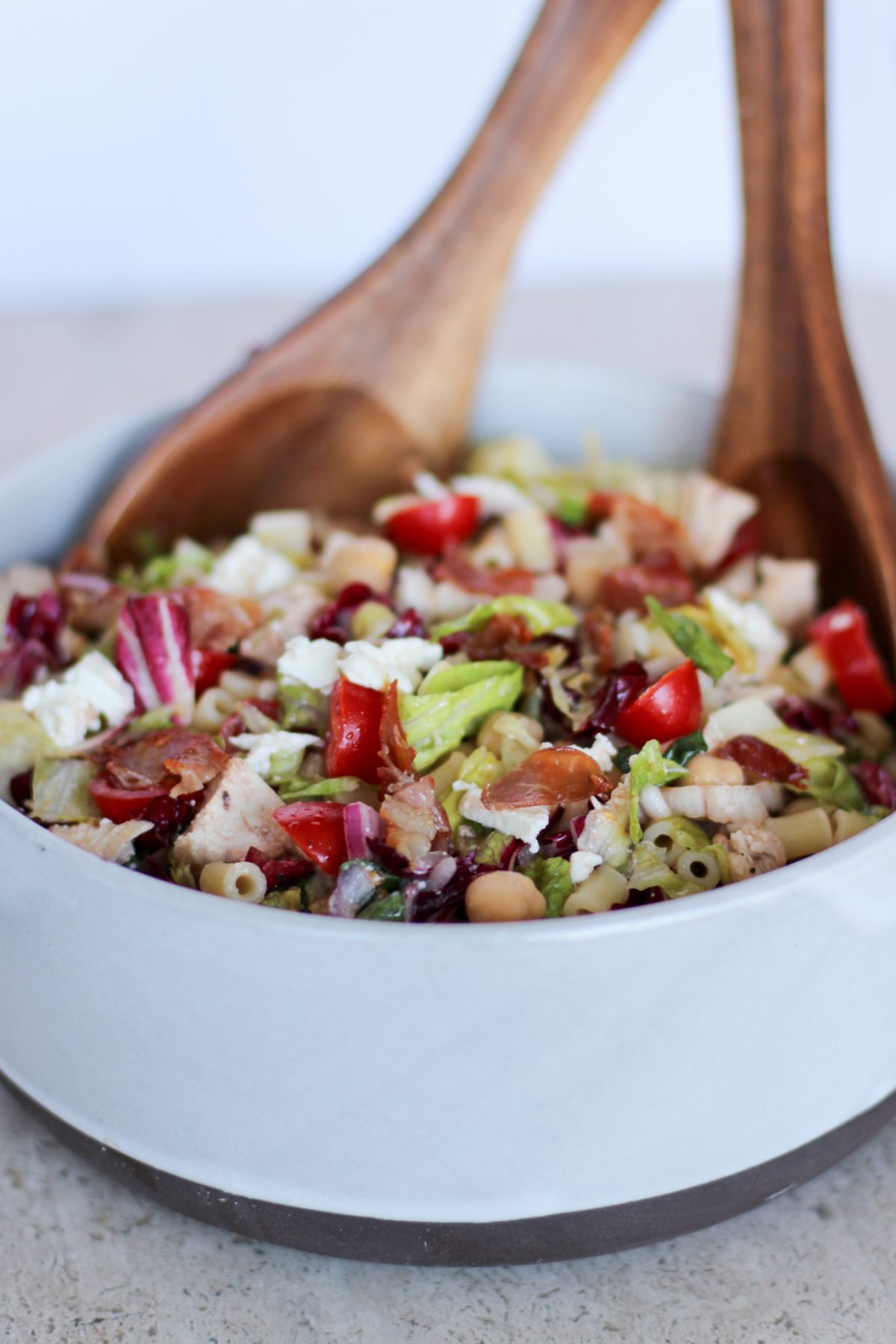 I love this wine because there's nothing snobby about it. It's incredible drinkable, you can serve it room temperature or chilled, and it pairs well with so many different foods. I tend to shy away from red wine in the summer, but this one has changed my mind. Especially paired with a light salad!
This particular Beaujolais wine is from the vineyards of Fleurie in Eastern France. The grapes are planted on pink granite soils, which contribute to it's unique, fruity style. I had no idea I should even be looking for this wine… and now I think it's going to be a staple in my home.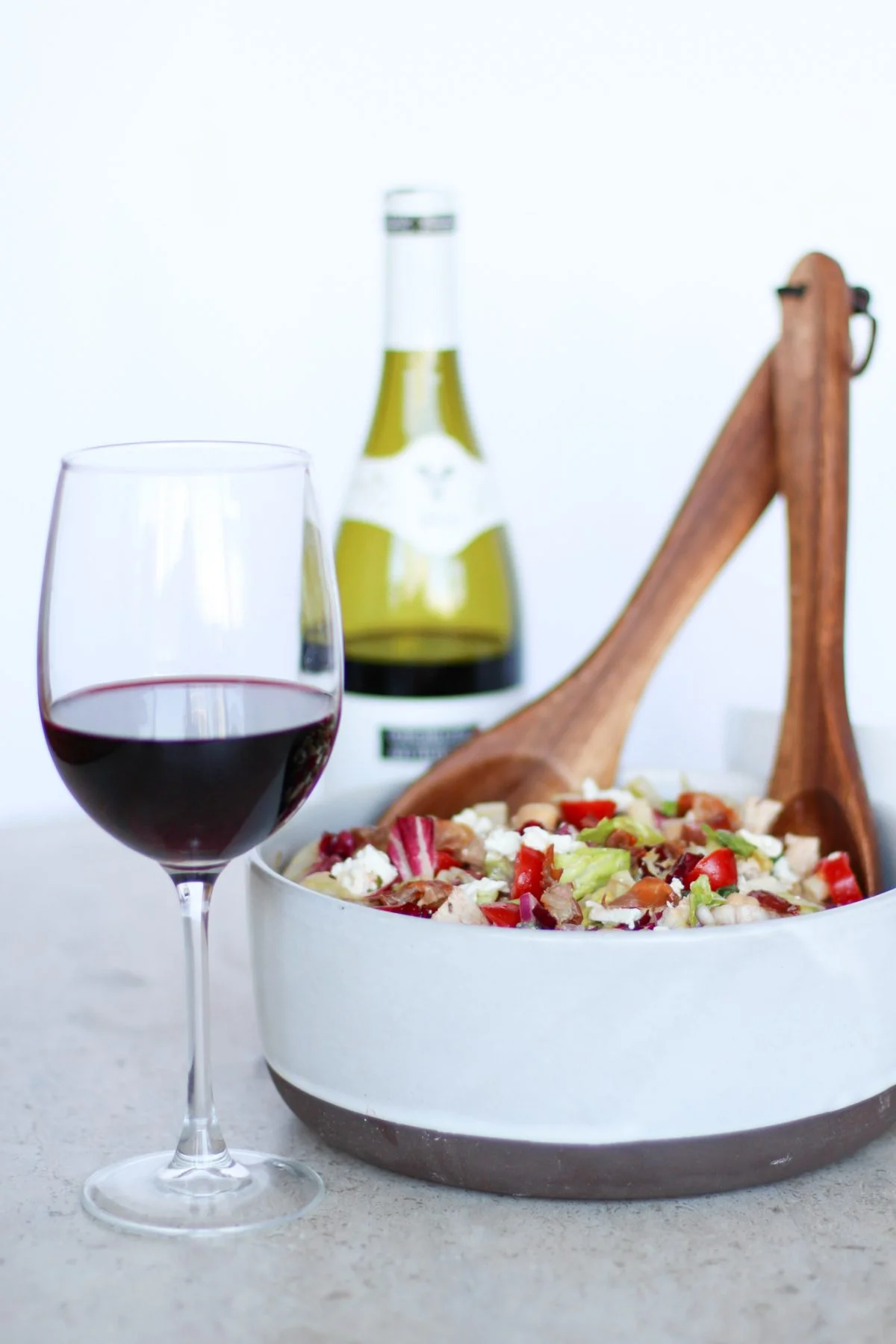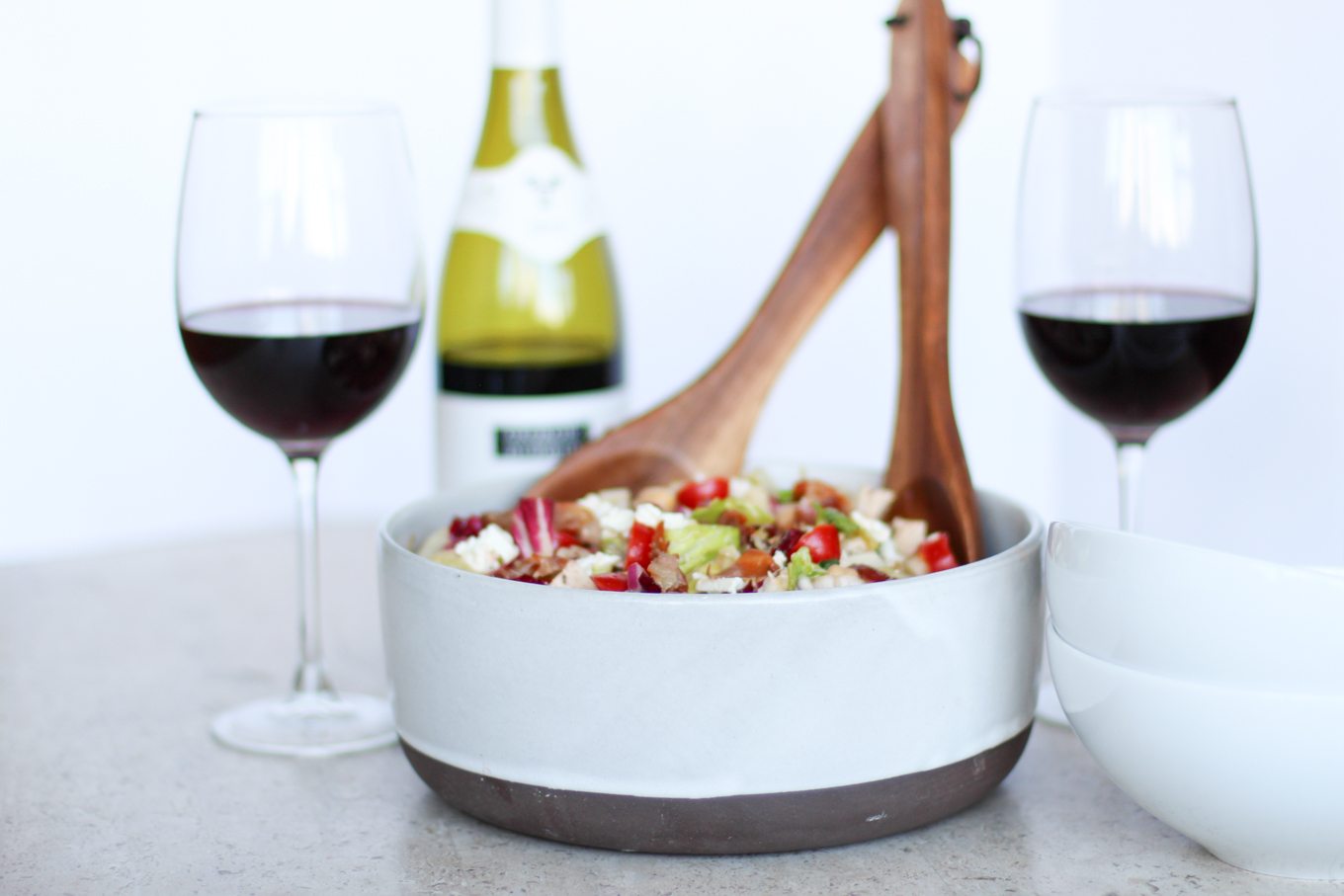 But back to the salad for a second… HOW good does this look?! The mix of textures and flavors make it so much more interesting than your typical salad. It also makes a HUGE amount, so if you don't want leftovers, you should cut the recipe in half for sure. If you DO want leftovers, I recommend tossing all of your ingredients together besides the dressing. Pour your dressing over what you are serving that day, and reserve the rest for your other servings. This keeps the salad from getting soggy. Work week salads just got more exciting, huh?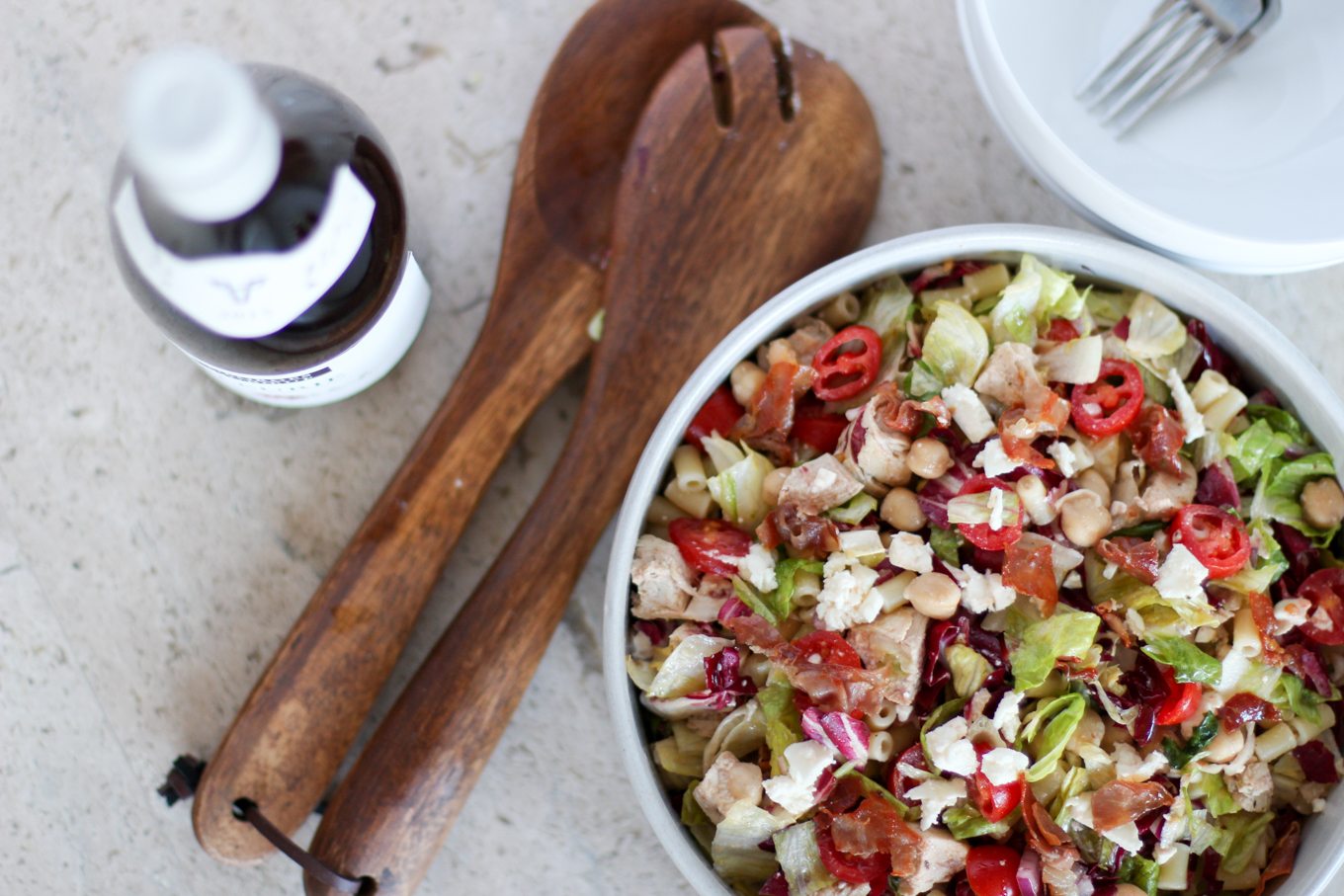 Check out these Beaujolais wine tips: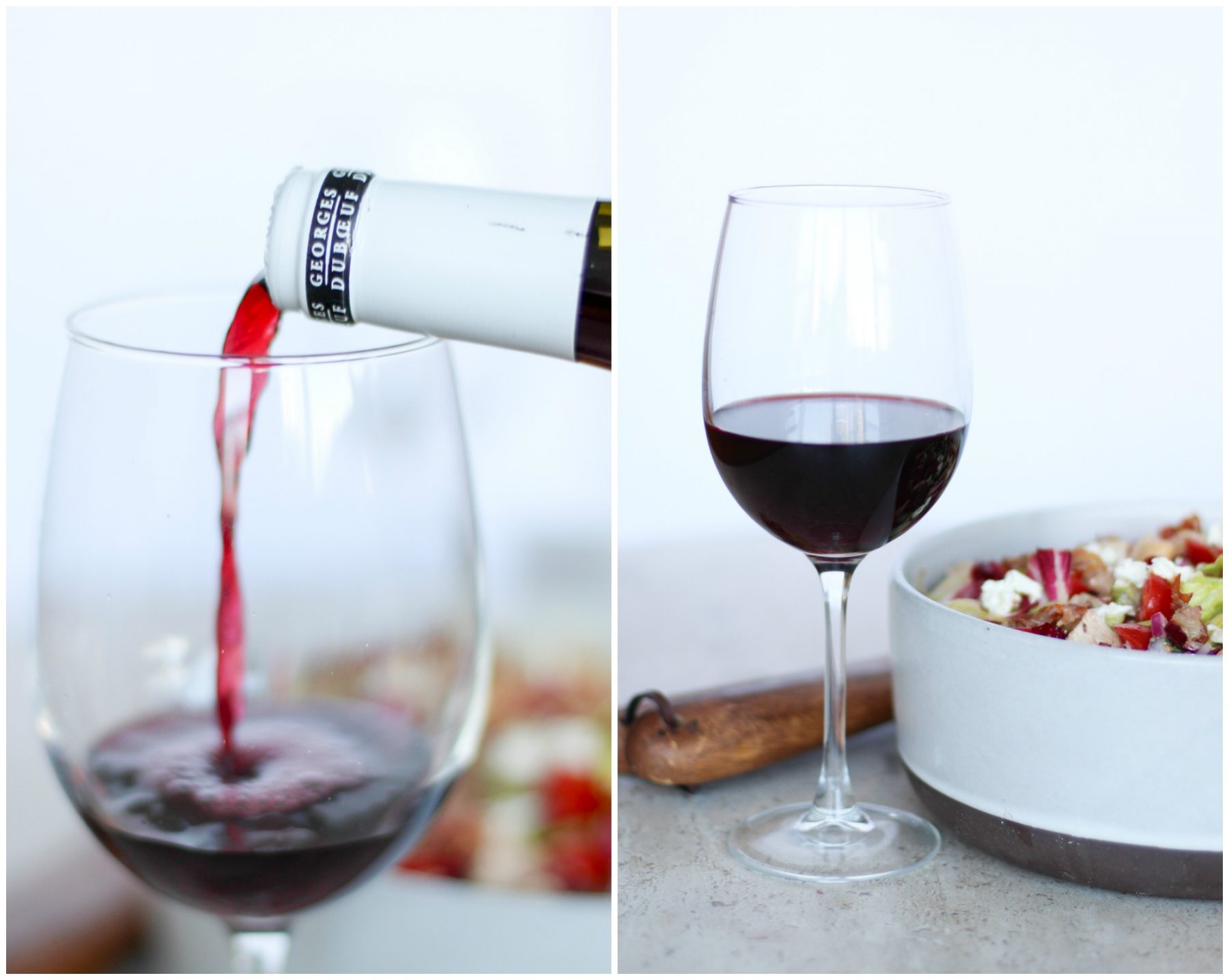 Enter below for a chance to win a stunning wine and picnic set.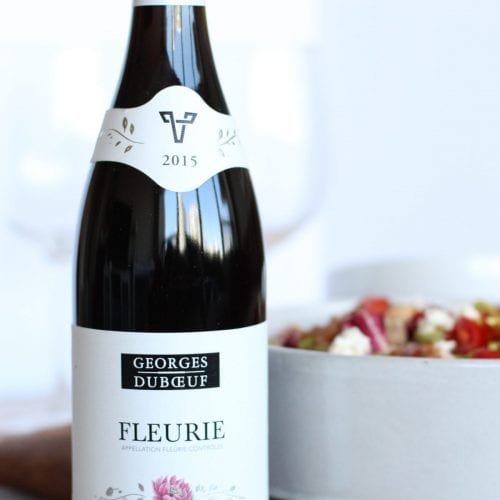 Hearty Chopped Salad and Beaujolais Wine
Lauren Nolan
This hearty chopped salad is loaded with crisped prosciutto, chickpeas, feta, chicken and even small, round pasta. It's a refreshing, easy meal paired with an approachable red wine.
Ingredients
1

heart of romaine

1

medium-sized head of iceberg lettuce

3/4

medium-sized head of radicchio

1

can of chickpeas

rinsed under water

10

slices

of prosciutto

cooked in saute pan until crisp

1

box of cherry or grape tomatoes

1/4

small red onion

1/2

pound

Ditalini pasta

1

block of feta

6 oz, crumbled up

2

chicken breasts

1/4

cup

of olive oil

1/3

cup

of red wine vinegar

salt and pepper

Italian seasoning
Instructions
Set a pot to boil and cook the pasta noodles until al dente. Rinse and run under cool water. Set aside.

Heat a pan with olive oil and pan fry the chicken breasts. I cooked one side for 10 minutes, flipped, and then cooked the other side for another 10. Set aside to cool.

While the chicken is cooking, chop your romaine lettuce, iceberg lettuce and radicchio. Add to a bowl with chopped tomatoes.

Thinly slice or mince the red onion and add that to the bowl.

Add chickpeas, feta and ditalini pasta.

When the chicken as cooled, cut into chunks and add to the bowl.

Cut your prosciutto into bite sized pieces and add to a hot saute pan. Keep an eye on it as it cooks, moving the prosciutto around so none of it burns. Once the pieces are crisp, remove from the heat.

In a small bowl, combine olive oil, red wine vinegar, salt, pepper and Italian seasoning. Whisk with a fork and pour over the salad.

Stir in the crispy prosciutto last, so they don't get soggy.

Serve with Georges DuBeouf Fleurie wine!
Lauren Nolan
Lauren is the founder and editor of www.lakeshorelady.com. She shares her personal style, shopping tips, and of course - step by step recipes. She firmly believes that healthy food should be delicious, but a slice of pizza can solve almost any problem.