Healthy Steamed Spinach Rolls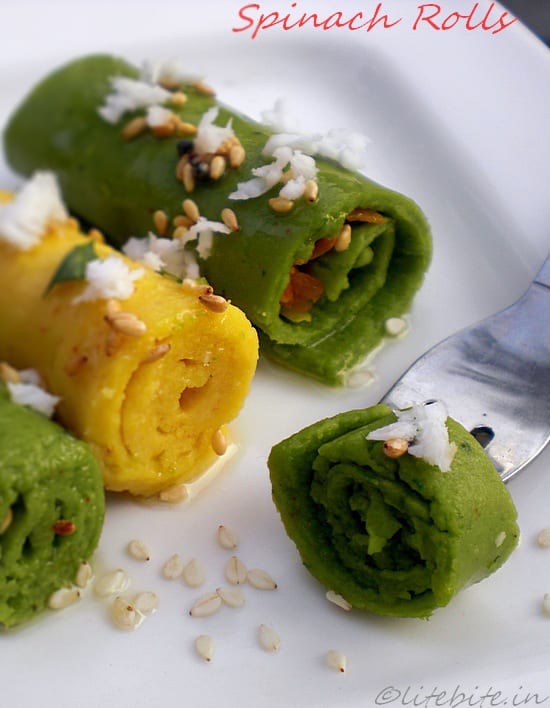 Indian tea time snack 'Khandvi' is a very healthy steamed lentil roll. In this recipe, spinach is added for a wonderful color shift.
By Sanjeeta Kk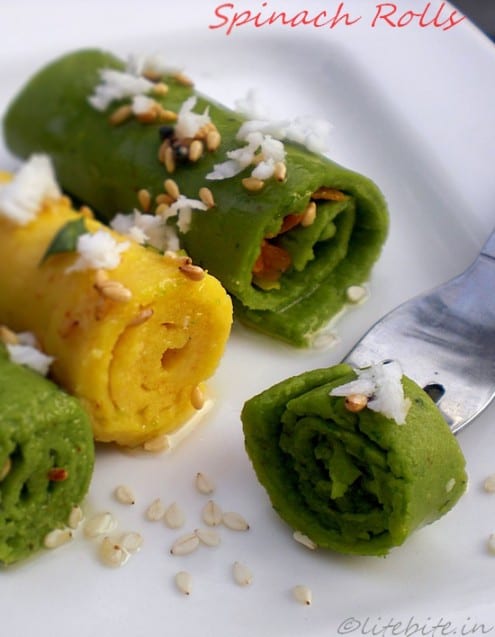 Indian tea time snack 'Khandvi' is a very healthy steamed lentil rolls. My twist to the recipe is to add Spinach in the batter which not only increase the health quotient but imparts a wonderful color to the recipe. It takes a lot of patience to roll out a perfect Khandvi, the batter has to have the correct consistency to do the same. Try with half the quantity of the recipe to get the feel of the whole process. I will not reveal my 'number of attempts' for getting a perfect Khandvi.
Healthy Steamed Spinach Rolls
Indian tea time snack 'Khandvi' is a very healthy steamed lentil roll. In this recipe, spinach is added for a wonderful color shift.
Ingredients
1 cup chickpea flour/green gram flour
1 cup yogurt/curd
½ cup chopped spinach leaves
1 ½ cups of water
½ tsp. red chilly powder
½ tsp. sugar
½ tsp. salt
A pinch of assafoetida powder (optional)
Tempering:
1 tbsp. vegetable oil
2 tsp. sesame seeds
1 tbsp. grated coconut
½ tsp. lemon juice
Instructions
Add all the ingredients (except the ingredients for tempering) in a blender and grind into a very fine paste.
Take a thick bottom pan/non-stick vessel and pour the batter in it. Heat the batter for 10-12 minutes on slow flame stirring continuously to avoid lumps.
The batter will start leaving the sides of the vessel. Take off the flame and pour it immediately over the kitchen counter (stone/marble) or in a large flat plate.
Spread it with a spatula in a thin sheet and leave it for 5 minutes to let it cool.
Cut into broad strips using a knife. Roll each strip into spiral shaped rolls. Slice each roll into smaller roundels of about 2-3' length and place them in a serving dish.
Heat oil in a wok and crackle sesame seeds for a few seconds and add lemon juice in it. Pour this tempering over the sliced Spinach rolls and garnish with grated fresh coconut.
Sanjeeta Kk
Sanjeeta kk is the author of food blog 'Lite Bite' which features vegetarian recipes. Her quest for egg free baking and healthy cooking is extensively shared though all her recipes. She likes to share stories behind the origin of her recipes which are easy and accessible. Homemade, unprocessed and healthy food is what she strives for each day. She defines food as nostalgic, comforting & an important factor to connect with people and make community