You may substitute your milk of choice for the unsweetened almond milk for this recipe.
By Kelly Morrison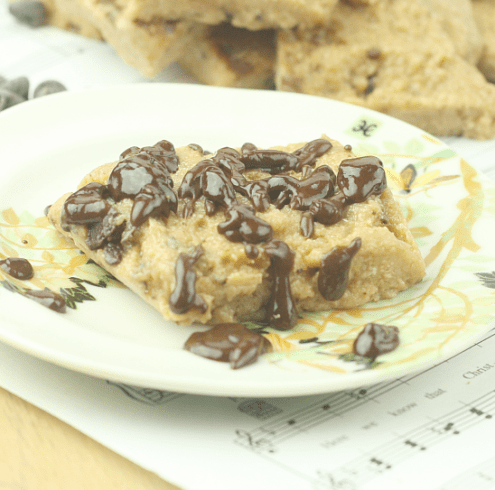 I am proud to state that, while making this recipe, I ate no fewer than three bars. Maybe more. Probably more. I wouldn't know because they have to effect on my waistline, so my skinny jeans don't know the difference.
Healthy Chocolate Cookie Dough Bars
You may substitute your milk of choice for the unsweetened almond milk for this recipe.
Ingredients
2¼ cup white whole wheat flour
½ teaspoon salt
⅓ cup cane sugar OR erythritol
⅓ cup brown sugar OR erythritol plus ¼ teaspoon molasses
2 teaspoons vanilla extract
1 cup plus ¼ cup unsweetened almond milk, divided
1½ ounces dark chocolate, chopped and divided
Instructions
In a large bowl, combine the white whole wheat flour, salt, cane sugar or erythritol, brown sugar or erythritol plus molasses until uniform. Add in the vanilla extract and 1 cup almond milk, ¼ cup at a time, until the desired cookie dough consistency is reached. Stir in ½ ounces the chopped dark chocolate until incorporated. Spread the mixture into an 8x8 baking dish and freeze until solid, about 2 hours.
Meanwhile, combine the remaining 1 ounce chopped dark chocolate and ¼ cup almond milk in a small microwave safe bowl. Microwave for 45 seconds to a minute and stir. If the mixture is too thin, microwave for another 15 seconds. Let chill until ready to use.
Once solid, fetch the cookie dough from the freezer and cut into 16 bars. Take out the chocolate mixture and drizzle over the bars as neatly as possible. Don't worry; it's chocolate and cookie dough. It will taste good regardless. Return to the freezer and until frozen and set. Transfer to a zip lock bag for long-term storage where the bars should keep for about a month. Devour.
Kelly Morrison
At the age of thirteen, Kelly Morrison founded Foodie Fiasco, a popular healthy recipe website that provides the ultimate guide to having it all: happiness, decadence, and loose pants. Five years later, she currently resides in West Hollywood, CA, where she spends her days developing recipes, photographing food and her cats, and writing bios in the third person.