Healthy Broccoli and Cheese Soup
This luxurious broccoli and cheese soup is exactly the comfort food you need on a winter night. Plus, it's vegan and only 75 calories a serving.
By Kelly Morisson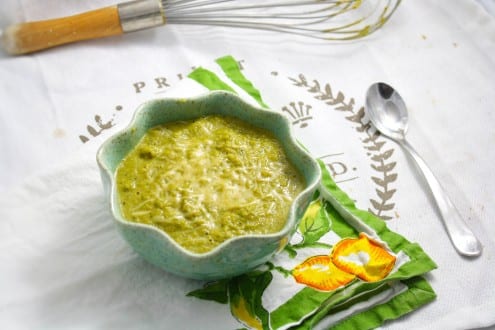 Let us take a moment to salute the wonder stick of glory that is the immersion blender. I know it sounds like some pretentious gadget owned only by wealthy midwestern suburban housewives and/or Alton Brown. But it's not. It's a miracle and anyone can own one… unless of course you are/want to be a wealthy midwestern suburban housewife and/or Alton Brown. In this case you are more than welcome to interpret at will. But I digress.
Healthy Broccoli and Cheese Soup
This luxurious broccoli and cheese soup is exactly the comfort food you need on a winter night. Plus, it's vegan and only 75 calories a serving.
Ingredients
1 pound frozen broccoli
1 medium onion, diced
1 teaspoon minced garlic
¾ cup almond milk
6 Tablespoons nutritional yeast
¼ teaspoon garlic powder
2 teaspoons Dijon mustard
1 cup canned pumpkin
2 cup low sodium vegetable broth
salt and pepper, to taste (I used garlic salt, and I thought it was the perfect finishing touch!)
Instructions
Prepare frozen according to package instructions, either in the microwave or on the stovetop. Meanwhile, heat a greased or nonstick-sprayed large pot over medium-high heat. Add diced onion and cook until slightly browned, about 3-4 minutes. Add in minced garlic and cook, stirring occasionally, until golden, about 3 -4 more minutes. Transfer to a plate and set aside. Meanwhile, in the same pot, bring the almond milk to a gentle boil over medium high heat. Immediately whisk in the nutritional yeast, garlic powder, and Dijon mustard. Cook until thickened, whisking often, about 3-5 minutes. Whisk in the pumpkin until smooth and cook for another minute. Add in the veggie broth, cooked broccoli, and the onion/garlic mixture and stir until combined. Using an immersion blender, puree until smooth. Alternately, if you do not own an immersion blender and it is completely impossible for you to sprint to the store and buy one this very instant (which I highly recommend you do, by the by), puree the broccoli mixture in batches in a standing blender until smooth. Add salt and pepper to taste. Pour into your prettiest bowls, top with cheese and/or an extra splash of almond milk (I cannot express the utter level of fanciness you will feel after doing this), a twist of freshly ground pepper, and serve!
Notes
You may substitute in any kind of milk or dairy product you would like for the almond milk. Use a non-nut milk to make the recipe nut free. Omit/reduce salt and use unsalted broth to make the recipe low sodium. Use kosher salt to keep the recipe kosher. Top with vegan cheese to keep the recipe vegan. You may use any kind of broth you love/like/can tolerate/have on hand. Feel free to add in any spices your lovely heart desires.
Kelly Morrison
At the age of thirteen, Kelly Morrison founded Foodie Fiasco, a popular healthy recipe website that provides the ultimate guide to having it all: happiness, decadence, and loose pants. Five years later, she currently resides in West Hollywood, CA, where she spends her days developing recipes, photographing food and her cats, and writing bios in the third person.