Hazelnut Ganache Filled Cupcakes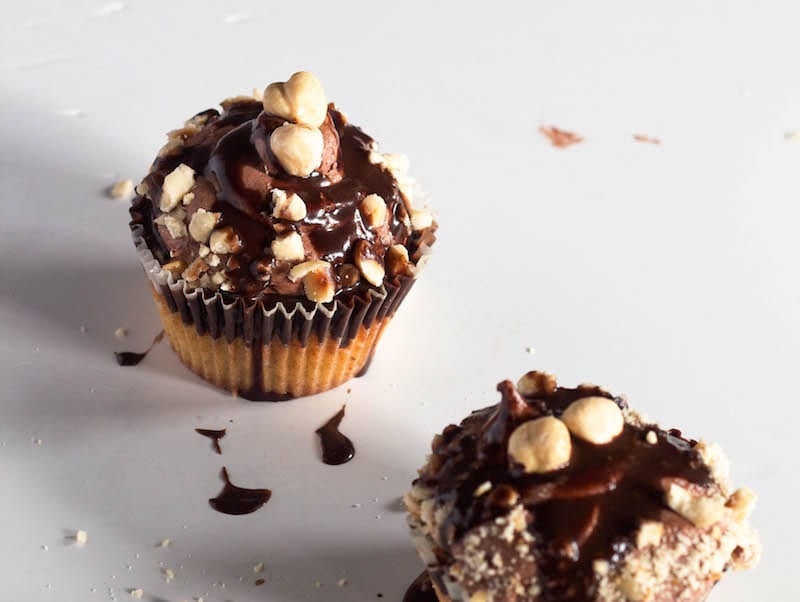 These chocolate hazelnut cupcakes are packed with so much rich goodness and all without the use of Nutella.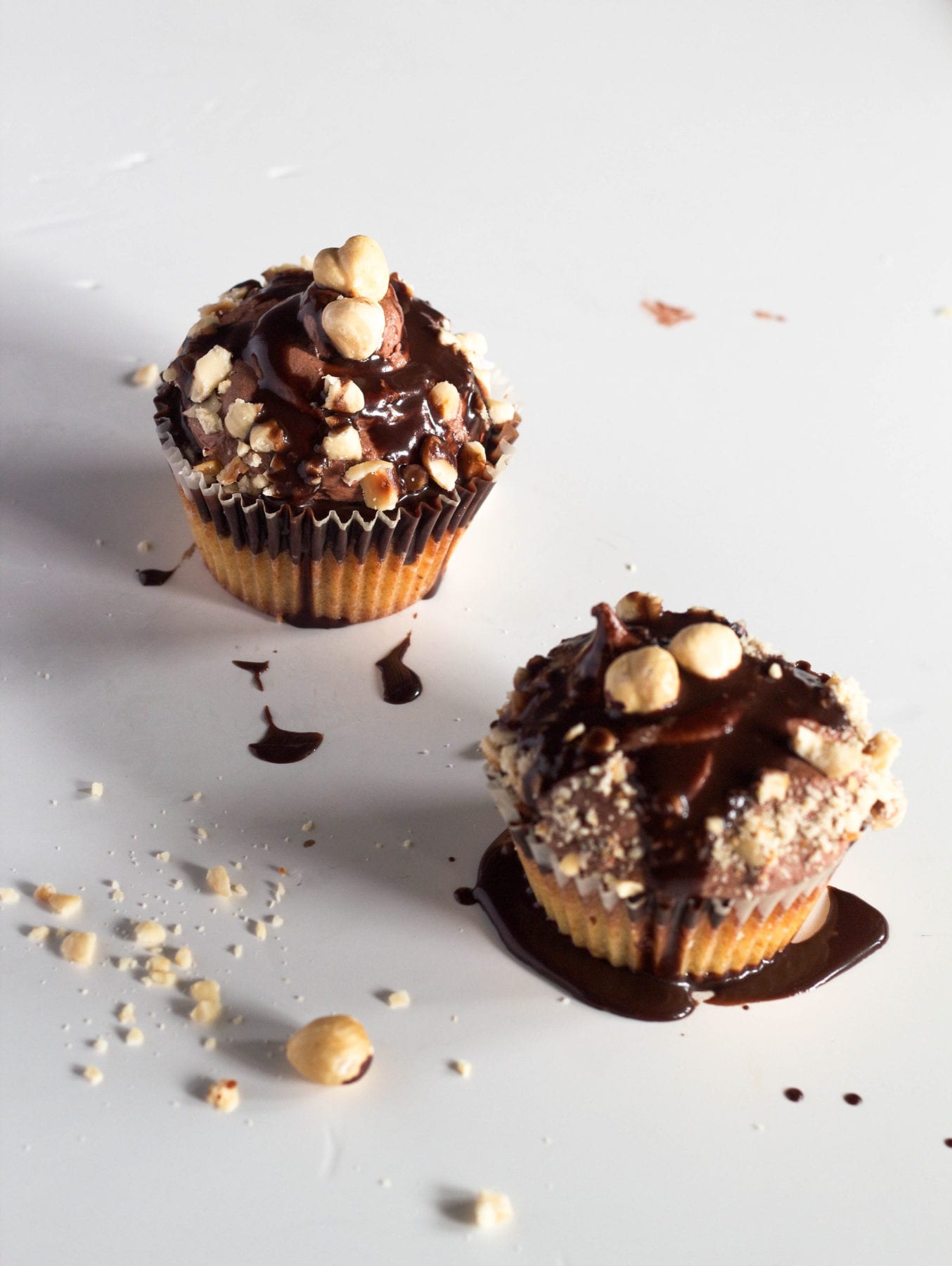 I love how cupcakes are the perfect petite replacement to an entire cake. You don't have to bake 3 separate layers of sponges and sandwich them with tons of buttercream; you just need a handful of cupcake cases and the results achieved are quite similar. Besides, there's another thing that you can do with cupcakes that is often very rare in the case of actual tall cakes – fill them with delicious surprises.
You get the seductive hit of Nutella without there actually being any Nutella at all! It's all in the magic of Chocolate and Hazelnut. There are a few different ways in which you will have to use these two magic ingredients that make your cupcakes taste surprisingly like there's heaps of Nutella in it. Well, you and I know that, we can keep the guests guessing!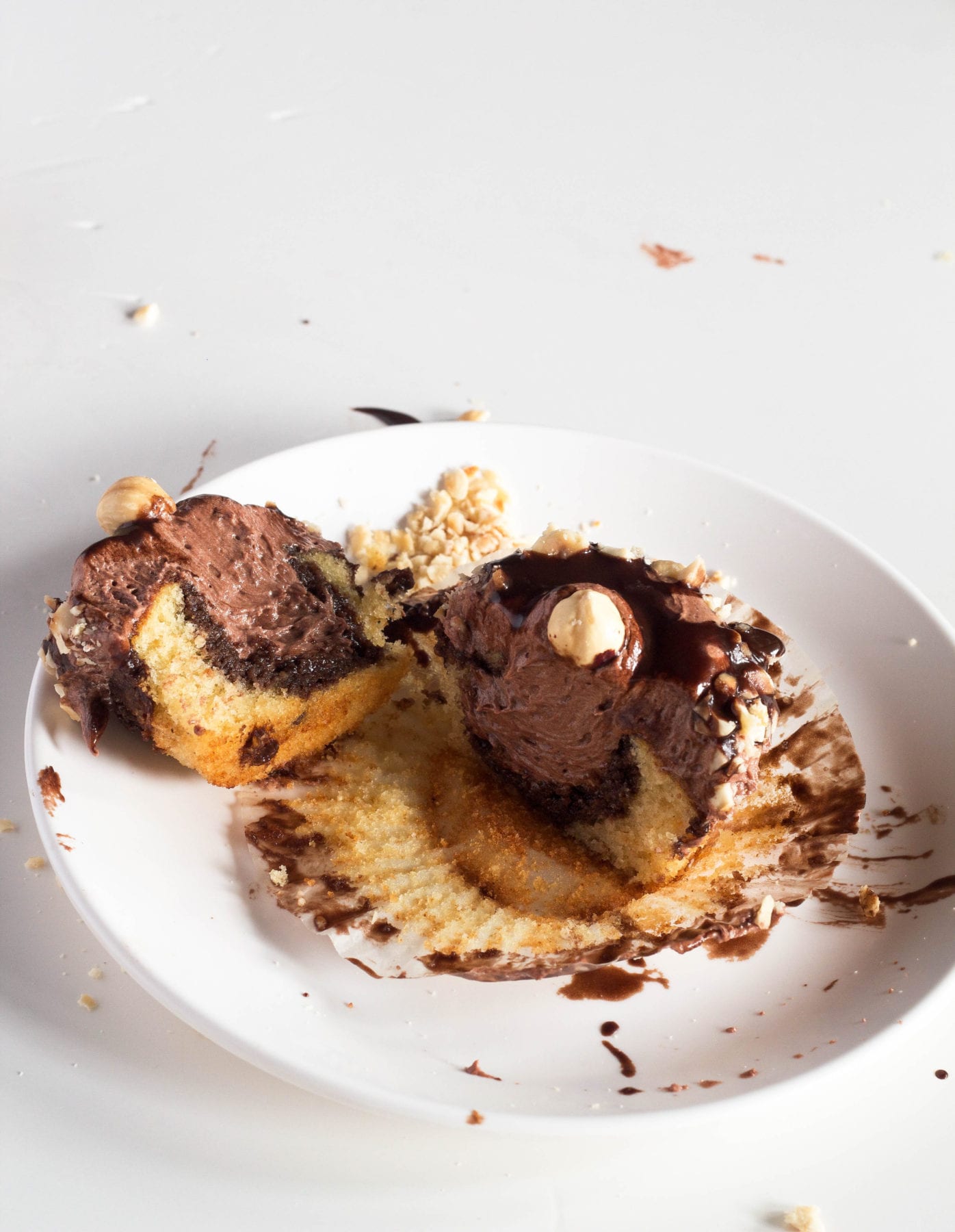 The first application is using ground hazelnut meal along with flour to form the very core of your cupcake batter. Once baked, the cupcakes themselves are beautifully moist and light. It's like eating a feather without really choking on it; light and airy, that thing! Needless to say, because of the hazelnut meal, the entire cupcake itself is perfumed with the distinct nutty aroma that hazelnuts are best known for.
Now it's time to marry these hazelnuts with the chocolate to give it that unmistakable Nutella flavor. That happens in two ways – first: a rich dark and velvety smooth chocolate ganache finds its way into the centre of the cupcake. What I've done here is pour slightly warm ganache into the centers. What this does is instead of just setting and becoming thick and fudgy in the middle, it gets absorbed into the sponge quite a bit in the area around it making it extra soft and full of chocolate flavor.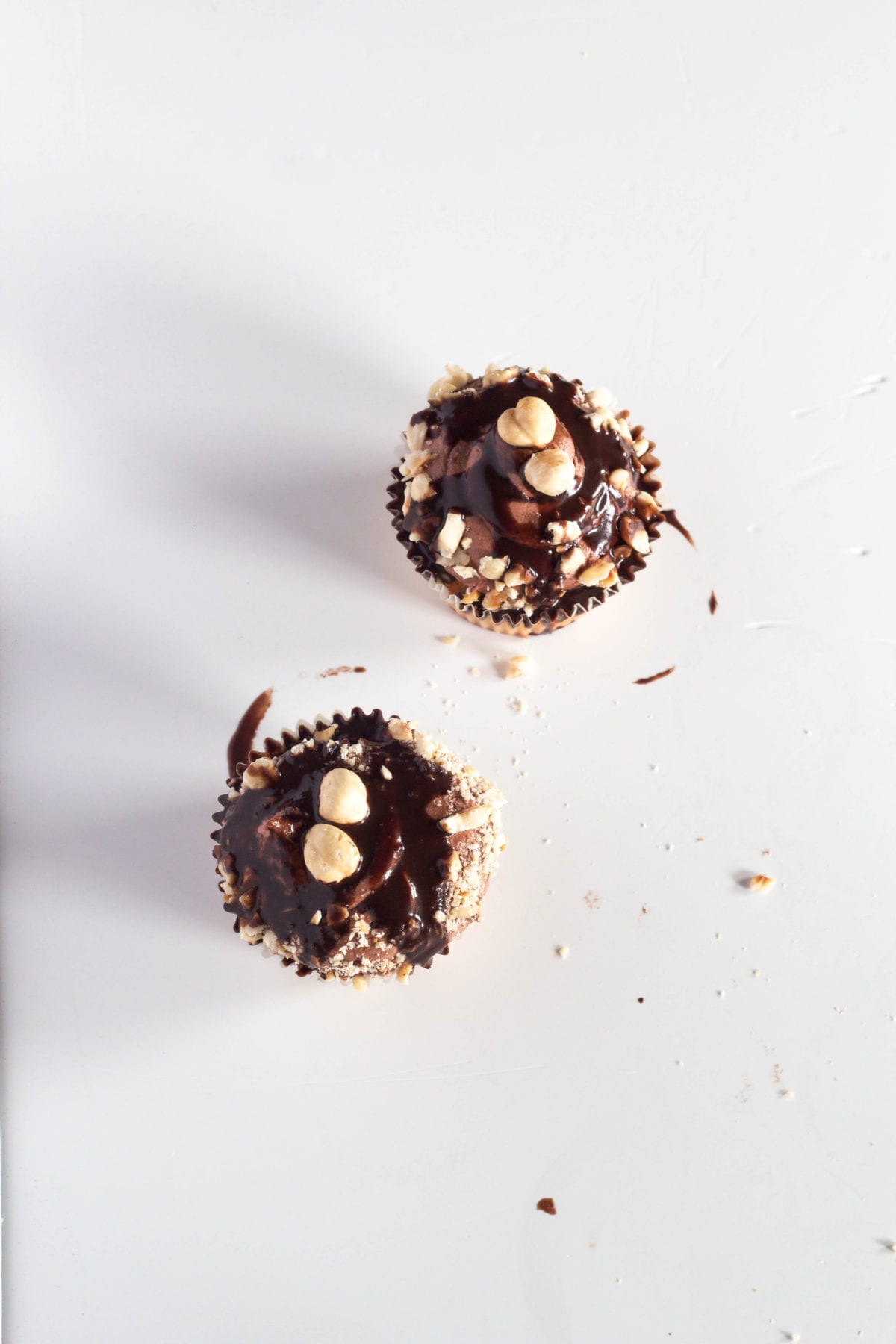 See Also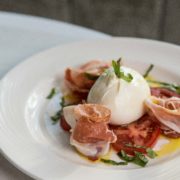 When you pipe this delicious buttery frosting, make sure you start with the center. Ideally you would want to go around the outside and then pipe it in the centre, but by starting with the centre first, the liquid ganache spills on the outside of the sponge ever so slightly making the tops of the cupcakes soaked in this creamy velvety molten ganache. Besides, the creamy frosting also settles in the centre.
Now comes the part of making your Just Like Nutella Chocolate Hazelnut cupcakes fancy. You do this by dusting the lower edge of the frosting with crushed hazelnuts. It just adds to the nuttiness and makes it taste more and more like Nutella. This may sound like a rather complicated recipe. Trust me, it is anything but! While the cupcakes are baking, make the ganache and the buttercream. Put the buttercream into the fridge to chill and as soon as your cupcakes are out of the oven, let them cool slightly, say 10 – 15 minutes, before you scoop out a fair bit of the centre and fill it with the warm ganache.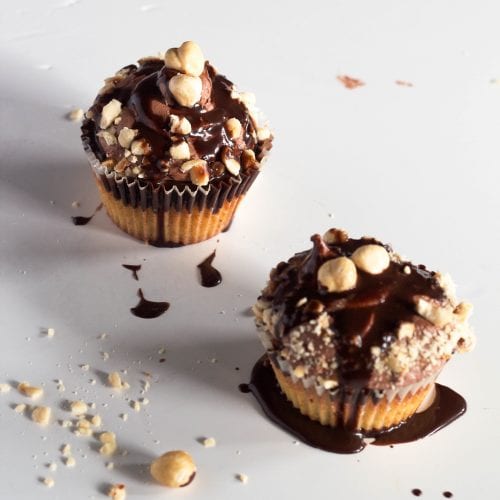 Samina Patel
Ingredients
For the cupcakes
35

grams

1.2 ounces unsalted butter

25

grams

0.88 ounces brown sugar

1/2

beaten egg

1

teaspoon

vanilla

1

tablespoon

milk

25

grams

0.88 ounces hazelnut, ground to a fine powder

25

grams

0.88 ounces all purpose flour

1/2

teaspoon

baking powder
For the Ganache:
60

grams

2.1 ounces full fat heavy cream

30

grams

1 ounce dark chocolate, chopped very finely
For the Icing:
50

grams

1.7 ounces unsalted butter

125

grams

4.4 ounces icing sugar

1

tablespoon

unsweetened cocoa powder

dutch - processed

1

tablespoon

milk powder

1

tablespoon

full fat milk
For decoration:
crushed hazelnuts

whole hazelnuts
Instructions
Preheat oven to 180 degrees Celsius. (350F)

In a clean metal bowl, cream butter and sugar till pale and fluffy.

Add the egg, vanilla and milk. Mix well until incorporated.

Add the hazelnut powder and give a good mix.

Now add the other dry ingredients (flour and baking powder mix) and fold into the batter until all the flour lumps have disappeared and a smooth batter is formed.

Use an ice cream scoop to scoop out cupcake batter into the cupcake liners / cases.

Bake in the oven at 180 degrees Celsius for about 18 - 20 minutes or until a skewer entered into the centre of the cupcake emerges clean.

Let the cupcakes cool.

Meanwhile make your ganache.

For this, heat cream on medium until bubbles start to appear at the sides of the saucepan.

Pour it over finely chopped chocolate and let it sit for about 45 seconds.

Now whisk it together till it combines beautifully into a saucy, thick glaze. It will take about 3 -4 minutes to see this.

Keep aside to cool slightly.

Now make your butter cream frosting. In a clean bowl, add your butter and give it a good whisk with your hand mixer till it goes pale and fluffy.

Now in very small additions, add your icing sugar. Once you add a tiny portion, use your spatula to mix it well otherwise your entire work surface and face will be covered in powdered sugar.

Once combined with spatula, on low speed mix it all together for 20 seconds.

Keep adding more sugar till everything is combined and then increase speed of the hand mixer to medium and mix for a good 2 - 4 minutes.

Halfway through, stop the machine to scrape through the sides of the bowl.

Once well combined, add the cocoa powder, milk powder and milk and mix again for about 2 minutes on medium speed.

Take your buttercream frosting in a bowl and into a piping bag with a round nozzle for further use.

By this time, your cupcakes will have cooled down.

Use a knife to cut a hole in the centre of the cupcake.

Fill it with the still slightly warm ganache. Wait for about 5 - 10 minutes for the bottom half of the ganache to set.

Now frost the buttercream starting from the centre. This leads to some of the ganache spilling out and flavouring the top surface of the cupcakes.

Coat the lower end of the frosting with crushed hazelnuts, drizzle leftover ganache over the top of the cupcakes and finish off with 1 - 2 hazelnuts stuck to the top of the frosting.

Serve immediately or refrigerate for later use.
Samina Patel
Just a simple girl with a fancy camera and a well greased cake tin.