Sponsored Post – A diverse wine region in the heart of France, discover wines from the Loire Valley.
This grilled Duck is decadent with a hazelnut crust and topped with an elegant red wine sauce. It's the perfect pairing for a Chinon (Cabernet Franc from the Loire Valley of France) and a cozy fall evening.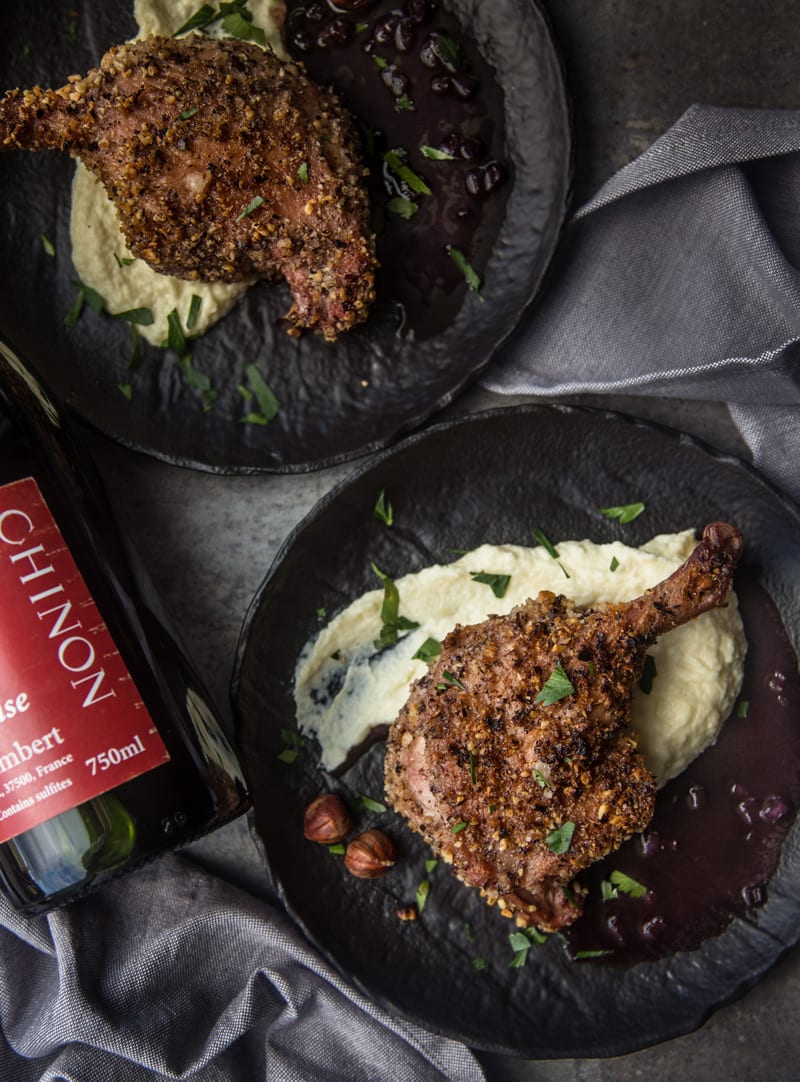 Here in Portland we went straight from sunny summer weather to winter. And for us winter pretty much encompasses the other three seasons, including fall. This means the rains have started, the temperatures have dropped, and we're hibernating indoors for the most part.
We're still grilling for our meals of course, because, well, we grill and smoke food year-round. Come rain, come hail, sleet, or snow, wood-fire is how our food gets cooked! Well except for morning cereal, but that's another story.
As much as I mourn the end of summer, I must admit there is something pretty darn magical about bringing the fire inside and staying warm next to a cozy indoor fire. All while lounging on the sofa under a blanket and finally catching up on the movies and shows we've ignored since last May.
Fall also means harvest season here in Oregon. And for us, living on a 5-acre hazelnut farm, means we're surrounded by the official state nut of Oregon.
And if you haven't cooked with hazelnuts you're missing out. They may be known as the main ingredient in Nutella, but they're also great for savory dishes. In this case were using them to bread (or crust) our grilled duck, and then pairing it with one of my favorite versatile red wines – Chinon.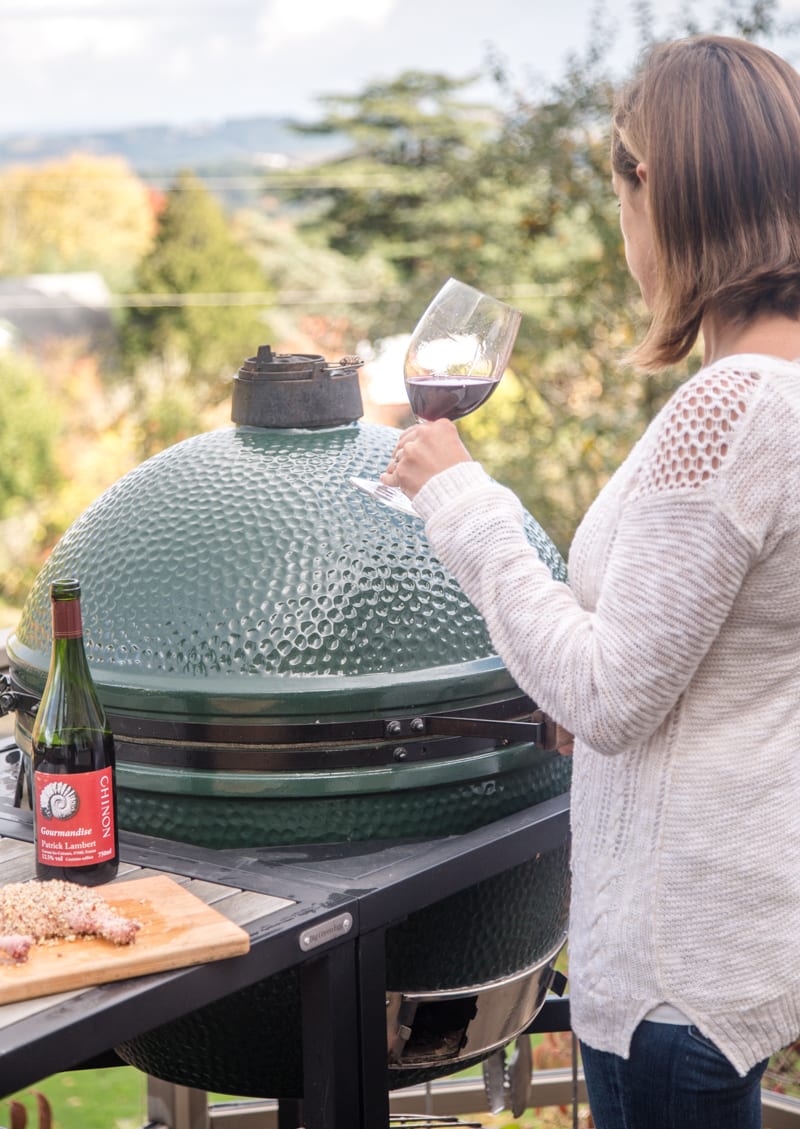 Chinon
Chinon is a region located in the Loire Valley, one of France's most exciting and most versatile wine growing regions. Located west of Paris, the Loire Valley runs east to west, spanning 5 major regions, and producing everything from whites, rosé's, and reds to incredible sparkling wines (known there as Crémant de Loire).
One of my favorite regions in the world for red wines is located right in the heart of the Loire Valley, in Chinon. This region is known almost exclusively for Cabernet Franc red wines (with Chenin Blanc grown for their white wines). The Cabernet Francs from this region are simply beautiful. They're light, elegant, fruity, and incredibly suited to a wide variety of foods to pair. And they're absolutely perfect for the fall season. They're not too weighty and rich, like you may want for a cold winter's eve. Nor are they so light that you'd only feel right sipping on them during a 100 degree day (though I'm hard pressed to find any red wines I'd want to drink when it's that hot out, but you know what I mean!).
Pretty much these are wines Goldilocks would love (if she were of drinking age of course!). They're right there in the middle in terms of body and weight and fruit balance. And they're 100% delicious!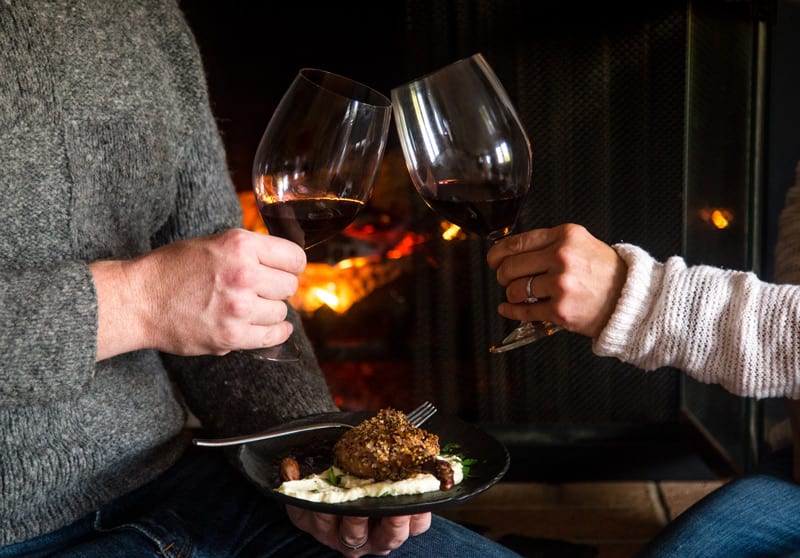 You can sip them alone while enjoying your cozy fall fire, eat them with a cheese and charcuterie plate (I highly recommend trying it with some of the goat's cheeses that are prevalent in the Loire), to hearty meat dishes to soothe your loving soul.
We decided to go with something we don't cook as often as we should, grilled duck.
Duck has a bit of a stronger flavor than other poultry, like chicken or turkey, and can have a richer and more flavorful taste. There's even a slight sweetness to it. If you can't find duck you can easily substitute chicken for this same recipe and process. But since we have a relatively easy time finding duck we wanted to go big to celebrate the season, and coat ours with crushed hazelnuts, grill for extra flavor, then finish with a simple, yet elegant, red wine sauce that brings it all together.
Bring it!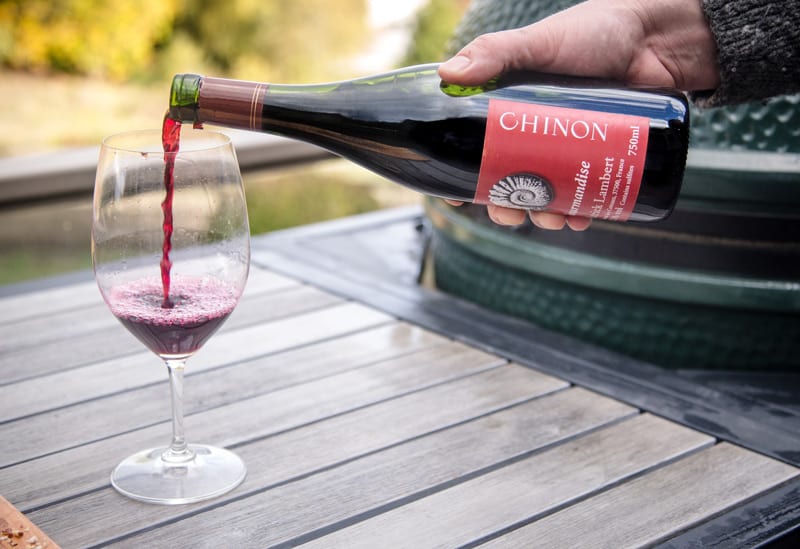 To Prep the Duck – Which cut of Duck to Use
Duck will likely be in the frozen section of your better grocery stores. It will either be a whole duck, or parted out as breasts or legs. There are many breeds of duck, we love Muscovy duck. It has flavor profiles similar to that of a steak, rich, and not gamey. If you find the whole duck you would part it out like a chicken, cooking the pieces on the grill separately.
Pro Tip: Save the duck fat from a whole duck to render out and make your own duck fat!!!
For additional flavor, we are really trying to focus on adding texture to the crust and the nutty and earthy flavor from the hazelnuts. We add a little panko to the hazelnuts for the crunch (or you can use breadcrumbs) and then salt and pepper. You can buy hazelnuts in your bulk aisle, just throw them in a food processor to grind them down.
See Also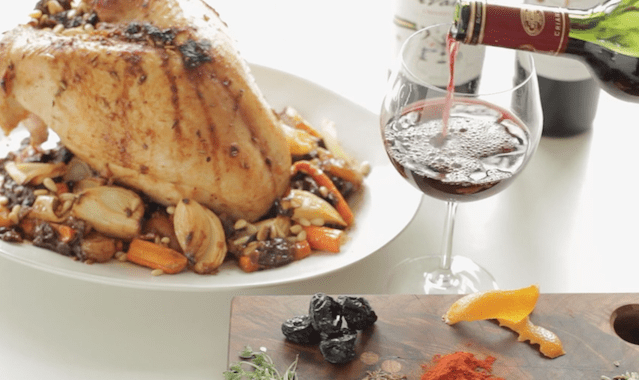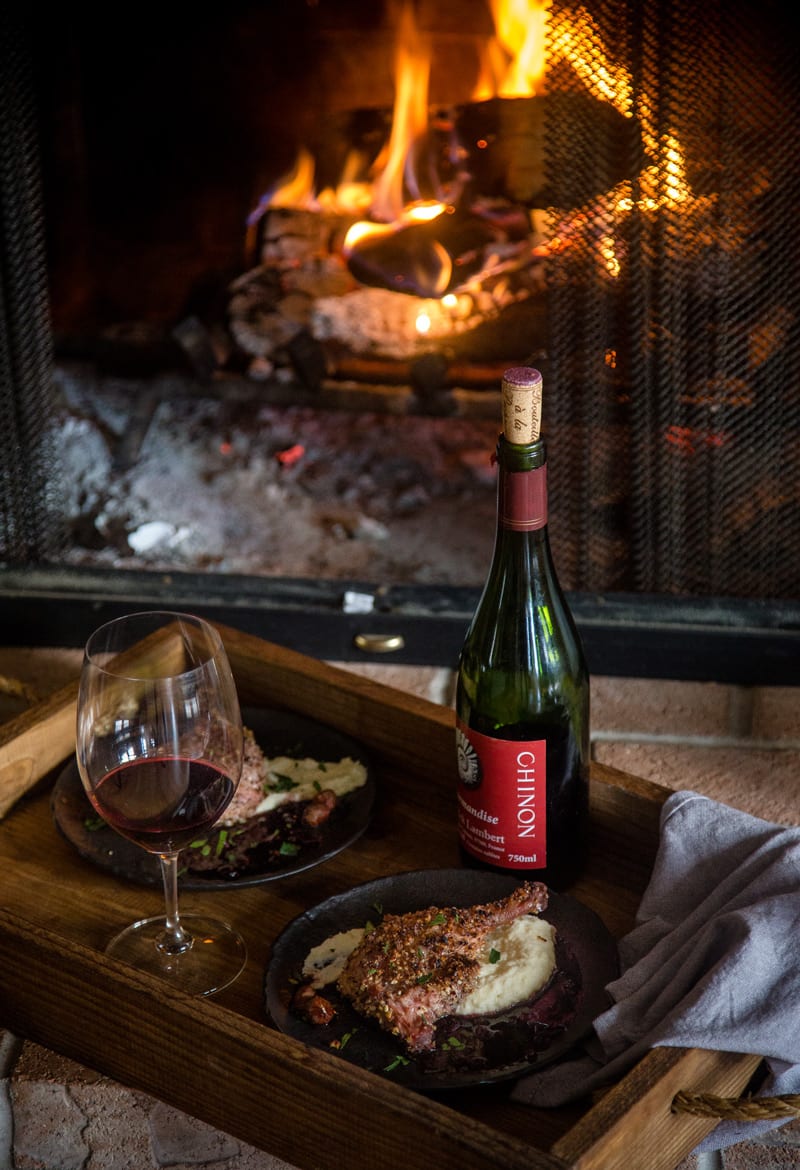 We treat duck like steak. USDA will say to take duck to 170 degrees for internal temperature. But we like our duck medium rare and cooked to 135. Cook to what you prefer.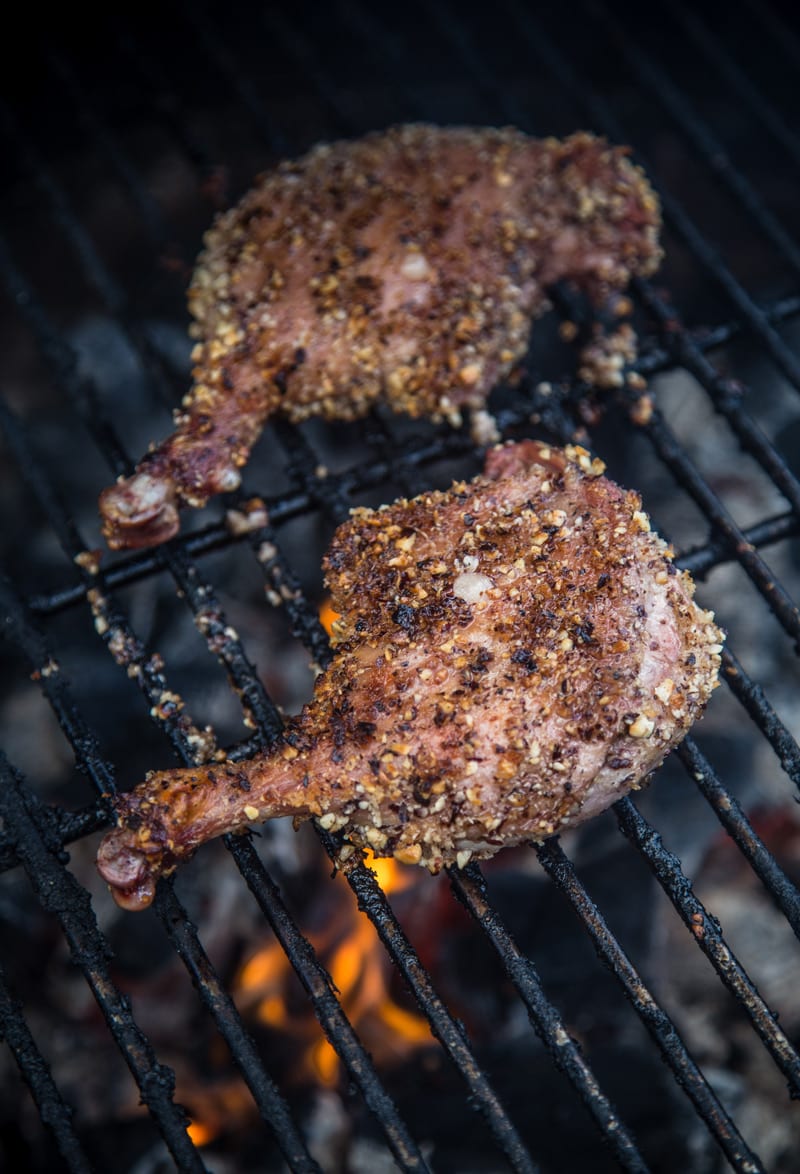 For grilling, we will go hot and fast to get that nice sear on the outside, typically setting up the grill with direct/indirect cooking. And being mindful not to use too many coals close to the grill great, so we don't char the meat. So, be sure as you are grilling you pay attention to the flame and heat so as to not burn it. Instead if you see the skin render and sear, move away from direct heat to indirect so it can continue to cook, and flip and repeat. While the duck is resting you can make the simple and quick red wine sauce.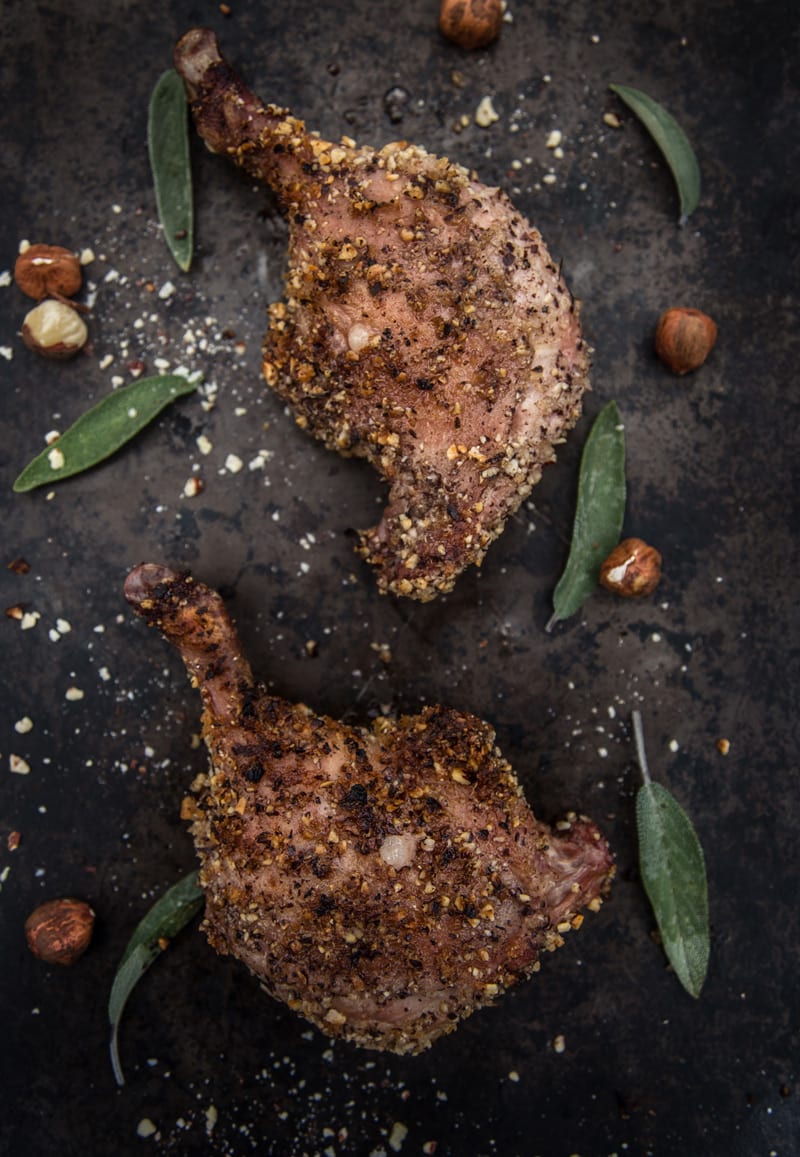 Red Wine Sauce
To bring the flavor home, we made a very simple red wine reduction sauce with the Chinon. We simply reduced the wine with shallots, added butter, and aged balsamic to sweeten it out and put a small amount on the duck. Mmmmm so good!
That's it!
The only thing you need to do next is decide on what to binge watch while enjoying this simple, yet decadent meal, and your cozy warm fire. And I can't help you there! We are a divided family in our household and it always comes down to a coin toss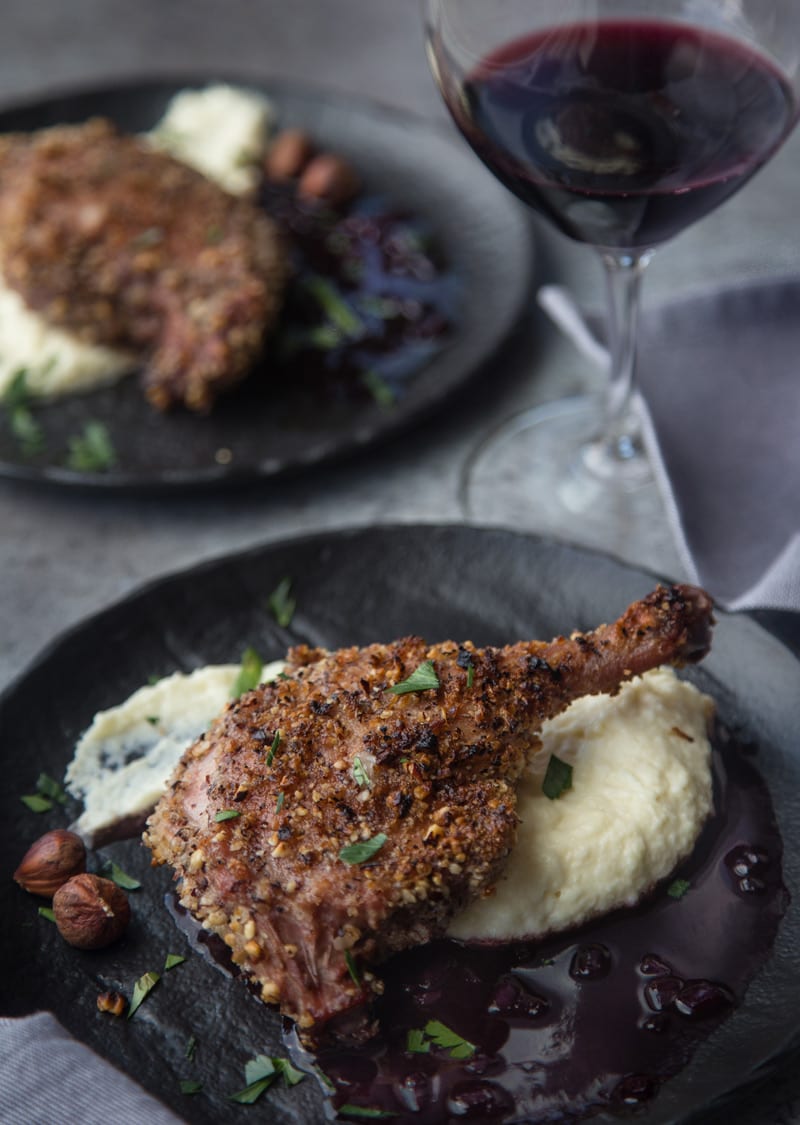 Print

Cozy Fall Dinner: Hazelnut-Crusted Grilled Duck with Red Wine Sauce and Loire Valley Wine
---
Author:

Mary Cressler

Total Time:

30 minutes

Yield:

2

servings

1

x
2

Duck legs or breasts

2 tablespoons

extra virgin olive oil
For the Hazelnut Crust
1/2 cup

Crushed hazelnuts

1/4 cup

Panko breadcrumbs

1/2 teaspoon

Kosher salt

1/2 teaspoon

Coarse ground pepper
For the Red Wine Sauce
½ cup

Red wine

1 tablespoon

Shallots

1 tablespoon

butter

1 teaspoon

balsamic
Salt to taste
---
Instructions
Preheat grill for direct/indirect cooking.
Mix hazelnuts, panko, salt, and pepper in a small bowl and then pour into a plate.
Apply olive oil to duck and liberally apply your hazelnut mix to the duck. Because it is on the plate you can simply lay the duck out, and then cover the other side using your hands. Press hard to coat the entire duck.
Place the duck over direct heat, avoid flame ups by keeping lid covered while searing. Or if you need to, move the duck when seared to indirect heat and cover, flip after 6 – 8 minutes and repeat on the other side. Move the duck back and forth from direct to indirect if the flames get too big.
Remove duck when it reaches internal temperature of 135 degrees.
For the sauce, over medium high heat, add the shallots and the red wine. Bring to a simmer. Add the butter and the balsamic and let reduce by half. This will take about 8 – 10 minutes (or longer if your flame is lower). Remove from heat and salt to taste. This is good to do just after duck comes off the flame and is resting.
Serve with your favorite side. We love parsnip puree!
Prep Time:

10 minutes

Cook Time:

20 minutes

Category:

Main