PARTNER POST: Reinvent classic potato dishes to create a new holiday tradition. This year, forget the tried and true recipes and show off your cooking skills with a twist on an old favorite.
Crispy on the outside and soft and flavorful on the inside, take your hassleback potatoes to the next level with sweet garlic confit.
By Emily Clifton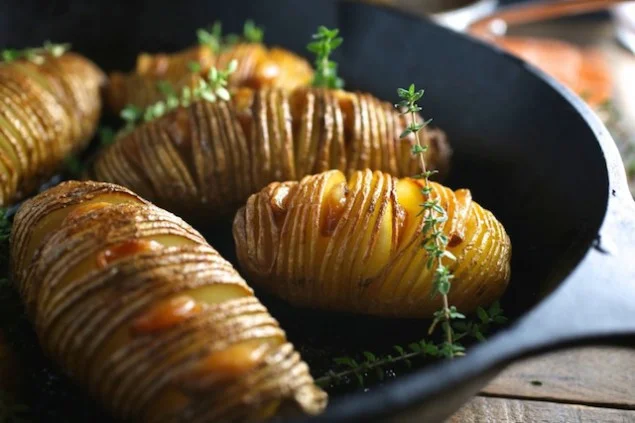 Get ready for a new holiday tradition: crispy-skinned Hasselback potatoes studded with soft, meltingly tender cloves of confit garlic (like roasted garlic, but even more delicious).
Honestly, this is the potato of my dreams. Crispy on top but also pillowy and luscious in the middle. And while it may look like a major project, it's actually extremely easy to do (especially with our tips listed below) and takes no longer than a regular baked potato.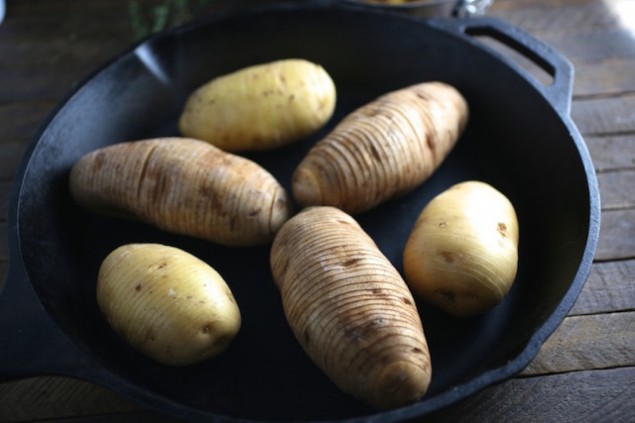 I adore potatoes and definitely think they've gotten an undeserved bad rap. Potatoes are not just versatile and delicious, they're actually quite packed with nutrition, especially vitamin C and potassium (620 mg, that's more than bananas, spinach, or broccoli). A medium potato has about 110 calories and contains no fat, sodium or cholesterol. And it's untrue that all the nutrition is in the skin. The skin is packed with fibre, but the nutrients are in the flesh.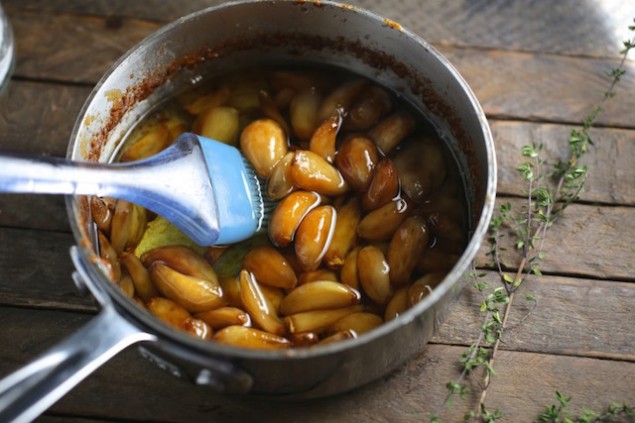 The term 'hasselback' comes from the restaurant, Hasselbacken in Stockholm, Sweden, where they were first served in the 1940s (they are called hasselbackspotatis). There are dozens of modern variations but the simplest form of the dish is a thinly sliced potato (not all the way through) that resembles an accordion when baked. It's always brushed with some form of fat, usually butter which gives it its distinctive crispy top and creamy center.
For me, garlic and potatoes are a heavenly combination so I added a mild, sweet garlic flavor to this. I usually simply roast a head of garlic to get his flavor but I decided to make a simple stove-top garlic confit (basically garlic cloves poached in oil), so I could use the delicious garlicky oil to coat the potatoes. The garlic gets mellow and very sweet when cooked this way so it's not at all overwhelmingly garlicky.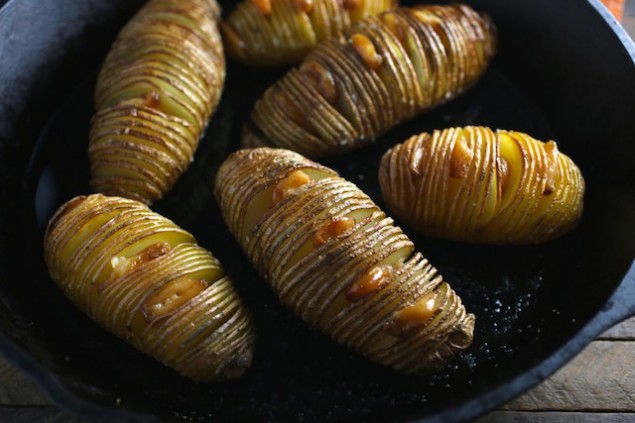 To make the potato slicing extremely easy, I like to lay the potato on a clean dish towel between two wooden spoon handles (chopsticks work too).
Then cut straight down until your knife reaches the spoons. Easy peasy.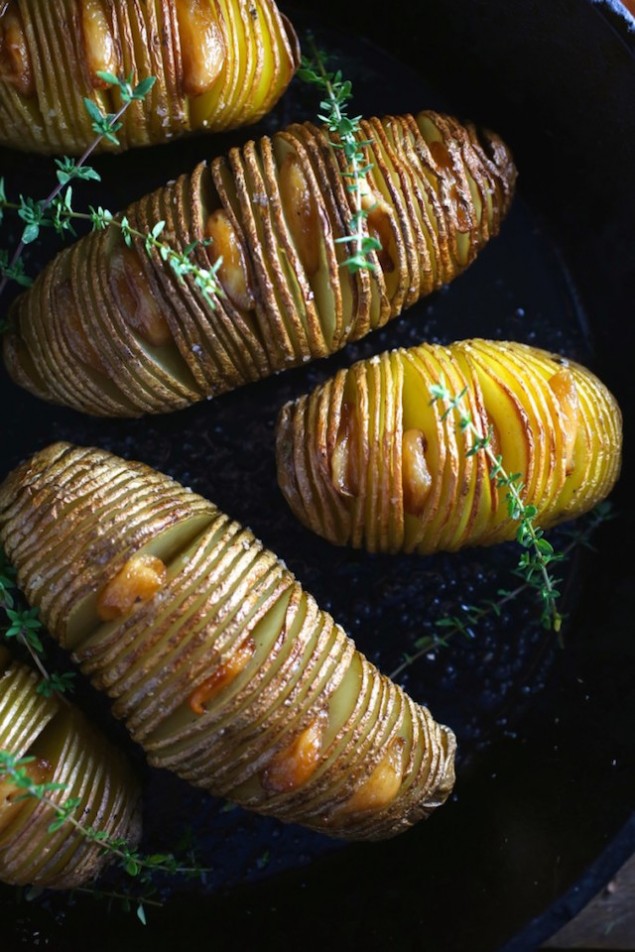 Here is another new holiday dish to try, Danish Inspired Caramelized Potatoes:
Hassleback Potatoes and Garlic Confit
Crispy on the outside and soft and flavorful in the inside, take your hassleback potatoes to the next level with sweet garlic confit.
Ingredients
4-6 medium potatoes, (Yukon Gold or Russet)
Coarse kosher salt
Freshly ground black pepper
For the Garlic confit: (you will have some left over but can be used for other dishes)
½ cup light olive oil or neutral oil (120ml)
4 tablespoons unsalted butter (60g)
½ cup garlic cloves, peeled but left whole
a few sprigs thyme
Instructions
Heat the oven to 425°F / 220ºC with a rack in the lower-middle position.
Make the garlic confit: Heat the oil and unsalted butter in a saucepan over medium-low heat until it reaches 220º F. Reduce the heat to low, add the thyme sprigs and garlic, and cook until they are soft and lightly golden brown, 20-25 minutes. It should be lightly bubbling away but not spitting oil or smoking. Take the thyme out after 15 minutes or so (it will have given up all it's flavor and just get dark). Make sure to keep the temperature below 260ºF or it can burn. Stir the garlic occasionally to make sure they brown evenly. Set aside to cool.
Scrub the potatoes clean and pat them dry with a paper towel. Cut slits ?-inch to ¼-inch apart in the potato, stopping just above the bottom so that the slices stay connected. (Laying a wooden spoon or chopsticks next to the potato makes this easier. Cut straight down and stop when the knife hits the spoon).
Arrange the potatoes in a baking dish or cast iron skillet, cut side up. Brush the potatoes all over with the garlic oil, including the bottoms (don't try to get oil in the slits yet). Sprinkle the potatoes generously with salt and pepper. Bake the potatoes for 30 minutes.
At this point, the layers will begin to separate. Remove the pan from the oven and brush the potatoes again with the garlic oil — you can gently open the layers slightly if they're still sticking together. Make sure to get the oil down into the space between the slices.
Bake for another 20-30 minutes, until the potatoes are starting to crisp on the edges. Remove the pan from the oven once more and tuck four or five roasted garlic cloves between the slits of each potato (every few leaves should get one). Return to the oven and bake another 10-20 minutes until the edges are crisp and brown and the center can be easily pierced with a paring knife).
Serve immediately while hot and crispy!
Emily Clifton
I love to cook and learn about food. I was born and raised in New York City and I was exposed to a lot of different food cultures as a kid though I was weirdly picky. I hated mashed potatoes but I loved kim chee. Hated fish, loved escargot. I said I was weird, don't judge me. My mom is a great cook but I definitely don't have any "passed down from grandma" types of recipes. Both my grandmothers were horrible cooks. I mean really, truly bad. I give my mom a lot of credit for knowing that string beans are not actually supposed to be gray. In real life I'm a film/TV editor which just might be the most fun job in the world. Occasionally it can be the most annoying job in the world which is why I really appreciate it when I get to take a break and do my other favorite things which is cook, take photographs and write.