Hanger Steak with Salsa Verde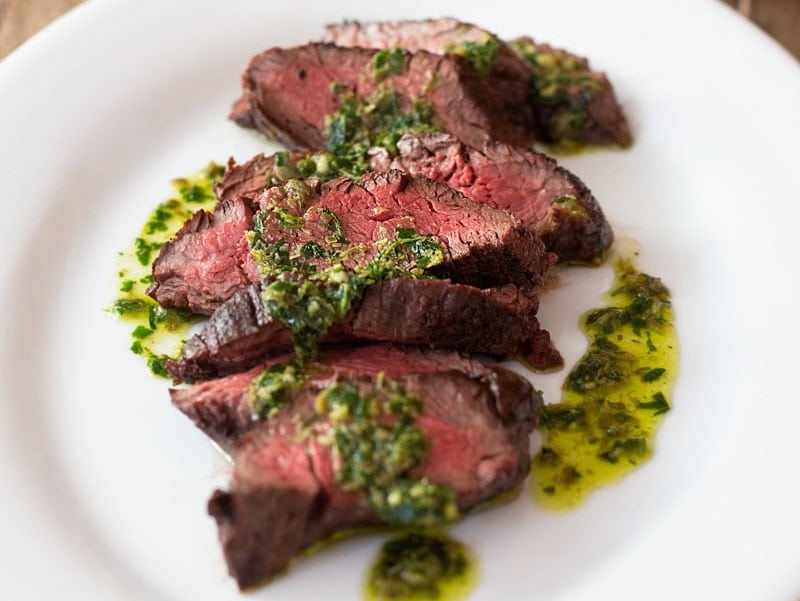 Steak chimichurri just met it's Italian cousin. Luscious, tender Hanger Steak is kicked up a notch with my garlicky, herbaceous Salsa Verde.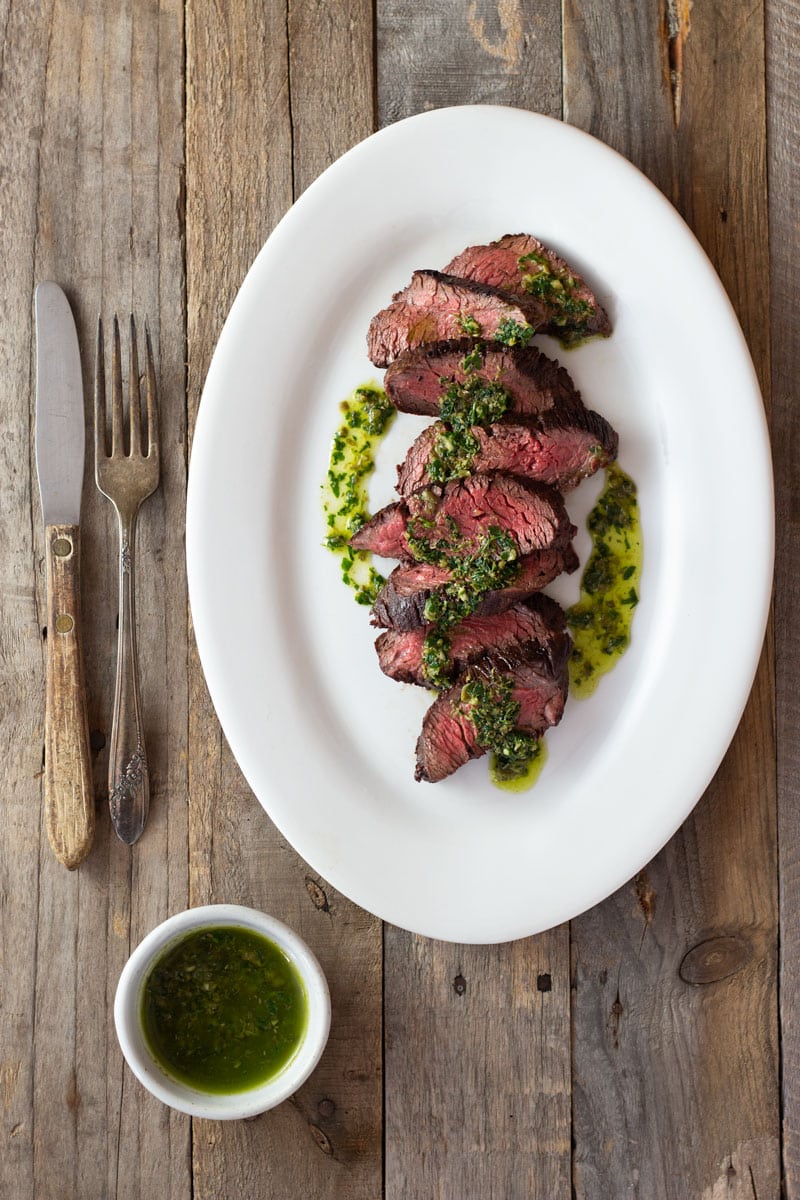 Salsa verde is a bit like an Italian version of a chimichurri sauce. The essential ingredients in my book are parsley, anchovies, garlic, capers and sherry or red wine vinegar. I've also seen renditions using dijon mustard in place of or in addition to anchovies. Depending on what you're pairing this with, lemon juice may be more suitable. The goal is to create a kicky, garlicky, acidic sauce that makes your meat experience go from mmm good to WOW.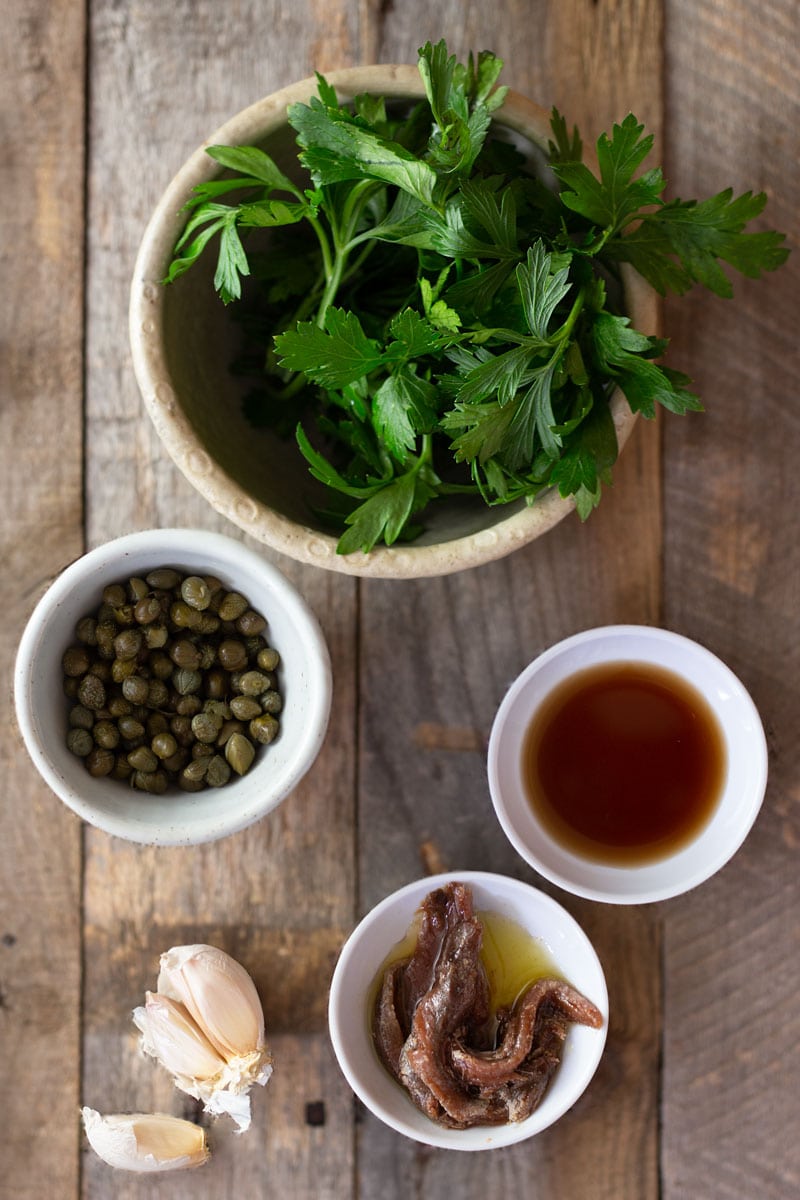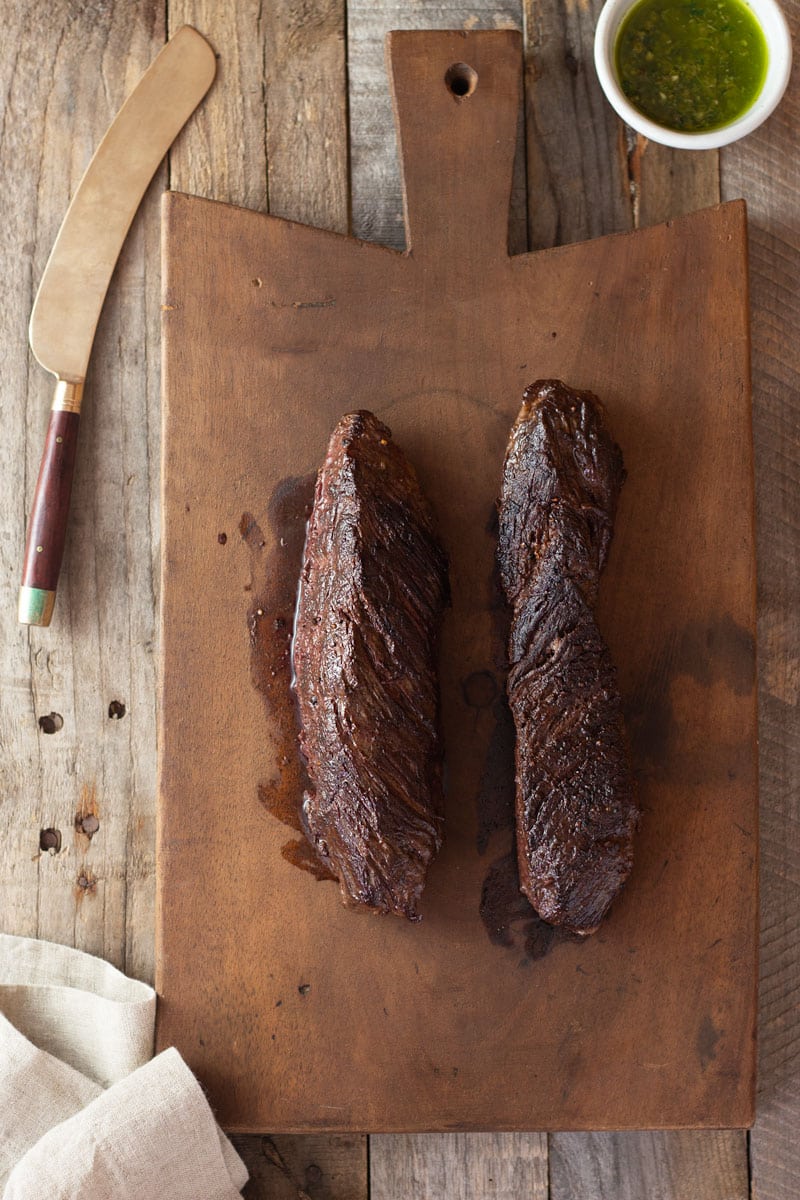 Hanger steak with salsa verde is an amazing combination, but this green sauce can be served with a variety of meat and poultry dishes. I've had it with boiled beef and chicken which were used to make stock. The pairing was so on-point. That simple, inexpensive meat was brought to a different level with this punchy sauce. I can also see a salsa verde going well with a skin-on chicken thigh. Fish might work too, but this sauce would be a bit overpowering to anything on the delicate side. I think hanger steak is a great choice, because a sauce like this is meant to dress up a less expensive cut of steak in my opinion. And hanger steak is quite amazing for a less expensive cut. It might take a bit to trim up, but it's so worth it. It's tender and incredibly flavorful when cooked properly. I advise you to call your butcher ahead of time to set aside a hanger steak for you, but if you're out of luck, a skirt or flank steak are great substitutes. This might be because they all come the same region of the cow, under and around the diaphragm. Enough talking. Now go get cooking.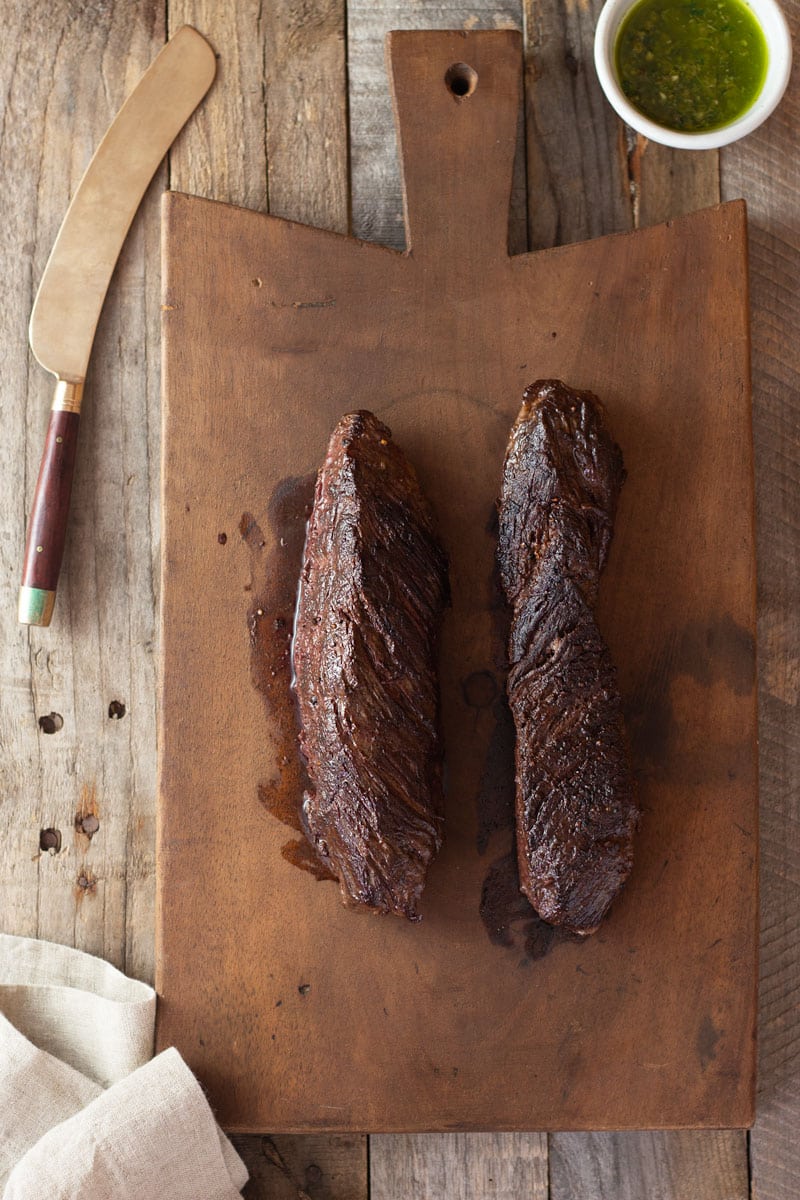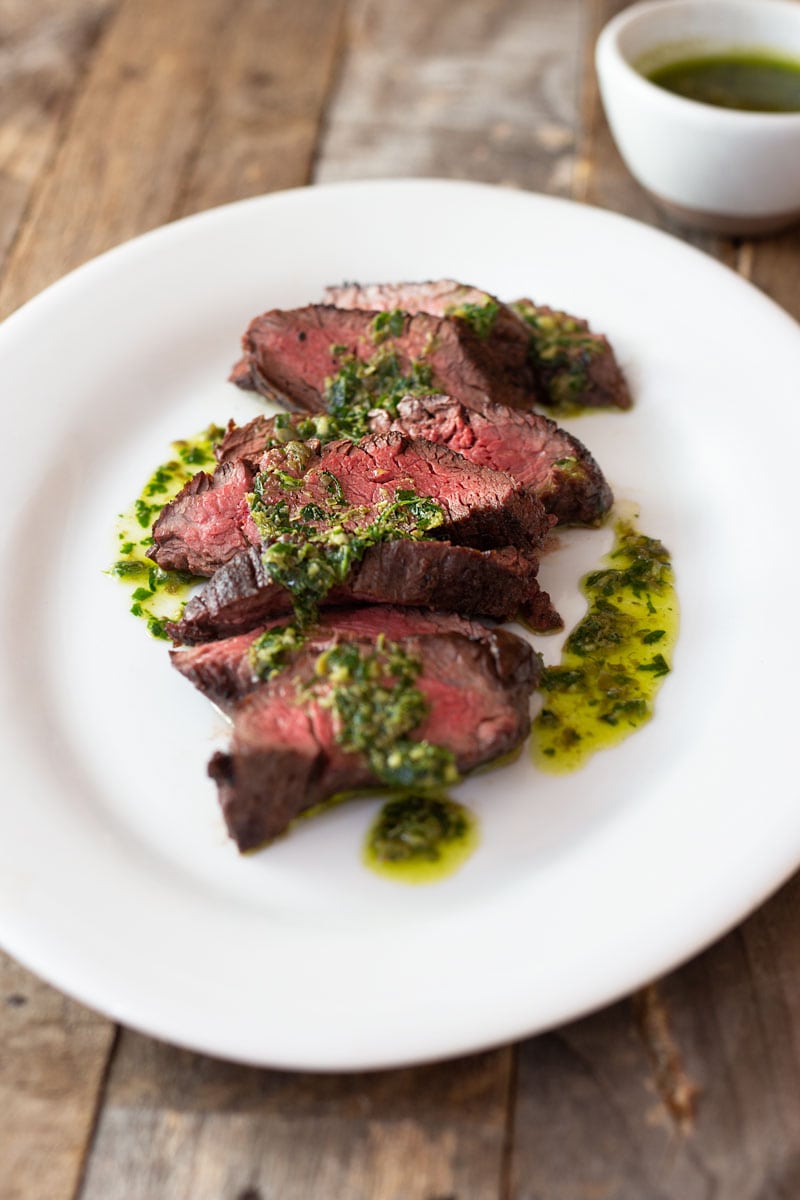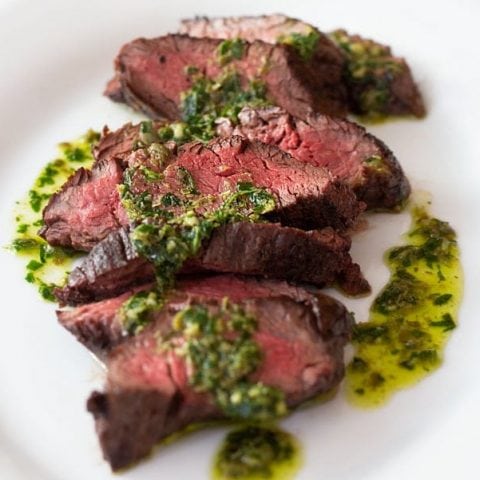 Hanger Steak with Salsa Verde
Sabrina Russo
Steak chimichurri just met it's Italian cousin. Luscious, tender Hanger Steak is kicked up a notch with my garlicky, herbaceous Salsa Verde.
Ingredients
1, 1

lb

hanger steak

split in two, membrane and excess fat trimmed

1

cup

parsley

loosely packed

2

anchovies

1

tbsp

vinegar brined capers

1-2

cloves

garlic

¼

cup

extra virgin olive oil

2

tsp

sherry or red wine vinegar

or to taste

Canola or vegetable oil

as needed

Kosher salt and fresh cracked pepper
Instructions
Make salsa verde: Combine parsley through garlic in a food processor with 1 tablespoon of oil. Pulse until coarsely chopped. Add remaining 3 tablespoons of oil and process until ingredients are finely chopped. Stir in salt and vinegar, to taste. Cover and set aside.

Cook steaks: Heat a pan, preferably cast iron, over medium high heat. Season steaks generously with salt and pepper. Drizzle over oil and rub in to lightly coat. Add to pan and cook a total of about 10-12 minutes for medium rare (125-130°F), turning every 3-4 minutes. Steak should be well-browned on all sides. Remove from pan and rest for 5-10 minutes. Slice on bias against the grain.

Serve: Serve steak with salsa verde and any accumulated juices. Enjoy.
Sabrina Russo
My Three Seasons represents the 3 key factors that are most important to me in cooking. #1 Seasonal ingredients #2 Proper Seasoning (don't skimp on that salt!) #3 Cooking like a Seasoned chef (technique is everything). My name's Sabrina. I live in NYC. I'm a registered dietitian with professional cooking and food styling experience. Come cook with me.