Gwynnett St. — A Fancy Feast in Williamsburg, Brooklyn
The menu at Gwynnett St. is more of a riddle of foodstuffs than a traditional bill of fare—a vague index of ingredients that offers no explanation of how dishes are prepared or hint of how each component comes together.
By Val Twerdahl
As I read through the list during my first visit to the restaurant a few weeks ago, I couldn't help but notice the stark contrast between the ostentatious words on the menu and the simple, unassuming décor of the dining room. My eyes were drawn to provocative terms like kombu, turmeric and, mastic. An appetizer classified as "watercress, cured yolk, black bread and cheddar" made me wonder, Is this a dainty salad or a hearty crostino? Meanwhile, the pork, parsnip, caraway and Swiss chard entrée listing begged the questions, What cut of pork?, Does it come with a sauce?, and Are the parsnips mashed??
I mulled over the decidedly elaborate-yet-unelaborate menu while sitting in my decidedly comfortable-yet-uncomfortable wooden chair. This coquettish game of gastronomic intrigues left me unexpectedly enticed—and ravenous. My husband suggested we indulge in the $85 eight-course tasting menu, since we were both too curious to eat a limited, appetizer-followed-by-entrée type of meal.
Much like the dinner menu, Gwynnett St.'s cocktail list offers a captivating mix of unexpected and jovial elements such as dandelion bitters, pink peppercorn, and yellow and green chartreuse. I opted for Flower Power, a girly, pink concoction of aperol, rose petal, rose water, lemon, foamy egg white, and macchu pisco—a Peruvian liquor made from grapes. The botanical blend arrived in a high-stemmed coupe glass that would have made even Jay Gatsby overlook the modest surroundings of the restaurant. The cocktail was the perfect precursor to our impressive and elaborate meal.
We began with homemade whiskey bread that had been freshly baked in a large, converted pizza oven at one end of Gwynnett St.'s bar. Sliced into thick, robust slabs, the tangy, whiskey-laced loaf was served warm with a trio of decadent spreads in varying shades of milky white: cultured butter, creamy ricotta, and smoky lardo. My husband and I alternated between all three until there was no more bread on which to slather them.
Next on the roster was the stinging nettle soup, a smooth, deep green broth that the waiter poured into bowls of glistening white clams, dainty, wild sprigs of parsley, and silky dark slivers of kombu, a version of kelp widely consumed in Japan. Each spoonful was both light and complex, bursting with verdant piquancy and salty, oceanic flavors.
Bite-sized cylinders of decadent, velvety chicken liver mousse were the stars of our next course. Sprinkled with dehydrated black trumpet mushrooms, the perfectly salted mousse was served with discs of chestnut and apple, and heads of pearly white enoki mushrooms, varying in size from tiny to teeny-tiny. It was a marriage of contrasting yet complimentary elements—creamy and crisp, and sweet, tart, and savory.
The crab followed, and was my favorite dish thus far—which is saying a lot.  A hash brown potato, golden and crispy on the outside, starchy soft on the inside, was paired with small chunks of sweet crabmeat and a whipped, red chili-infused crab mousse. Mint leaves lent a cool and lively element both in color and taste, while charred spring onions rounded out the dish with a sweet and smoky snap.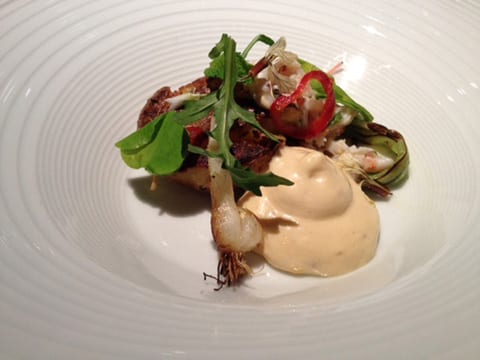 Then came the salmon, a much lighter seafood dish than the indulgent crab and potato plate we had just devoured. It was also the first of our tasting of two entrées. When the waiter informed us that it was smoked, I was only half surprised that he hadn't presented us with cold slices of fish atop pumpernickel toast smeared with cream cheese. Instead, the coral-colored fish was served hot and in the form of a hearty fillet. Beside it was a mound of robust black lentils, which were surrounded by sweet leeks and playful spirals of roasted, earthy fiddlehead fearns.
See Also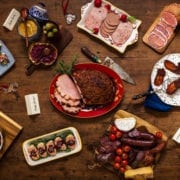 Our next dish was the chicken and I must admit that I felt a bit crestfallen when it was placed before me. Couldn't the kitchen have served us the duck, apricot, and escarole entrée instead? But when I took a bite of the juicy, savory white meat, I realized that most other dishes would pale in comparison to this one. Brined in hash oil and pan roasted in butter, the chicken was cooked evenly on all sides, creating a succulent and satiating melt-in-your-mouth delectability. The flavor of the meat was complemented by faintly spicy clove, tangy pureed rutabaga, and caramelized pineapple chunks. It was perhaps the most vivacious and exceptional poultry dish I have ever eaten in my life.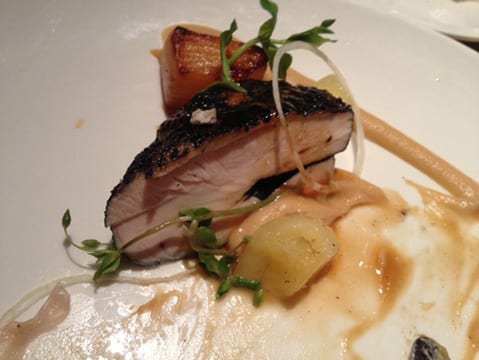 The two dessert courses that followed were just as innovative as our savory dishes. First came a dish that focused on green strawberries, a delicacy I had never encountered before that evening at Gwynnett St. As the younger siblings of ripe, sweet red strawberries, green strawberries are acidic and tart in flavor. Here, they were featured in a slender strip of gelée that was so airy it resembled a marshmallow. Fluffy white angel food cake and refreshingly cool buttermilk ice cream countered the gelée's tanginess, and balanced out the opposing tastes and textures of this delicate dish.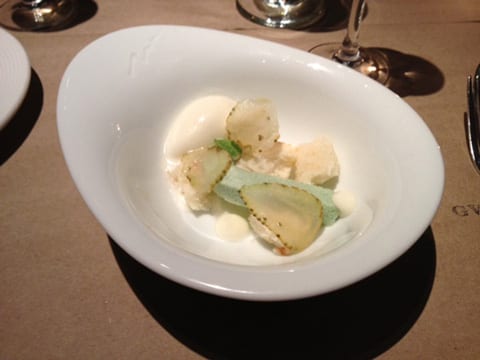 Our meal's pièce de résistance came last, in the form of a chocolate mousse course. Coupled with a few scoops of sprightly mint sorbet and luscious (and lush) spinach ice cream, this is a dessert I will continue to dream about for years to come. At first glance, the viridescent hues that dominated the bowl reminded me of the stinging nettle soup from earlier. At first bite, the satiating union of flavors that danced around my palate was both energizing and enchanting.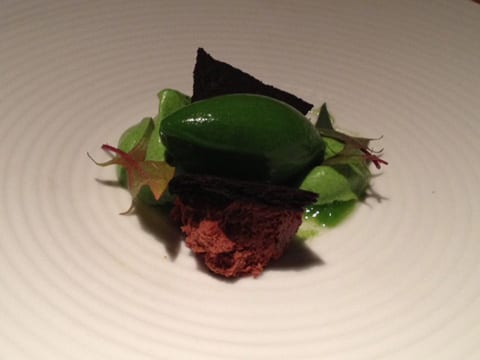 Our well rounded, unpredictable springtime meal had come full circle, beginning and ending with the color green (if you don't count the whiskey bread as a first course, that is). Though I was sad our dinner was over, I took comfort at the thought of going back to Gwynnett St. and discovering what other tricks chef Owen Clark and proprietor Carl McCoy have up their sleeves.
Gwynnett St.
312 Graham Ave
Brooklyn, NY 11211
347-889-7002
Website
Val Twerdahl
Val Twerdahl is a writer with a passion for food, art, fashion, and travel. Born and raised in New York City, she has become a master explorer of her hometown, constantly scoping out new hubs of creativity in the form of restaurants, art galleries, and shops. To visit her in the blogosphere, go to miscv.tumblr.com.