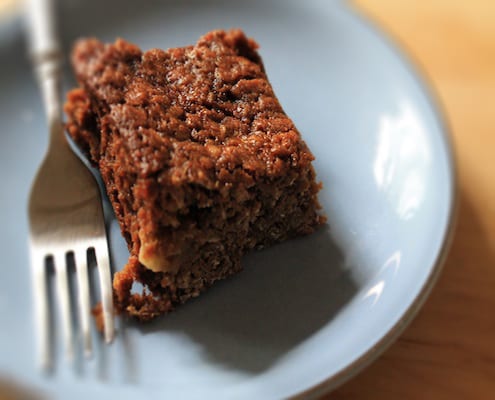 Parkin is a traditional, rustic cake from the north of England made for Guy Fawkes parties.
By Jane Lyons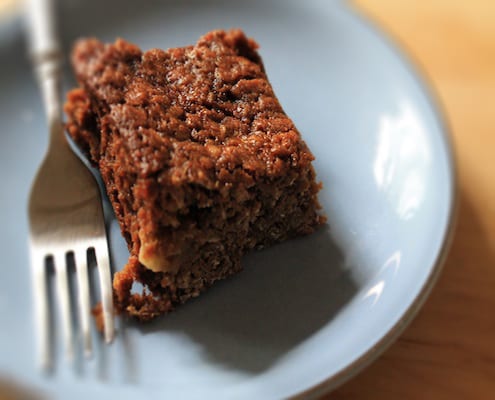 Halloween is all well and good, in fact it's great, but one thing I really miss about home at this time of year is Guy Fawkes Night, aka Bonfire Night, which happened on November 5th.  If you not familiar with Guy Fawkes, you can read about it here.  While it does seem kind of macabre to celebrate one man's attempted act of murderous treason and his subsequent execution, I've always thought it's wholly in keeping with the season.  It comes right after Halloween when we've been wallowing in all things creepy and ghoulish, and happens to come right after the clocks going back and the weather getting just cold enough that huddling round a giant bon-fire sounds like a great idea.
Parkin is a traditional, rustic cake from the north of England made for Guy Fawkes parties (apparently some people up north even call Guy Fawkes 'Parkin Day', the two are so inextricably linked).  The cake is wonderfully dense, sticky and gingery, kind of like a flapjack mixed with a sticky ginger cake.  I added diced apple too which lent some texture and made the flavor a little more interesting.
Ingredients
1 cup or 100g all purpose flour
1 cup or 100g oats
2 teaspoons baking powder
2 teaspoons ground ginger powder
1 stick butter (100 g)
4 tablespoons brown sugar
4 tablespoons treacle (or mollasses)
4 tablespoons golden syrup (or corn syrup or honey)
½ teaspoon salt
6 tablespoons or 3 fluid oz milk
1 inch piece of fresh ginger, grated
1 medium apple, peeled and diced
Instructions
preheat the oven to 350f. Line a square 8×8 cake pan with baking parchment.
In a large bowl mix together the flour, oats, baking powder, ground ginger and salt.
Add the fresh ginger and diced apple.
In a small pan add the butter treacle, golden syrup and sugar, cook over a low heat until the butter is melted and the sugar has dissolved.
Stir this in to the dry ingredients and mix thoroughly with a spoon then add the milk. You should then have a thick batter.
Pour the batter in to the prepared cake pan and bake in the oven for 50-60 minute.
Let cool in the pan for a few minutes, then transfer the cake with the baking parchment attached to a wire rack to cool completely.
Cut in to squares and store in an airtight container for up to a week.
Jane Lyons
Jane Lyons is the writer behind Cooklyn Veg.  She lives in Brooklyn, NY but is originally from London, England and has been a vegetarian for nearly 30 years. Though life in London and New York is similar in many ways, the one thing that always reminds her she's in a foreign land is food. The sweetness of American bread, the blandness of the cheese, and the chocolate – don't get her started on the chocolate. On the flipside, there are many culinary treats that make her love living in the USA, For instance: the amazing array of fruits that a proper hot summer can yield, pecan pie at Thanksgiving and actual authentic Mexican food.