Grilled Tomato Bruschetta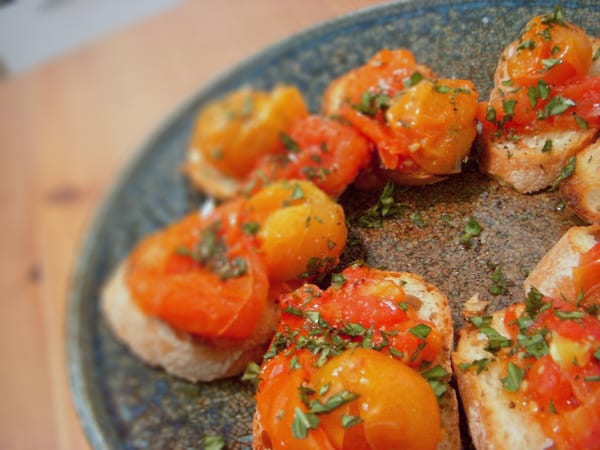 If you're in a place where tomatoes are still in their prime, this is a quick, easy, and tasty appetizer or side dish.
By Bowen Close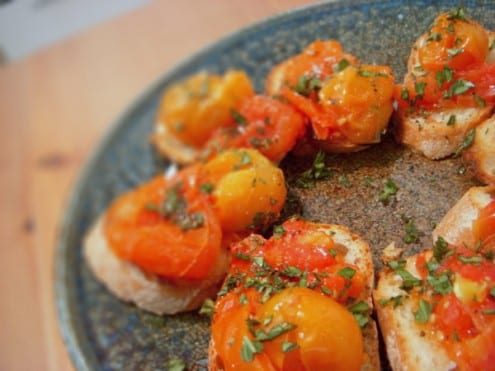 Grilled Tomato Bruschetta
If you're in a place where tomatoes are still in their prime, this is a quick, easy, and tasty appetizer or side dish.
Ingredients
2 cups (or so) of assorted tomatoes, sliced/halved/quartered into bite-size pieces
8 (or so) slices of crusty bread (such as baguette, ciabatta, etc.)
2 cloves garlic
Olive oil
Salt
¼ cup (or so) chopped basil
Instructions
Heat the gas or charcoal grill (if you heat a charcoal grill just for this, I really need to you take some of your extra time and use it for something else, like baking me cookies)
Pile the tomatoes on top of a piece of tin foil. Drizzle with oil and sprinkle with salt, then close up the foil into a loose sort of packet.
Place the packet on the grill for about 15-18 minutes.
Meanwhile, toast the slices of bread (or grill them, I suppose). Cut open the cloves of garlic, and rub the bread with the exposed face of the clove.
When the tomatoes are ready, pile them on top and sprinkle with basil and salt as desired.
Bowen Close
Bowen Close believes that food should make people happy and healthy, and loves bringing together people with creative, delicious food made from the heart. She loves making farm-inspired, flavorful dishes with sustainable ingredients - whether that's a big plate of roasted veggies, a towering chocolate layer cake, or a cocktail utilizing backyard ingredients - and collects recipes and other food-related stories on her website, Bowen Appétit. She is a chef, cooking instructor, and food writer living in Southern California with her husband and fully stocked pantry.