Grilling tofu to serve with sesame rice is a wonderful combination. Read Preethi Vemu's recipe below.
By Preethi Vemu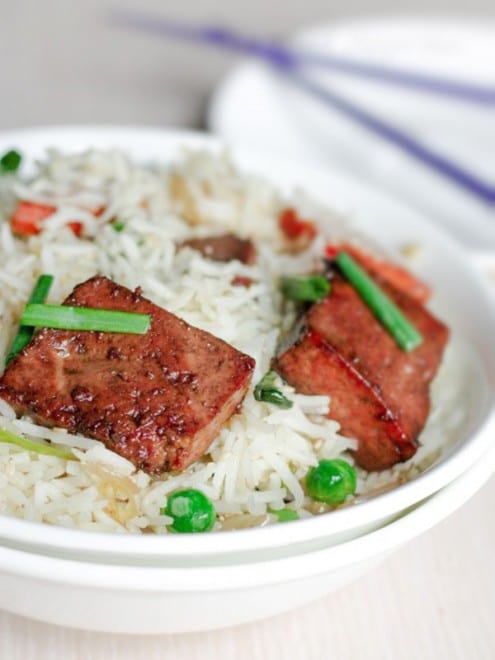 I detest the idea of using paneer/tofu instead of meat in any meat based dish, but some dishes do not go well with anything else. In my opinion, this is one such dish.
Grilled Tofu with Sesame Rice
Grilling tofu to serve with sesame rice is a wonderful combination. Read Preethi Vemu's recipe below.
Author:
Preethi Vemu, adapted BBC GoodFood
Ingredients
Soya sauce - 2 Tbsp
Sugar - 2 Tbsp
Red wine - 2 Tbsp (I used Port wine)
Tofu - 200gm, cut in large inch sized slabs
Basmati rice - 1 C
Sesame seeds - 2 Tbsp
Poppy seeds - 1 Tbsp
Green Peas - ½ C (Frozen or fresh)
French beans - ½ C, finely chopped
Green chillis - 2, slit length wise in inch long pieces
Spring onions - a couple of bulbs, chopped fine
Sesame oil - 1 Tbsp
Instructions
Mix the soya, sugar and red wines together in a bowl till the sugar dissolves.
Now marinade the tofu pieces in this liquid for atleast 30 min
Cook rice separately on an open flame by boiling it in plenty of water and sieving it. Keep aside.
Boil French beans and green peas in the microwave.
In a pan, heat the oil and pour the marinated tofu along with the marinade. Let this stand on a medium flame for 5 min till the marinade will eventually boil and dry on the flame. Keep the tofu pieces aside.
In the same pan, heat some oil and sauté the spring onions and chillies. Add sesame and poppy seeds and sauté them all till the seeds are roasted.
Add beans and peas to this and sauté for a couple of min and then add rice. Mix this well, taking care to not break the rice grains.
Serve the fried rice with the tofu pieces on top. Garnish as required.
Can be eaten as-is or can be paired with a stir-fry.
I served this with a vegetable stir-fry made with Sriracha sauce.
Preethi Vemu
Preethi loves tea, animals, food and her Kindle. When she is not busy being a geek, she dreams about seeing her name in print media some day . An avid reader and an amateur food photographer, Preethi lives in Hyderabad, India with her husband who is subjected to all her culinary experiments.