Grill Like an Italian with Colavita: Grilled Shrimp and Polenta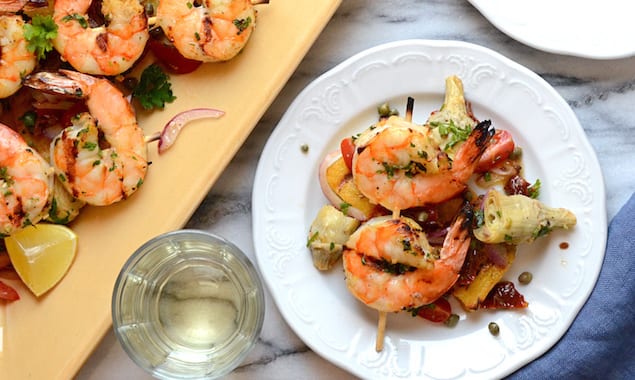 PARTNER POST — Grilling season is here and it is time to explore Italian grilling with authentic ingredients from Colavita.
Set polenta is grilled and topped with tangy dressed vegetables, sun-dried tomatoes, and succulent marinated and grilled shrimp.
By Lisa Lotts
Click here to start grilling like an Italian and for a $1 off Colavita products or 15% off at their online store.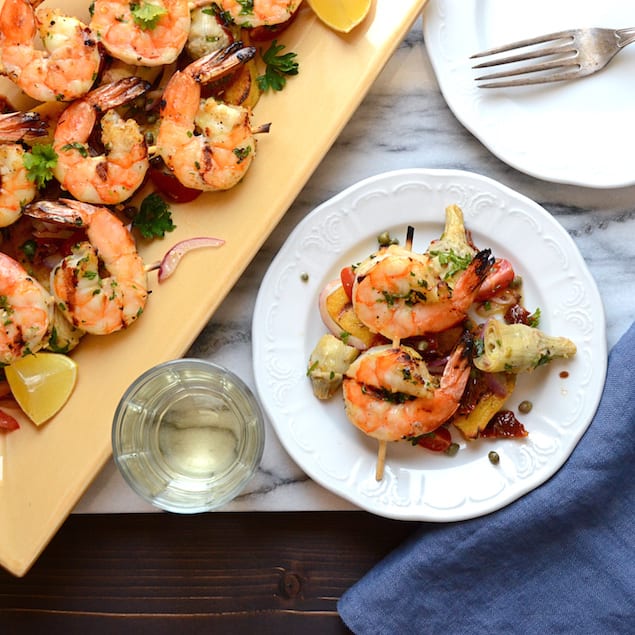 We all crave the smoky char that only comes from cooking outdoors and I think its an unofficial rule of summer that everyone must grill — something. Finding satisfaction can be as easy as hamburgers and hot dogs, or a little more refined, like this Italian-style grilled shrimp and polenta.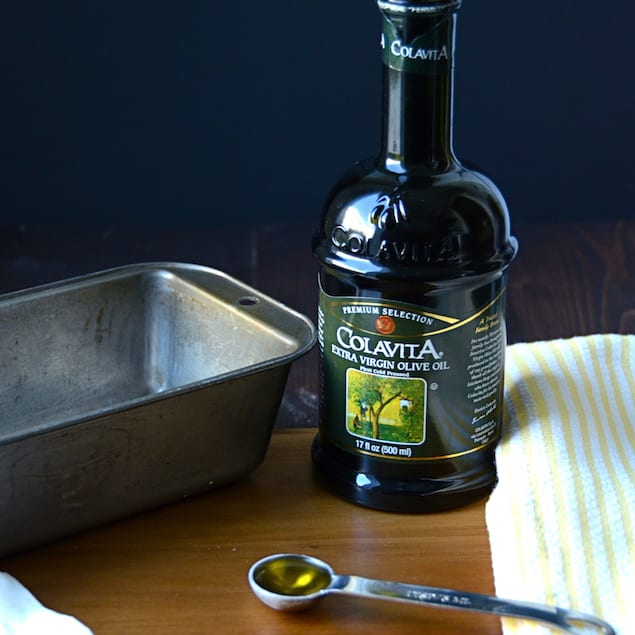 I usually serve polenta soft — and right from the pot — like a corn version of risotto —warm, flecked with herbs and maybe some parmesan that oozes across the plate, waiting to be topped with something wonderful. But Colavita was asking for a grilling post. I've never grilled polenta. Hmmm…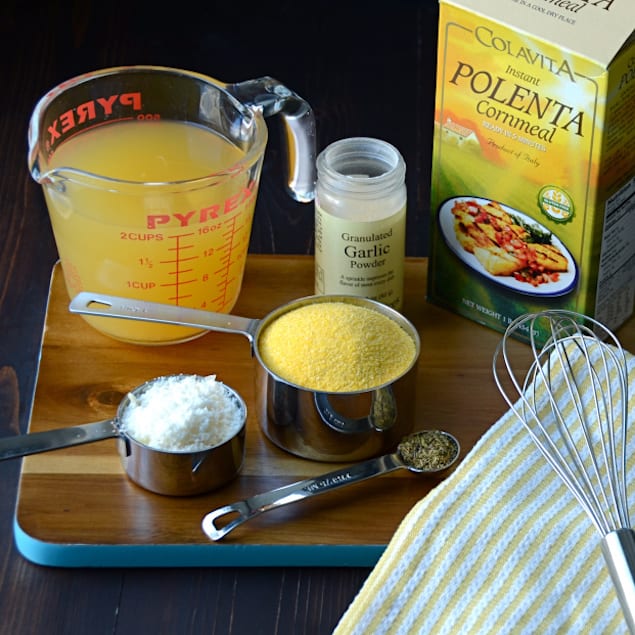 Polenta can be pretty bland on its own, so I used a combination of chicken stock, herbs, garlic powder and a little parm to jazz it up. Then I poured the warm corn mixture into an oiled loaf pan and refrigerated it overnight. (You don't have to wait that long, though. Just chill until it's firm)
I sliced the loaf and brushed each piece with a bit of olive oil. (It's a good idea to oil your grill, too — to prevent sticking.)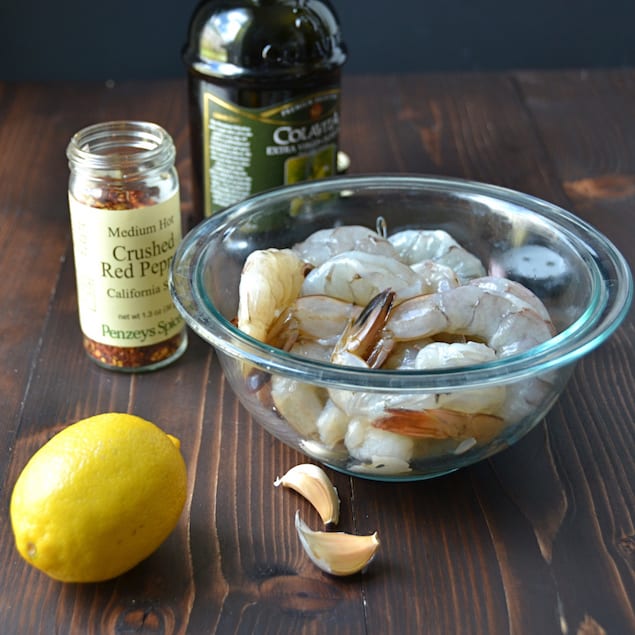 I decided to top it with an Italian blend of Colavita's brined and sun-dried veg with extra large grilled shrimp. Umm-nom-nom!
I made a lemony vinaigrette seasoned with garlic, dijon, salt and pepper and tossed in generous slices of Colavita's chewy-sweet sun-dried tomatoes and salty brined capers. To that, I added baby artichokes, fresh grape tomatoes, red onion and parsley.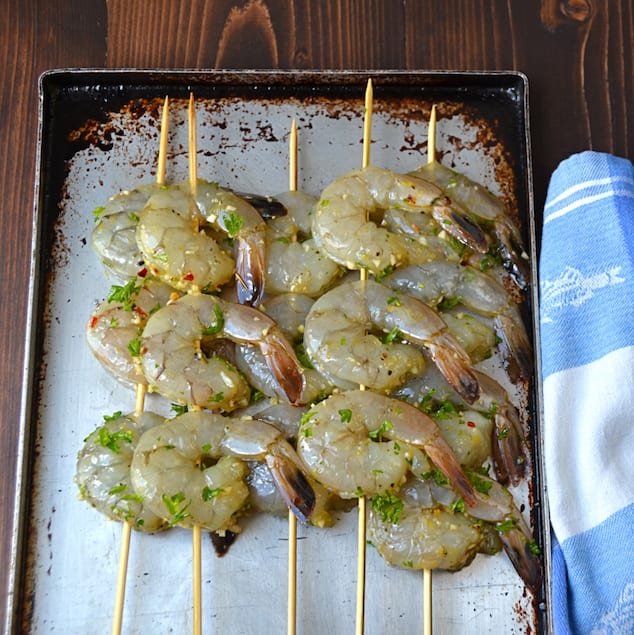 I arranged the polenta on a platter, mounded it with the tangy dressed vegetables and topped it off with those succulent marinated and grilled shrimp.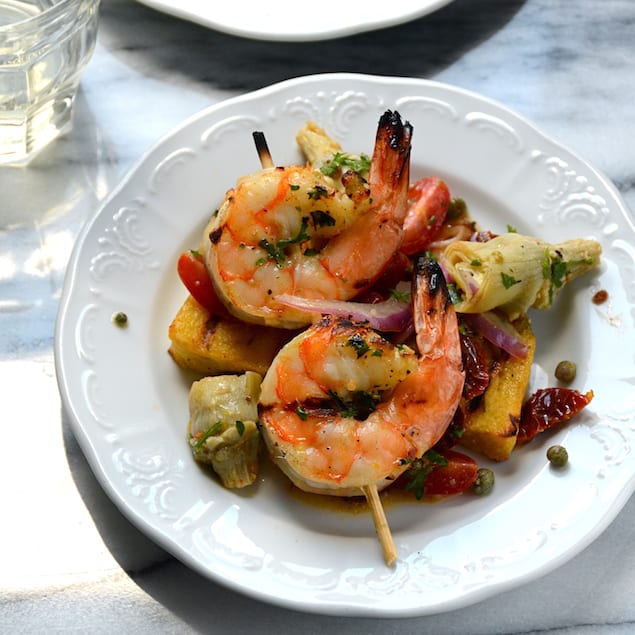 We served it with a few lemon wedges for a tangy spritz and poured a chilled pinot grigio. Like summer grilling — cool, crisp white wine is practically required!
Grill Like an Italian with Colavita: Grilled Shrimp and Polenta
Set polenta is grilled and topped with tangy dressed vegetables, sun-dried tomatoes, and succulent marinated and grilled shrimp.
Cuisine:
Italian-Inspired
Ingredients
for the polenta
1 teaspoon Colavita Extra Virgin Olive Oil
2 cups chicken broth
1½ cups water
1 cup Colavita Instant Polenta Cornmeal
1 tablespoon fresh thyme or 1 teaspoon dried thyme
1 teaspoon granulated garlic
½ teaspoon salt such as Rachel Ray Salt from the Sea Grinders
⅓ cup grated parmesan cheese
extra olive oil for brushing
for the shrimp
2 cloves garlic, minced, divided
1 lemon, zested
⅛ teaspoon red pepper flakes
¼ teaspoon salt such as Rachel Ray Salt from the Sea Grinders, divided
¼ teaspoon black pepper such as Rachel Ray Malabar Black Pepper Grinders, divided
2 tablespoons Colavita Extra Virgin Olive Oil
1½ pounds extra large shrimp (U12-15), peeled and deveined
for the topping
2 cloves garlic, minced
1 lemon, zested and juiced
1 teaspoon dijon mustard
3 tablespoons Colavita Extra Virgin Olive Oil
¼ teaspoon salt such as Rachel Ray Salt from the Sea Grinders
¼ teaspoon black pepper such as Rachel Ray Malabar Black Pepper Grinders
⅓ cup Colavita capers, rinsed and drained, patted dry with a paper towel
⅓ cup Colavita sun-dried tomatoes, drained and thinly sliced
⅓ cup thinly sliced red onion
1 cup grape tomatoes, quartered
1 10-ounce jar baby artichokes or artichoke hearts, rinsed, drained, patted dry
½ cup fresh parsley, chopped
special equipment
bamboo or metal skewers -- if using bamboo, soak in water for an hour before grilling
Instructions
for the polenta
Add olive oil to a small loaf pan and use a paper towel to coat the bottom and sides of the pan. Set aside.
Add chicken broth, water, thyme, garlic and salt to a medium saucepan and bring to a boil. Slowly add the polenta into the chicken broth, whisking constantly. Continue to whisk and cook polenta for 4-5 minutes. Remove from heat. Stir in the parmesan cheese.
Pour the polenta into the loaf pan and smooth the top. Cover with plastic wrap and let cool to room temperature. Then refrigerate until firm, several hours or overnight.
prepare the shrimp
In a medium bowl, combine 2 cloves of the garlic, the lemon zest, red pepper flakes, salt, pepper, and olive oil. Stir to combine. Add the shrimp and toss to coat. Set aside for 15 minutes to marinate.
for the topping
In a medium bowl combine the garlic, lemon zest and juice, dijon mustard, olive oil, salt and pepper. Whisk to combine. Add the capers, sun-dried tomatoes, red onion, grape tomatoes, artichokes and parsley. Toss to combine. Set aside.
for the grill
Thread the shrimp onto skewers.
Turn the polenta out onto a cutting board. Slice polenta into ½" thick slices. Lightly brush them with olive oil. Lightly oil the grill grates and make sure the grill is hot before adding the polenta - it can have a tendency to stick. Grill the polenta for about 3-4 minutes per side. Transfer to a serving platter.
Grill the shrimp for about 1½-2 minutes per side, until pink and opaque. Transfer to a serving platter.
To serve:
Arrange the polenta on a serving platter. Spoon the topping over the polenta. Arrange the shrimp skewers over the topping. Serve.
Notes
If artichoke hearts are larger than bite size, cut them into smaller chunks before adding to the topping.
You may want to do a test run of grilling the polenta. Use one slice and see how it reacts to your grill. If it sticks, take extra precaution by using "Pam for grilling" or "grill" the polenta on an oiled grill pan inside.
Lisa Lotts
Lisa is a South Florida based food blogger who derives inspiration from a diverse family food-background, which includes southern comfort foods, traditional French and Caribbean cuisine. On her blog, Garlic and Zest, she explores fresh, innovative flavors and the inexorable link between food and family. Her approachable fare tastes like home.