Grilled Salmon with Corn and Heirloom Tomato Salad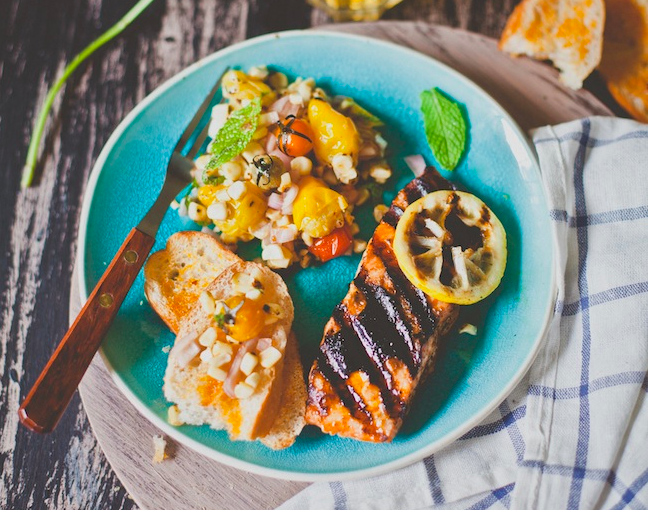 Yogurt and spice marinated grilled salmon is always delicious but the star of the meal was the grilled corn salad with roasted tomatoes.
By Kankana Saxena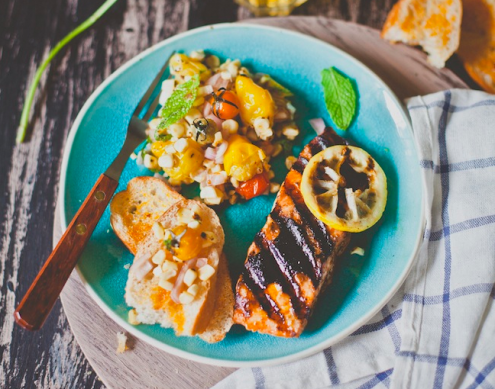 We poured some chilled beer, got some crusty bread on the side and relished the meal we prepared together.
Grilled Salmon with Corn and Heirloom Tomato Salad
Yogurt and spice marinated grilled salmon is always delicious but the star of the meal was the grilled corn salad with roasted tomatoes.
Ingredients
for chili oil lemon vinaigrette
zest of 1 lemon
juice of 1 lemon
1 cup chili oil
1 teaspoon sugar
½ teaspoon salt
freshly cracked black pepper
for the corn salad
1 lb cherry tomatoes
2 corns on the cob
2 shallots, finely chopped
1 cup finely chopped fresh mint
for the grilled salmon
4 slices of salmon fillet
2 tablespoons yogurt
1 teaspoon cumin powder
1 teaspoon chili powder
salt
Instructions
for chili oil lemon vinaigrette
In a glass jar, pour all the ingredients and whisk until they're all mixed into a smooth vinaigrette.
for the corn salad
Rub a little bit of oil on the corn and grill it in medium high heat by turning it occasionally. This should take about 30 minutes. In the mean time, throw the tomatoes in a baking pan, drizzle with some oil and roast for about 35 minutes. Once corn is grilled, remove the kernel by allowing it to stand on a wide bowl and using a sharp knife, slice downwards. In the same bowl, add shallots, roasted tomatoes, fresh mint and vinaigrette. Give it a toss and it's done.
for the grilled salmon
Marinate the salmon with yogurt, cumin powder, chili powder and salt. Let it rest for an hour. Once ready, grill it at medium heat for about 6 minutes on each side. Make sure after you place the salmon fillet on the grill, you do not move it or else, it will tear apart. Once it's cooked through, it will easily come off and you will get a perfect grill mark too.
Notes
Grill fish at the end as it would take the least amount of time and it will stay warm by the time everything is ready.
Kankana Saxena
Kankana Saxena shares culinary journey, travel stories and passion for photography in her blog 'Playful Cooking'. Her cooking style is mostly nutritional with little bit of indulgence here and there. She believes in the mantra 'homemade is happiness'! She is a native of India but currently resides in Santa Clara, California with her husband.