Grilled Pancetta and Melon Pizza is a great summertime dish. The sweet-savory combination of melons and pancetta pairs well with the smokiness of the crust.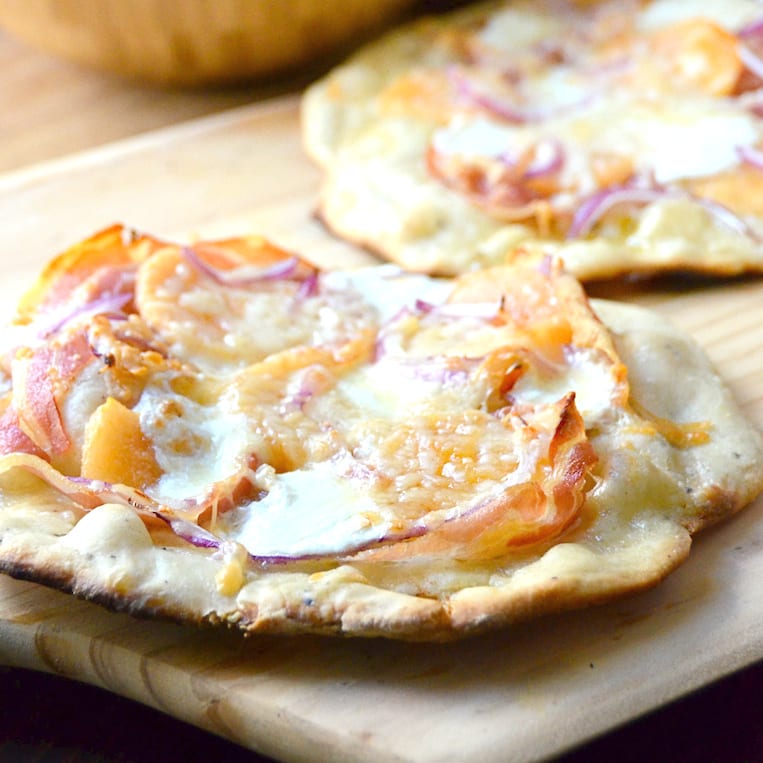 When I was a kid my parents had a dinner party. They invited friends to the house and we spent the better part of our Saturday cleaning and vacuuming, dusting, and setting the table — with the good china. I remember my parents' dinner parties because they always felt like special occasions. My brother, Cameron, and I usually ate before the guests arrived and were happily ensconced in the latest episodes of The Love Boat and Fantasy Island while Mom and Dad entertained their company.
Mom pulled out all the stops for company. On this particular occasion, she made the appetizer in advance – prosciutto and melon with shaves of fresh parmesan cheese. She arranged it just so on the china, covered it in plastic wrap and put it in the fridge until it was "time". Now, I realize that proscuitto and melon isn't an earth shattering combination. But to my ten-year-old self, it seemed pretty bold. And since I helped Mom with the prep — and got to sample the less-than-perfect bits – I remember being surprised by the intensity of the sweet-savory combination.
See Also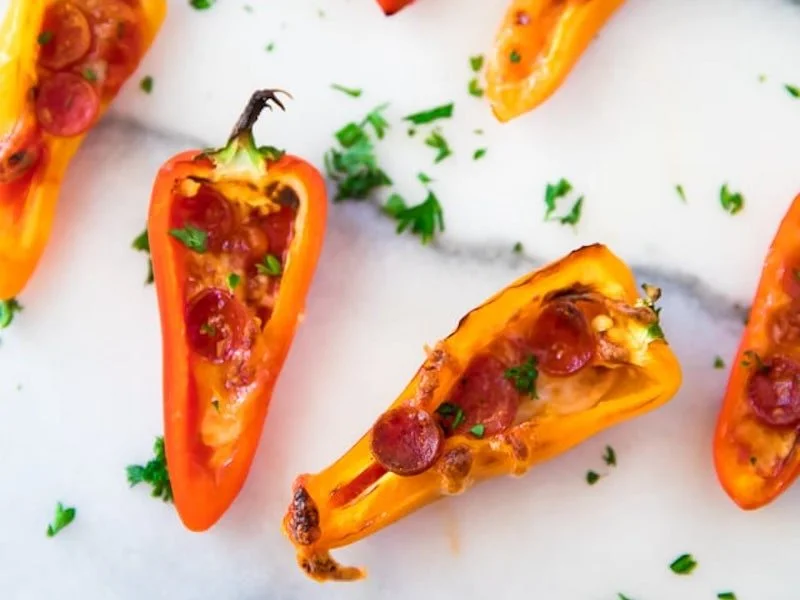 Today, I'm revisiting those flavors. With a homemade pizza. Or maybe it's a flatbread, I can't decide. Whatever you call it — it's gonna be good! I made my own dough (aren't you impressed?) but you don't have to — most bakery departments sell fresh pizza dough for about $2 Instead of prosciutto, I used the less expensive pancetta, sliced very thinly. It browned beautifully on the grill. What a great way to celebrate summer!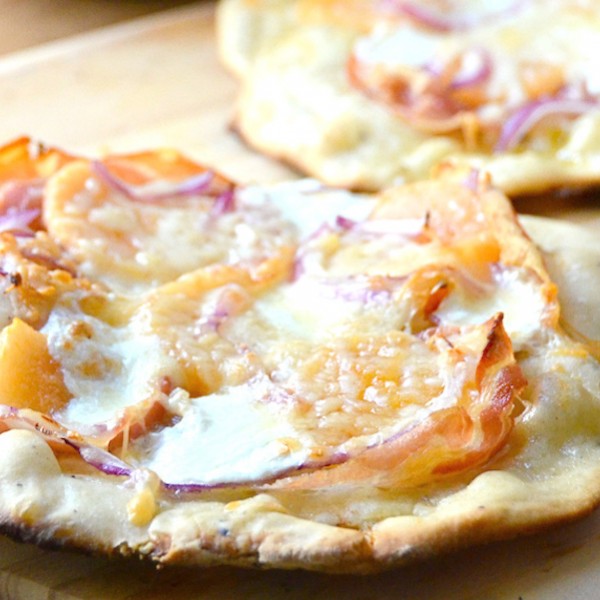 Lisa Lotts
Ingredients
For the Pizza Dough
3

cups

all purpose flour

1

package ~ 1 1/2 teaspoons active dry yeast

1

cup

warm water

105-115 degrees Farenheit

1

tablespoon

sea salt

1

teaspoon

freshly ground black pepper

1

tablespoon

extra virgin olive oil

extra flour for rolling out pizza dough
For Pizza
1/2

pound

thinly sliced pancetta

1/2

cantaloupe

seeded, cut into 1/4"thick slices (cut into rounds with a biscuit cutter if desired)

1/4

red onion

thinly sliced

16

ounces

fresh mozzarella cheese

sliced into 1/4" thick pieces

1

cup

grated parmesan cheese

10

ounces

baby arugula
For Salad Dressing
3

tablespoons

extra virgin olive oil

1

tablespoon

red wine vinegar

1

teaspoon

dijon mustard

1

large clove garlic

minced

1/2

teaspoon

sea salt

1/4

teaspoon

freshly ground black pepper
Instructions
Add the flour to the bowl of a stand mixer fitted with a dough hook. In a separate bowl, combine the yeast with the warm water and stir together. Set aside for a few minutes until the yeast starts to bubble. Add the yeast to the dough and turn the mixer onto a low setting. Knead the dough on low speed for 5-6 minutes. Add the salt and pepper and continue kneading for 2 more minutes.

Remove the bowl from the stand. Shape the dough into a round ball and set in the bowl. Pour the olive oil over the dough and turn the dough over until it is well coated with olive oil. Cover with plastic wrap and refrigerate for 12 hours. It will double in bulk and start to develop a yeasty aroma.

The dough is ready to use at this point, but for a more flavorful dough, punch it down and reform into a tight ball. Put the dough back in the bowl, cover and refrigerate for another 12 hours.

Remove the dough from the refrigerator and let it sit at room temperature for about half an hour.

Meanwhile, prepare the toppings. Separate the pancetta slices so they are easily accessible (they tend to stick). Slice the cantaloupe into thin slices. If you want to be fancy, use a biscuit cutter to cut the cantaloupe into "pepperoni rounds". Slice the onion and mozzarella and arrange the ingredients on a platter so you can easily build the pizzas on the grill. It is important to have everything in its place before you begin to cook.

Place the arugula into a salad bowl and set aside. In a small bowl combine the olive oil, vinegar, dijon, garlic, salt and pepper. Whisk to combine and set aside. (Don't dress the greens until you're ready to serve -- otherwise they will wilt.)

Preheat the grill to 400 degrees.

Dust your work surface with flour. Separate the dough into 4 equal portions and roll each one into a ball. Place one ball of dough on the work surface and use a rolling pin, lightly dusted with flour to roll the dough into a disc about 1/4"- 1/3" thick. Set the dough onto a baking sheet and continue rolling out the other balls of dough.

Assemble these ingredients by the grill: pizza dough, olive oil (and pastry brush), pancetta, cantaloupe, mozzarella, onions, parmesan.

Place a pizza dough on the grill. Sprinkle with 1 teaspoon of olive oil and quickly brush the oil over the dough with a pastry brush. Lay one quarter of the pancetta over the dough in an even layer. Top with a quarter of the cantaloupe, mozzarella, onions and parmesan cheese. Close the lid on the grill and cook for 6-7 minutes. Monitor the grill in case of any flare ups. Use a large spatula to transfer the pizza to a baking sheet or pizza peel. Continue with the remaining pizzas. (note: depending on your grill size you can cook 2-4 pizzas at a time, but the longer the lid is up, the more the grill will cool and it may take some time to get back to a high cooking temperature.

Add the dressing to the arugula and toss.

Serve pizzas individually with a nest of arugula on top, or cut into wedges and top each wedge with greens.

Enjoy!
Notes
If you're making your own pizza dough, start a day ahead, so it can rise several times.
One pizza dough will make 4 individual 6-8" pizzas and will serve 3-4 people as a main course or 6-8 for an appetizer.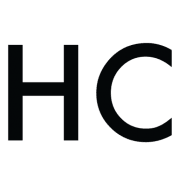 Lisa Lotts
Lisa is a South Florida based food blogger who derives inspiration from a diverse family food-background, which includes southern comfort foods, traditional French and Caribbean cuisine. On her blog, Garlic and Zest, she explores fresh, innovative flavors and the inexorable link between food and family. Her approachable fare tastes like home.