Make a delicious warm salad on the barbecue or in a grill pan and top it with seasonal vegetables and root-based dressings.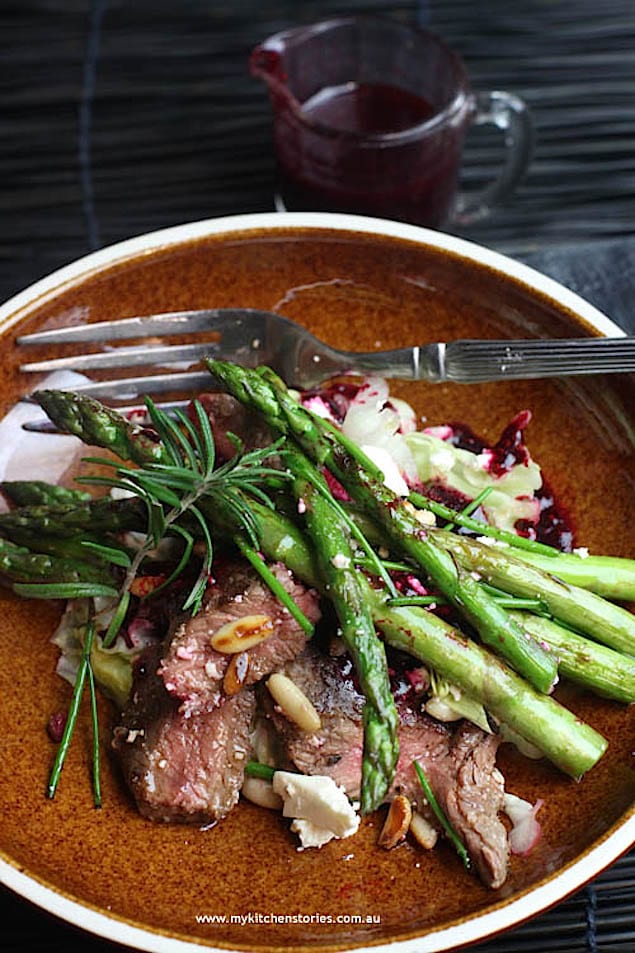 Chia is a spieces of plant from the mint family. It's leafy and it flowers but the seeds are what the plants are grown for and those seeds are full of omega 3 fatty acids and full of 25-30% extractable oil. There are a few types of Chia, they are mottle-colored with brown, gray, and white.. and a luxurious black Chia.
See Also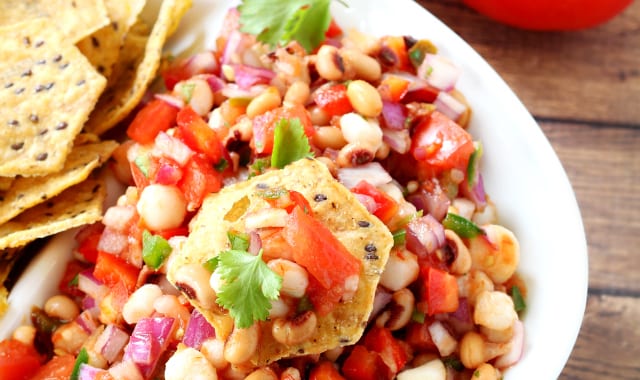 You can make this delicious warm salad on the Barbeque or in a grill pan. It can be also totally vegetarian if you wish.
Grilled Lamb Salad with Beet and Chia Dressing
Make a delicious warm salad on the barbecue or in a grill pan and top it with seasonal vegetables and root-based dressings.
Ingredients
Dressing
1 tablespoon chia seeds
3 tablespoons water
1 Tablespoon Beetroot powder
1 Tablespoon of White wine vinegar ( or cider vinegar)
1 teaspoon maple syrup
2 Tablespoons olive oil ( or Lemon macadamia oil)
Salt and pepper
Salad
4 Lamb leg steaks
2 teaspoons of dijon mustard
1 Tablespoon olive oil
½ teaspoon fresh ground black pepper
¼ teaspoon salt
2 bunches of Asparagus
1 Tablespoon olive oil (approx)
150 gm Danish Feta Cheese
¼ bunch of chopped chives
1 sprig of rosemary
¼ iceberg lettuce ( shredded) / or equivalent of Rocket
50gm toasted pinenuts
Instructions
Soak the chia seeds in the water till they are gelatinous. Pour these into a jar with a lid then add the vinegar, oil, maple syrup, salt and pepper and beetroot powwder. Shake well and set aside.
Toss the asparagus in the oil and put onto a hot grill. Turn to lightly colour and remove and set aside ( 1-2 minutes). the Asparagus should still be slightly firm and nicely coloured.
Mix the dijon, oil, picked rosemary leaves, pepper and salt in a bowl and coat the steaks in this mixture and using the same hot grill cook the steaks for 5 or so minutes untill medium rare. set aside to rest
Put the shredded lettuce, pinenuts,chives, sliced lamb and asparagus into a bowl or on a platter and sprinkle with feta and dressing.
Tania Cusack
After completing Culinary School in Sydney, Tania travelled the world working as a Chef in restaurants, doing catering and cooking on road for a travel company in Europe and the US. Once back at home, the birth of her son meant a change, and during his small years, she enjoyed jobs in wholesale food, buying Artisan food products, testing and recipe writing as sales and educational tools. Tania is now back to what she loves, working as an in house Chef for a large retailer, conducting Cooking Classes and writing recipes for her blog.