Serve this recipe a la mode with your favorite ice cream for a delicious dessert.
By Lail Hossain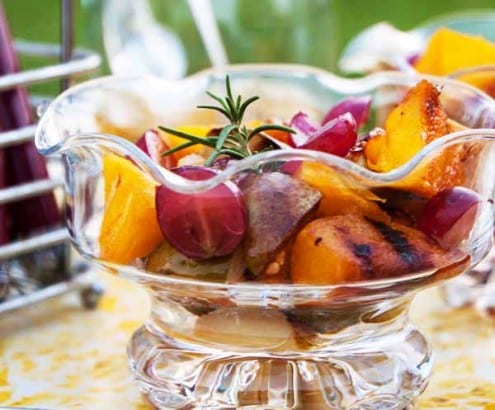 Grilled Fruit with Rosemary Honey
Serve this recipe a la mode with your favorite ice cream for a delicious dessert.
Ingredients
3 teaspoons honey
1 spring rosemary
⅔ cup water
1 tablespoon butter
Fruits of your choice -- Pears, guava, peaches, grapes, pineapple, etc.
Instructions
Add water, honey and rosemary in a pan and simmer to make syrup, about 5 minutes. Let steep and cool.
Wash fruit and cut into quarters.
Brush your grill with butter.
Add the fruit and grill for ⅔ minutes on each side. Sprinkle/brush some syrup on ever minute or so to get a caramelized effect.
Serve grilled mixed fruits with an spoonful of extra syrup.
Lail Hossain
Lail Hossain finds cooking to be an explosion of creativity. She is enthusiastic about modifying a laborious step of an old recipe, and experimenting with different ethnic recipes by adding her own spin to it yet keeping the recipes simple, healthy, and delicious. Originally from Bangladesh, Lail shares her journey of food, creativity and family in her blog "With A Spin". She is also very passionate about highlighting Bangladeshi cooking to the international culinary space.