Grilled Eggplant Parmesan Sandwich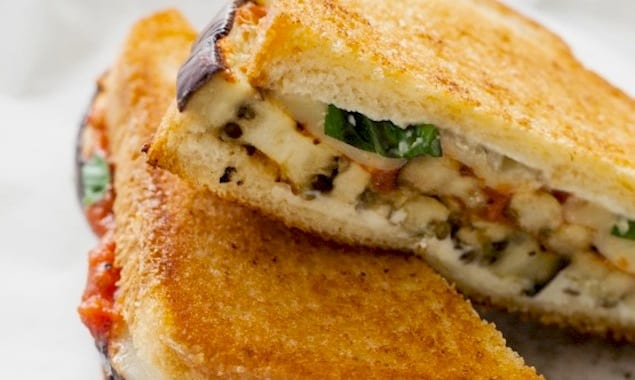 This sandwich packs the delicious flavors of eggplant Parmesan and delivers them in a portable sandwich that is perfect for summer entertaining complete with a creamy ricotta spread. The eggplant slices can be grilled outdoors or inside on a grill pan.
By Taylor Mathis and Sally James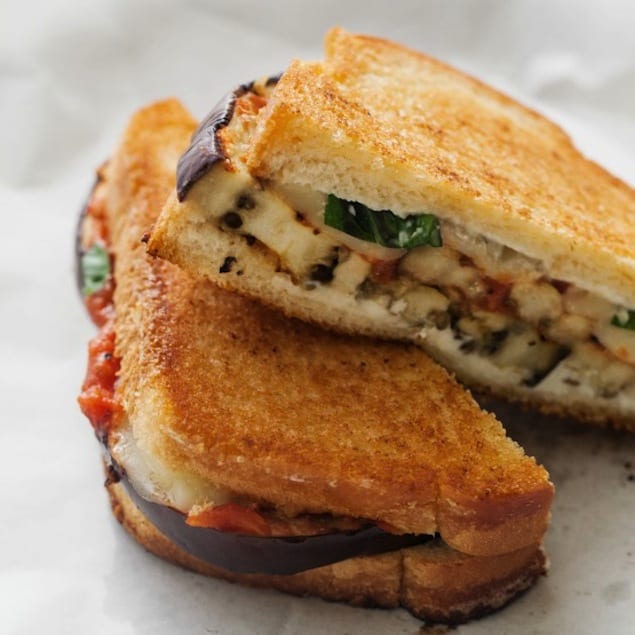 This Grilled Eggplant Parmesan Sandwich packs the delicious flavors of eggplant Parmesan and delivers them in a portable sandwich that is perfect for summer entertaining. The eggplant slices can be grilled outdoors or inside on a grill pan. The tender eggplant is sandwiched between a creamy Ricotta spread, tomato sauce, fresh basil, Provolone cheese, and two buttery pieces of Italian bread.

Grilled Eggplant Parmesan Sandwich
This sandwich packs delicious flavors of grilled eggplant Parmesan into a portable package for summer entertaining, with a creamy ricotta spread.
Author:
Taylor Mathis and Sally James
Ingredients
1 large eggplant cut into 12¼ inch thick slices
8 tablespoons (1 stick) unsalted butter, divided
2 teaspoons minced garlic
1 (28-ounce) can crushed tomatoes
1½ teaspoons salt, divided
⅛ teaspoon crushed red pepper flakes
⅛ teaspoon oregano
⅔ cup Ricotta cheese
⅓ cup Parmesan cheese, grated
12 slices Provolone cheese
12 large fresh basil leaves
12 slices Italian bread
Instructions
Sprinkle eggplant slices with ½ teaspoon of salt. Put slices in colander to drain. Set eggplant aside for 20 minutes. While eggplant is draining, prepare tomato sauce.
In medium sized pot, melt 4 tablespoons butter over medium heat. Add garlic and cook 2 minutes, stirring frequently. Add tomatoes, ¾ teaspoon salt, red pepper flakes and oregano. Bring tomato sauce to boil and then reduce heat and simmer sauce for 30 minutes, stirring frequently
Pat drained eggplant dry with paper towels. Season slices with pepper. Cook eggplant slices on grill or indoor grill pan over medium heat. Cook eggplant for 8 to 10 minutes, turning once, until slices are tender. Remove slices from grill and set aside.
In small bowl, combine Ricotta, Parmesan cheese and remaining ¼ teaspoon salt. Stir to combine. Set cheese mixture aside.
To assemble sandwiches, spread layer of Ricotta mixture on each slice of bread. Layer 2 slices of eggplant on top of 6 slices of bread. Top eggplant slices with 1 tablespoon tomato sauce. Top sauce with 2 slices of Provolone cheese. Place 2 basil leaves on top of Provolone. Season sandwich stacks with additional salt and pepper, if desired. Close sandwiches with the remaining slices of Ricotta-smeared bread. Gently press down on sandwiches.
Melt remaining 4 tablespoons butter in large nonstick skillet. Grill sandwiches on both sides until golden brown. Remove sandwiches from skillet. Slice sandwiches and serve with additional tomato sauce, if desired.
Taylor Mathis and Sally James
Sally James and Taylor Mathis are a mother and son duo from Charlotte, NC. Sally, a professional recipe developer, and Taylor, a professional Food and Lifestyle photographer, work together to create beautiful and delicious recipes designed to be eaten anywhere! Together they are the creators and authors of the food Blog Taylor Takes A Taste and worked together on The Southern Tailgating Cookbook.