Here it is – the dietitian's version of a Chicken and Waffles.
By Amber Massey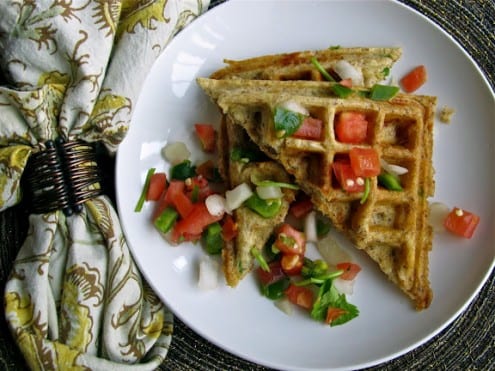 So – I have a dietitian confession.  I have yet to ever try flaxseed.   I know.  And might I point out another rather sad point is that I have about a pound of the milled variety at any given time – stocked in my pantry. 
My Fireman has been so good with his whole grain consumption- Upon my recommendation about a year ago, he began to add it to his oatmeal on a daily basis- even bringing a little baggy with him to the fire station so he can make his breakfast upon arrival.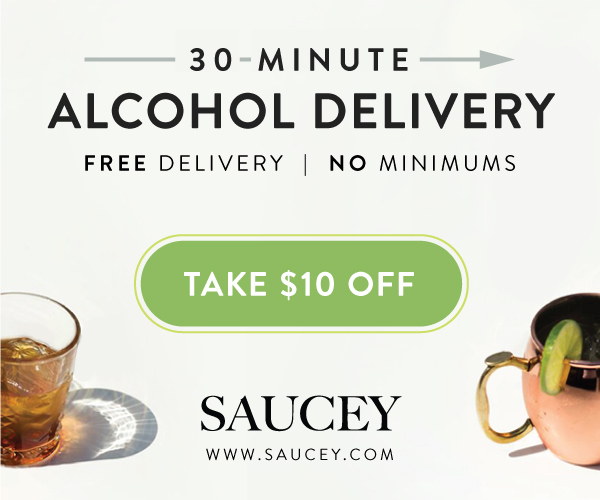 So, I decided it was about time to take my own advice and give it a try.  And, even if I didn't like it, I could just add in some cheese.  After all, cheese makes everything taste better, right? 
So… what in the world am I going to make with it?
I was doing all this decision making while watching Food Network, of course.  In hopes of seeking inspiration, I suppose.  I was watching Bobby Flay (Oh, how handsome you are, Bobby.) make fried chicken and waffles. Even though he is frying something- he is still handsome while doing it.
His waffles actually had wild rice in them.  How unique.  What if I made cheesy waffles, with flaxseed?  But that still seemed kinda plain to me. 
What else goes with breakfast food.. sausage.. bacon..eggs.. this is all starting to sound a little heavy.  But I could opt with turkey sausage.. or chicken.  What if I did my own version of Chicken and Waffles? Genius.
So here it is – the dietitian's version of a Chicken and Waffles.  I added the perfectly shredded cheese to the batter, along with some cooked and crumbled chicken sausage and a kick of spice from fresh jalapeno.
These were delish!  I was hesitant that the combo of flax, whole wheat flour, and the cheese and sausage was going to make them super heavy- but they came out fluffy and beautiful.  I think I'll plan to add in milled flaxseed to my regular waffle-making.
Even though my waffle-making isn't very regular.  This is a start.
As for drizzling?  I made a fresh pico to serve over top in combination with the slightly Southwest theme I had going on.  But, Bobby made this Maple Horseradish Syrup that would be simply divine if you ask me.  But I'm not surprised.  Bobby is divine in general. 
I wonder if he knows it.. Probably.
Grilled Cheese & Chicken Sausage Waffles
Ingredients
2 (2-ounce) links chicken sausage, casings removed
Cooking Spray
1 cup all purpose flour
½ cup whole wheat flour
¼ cup ground flaxseed
1 teaspoons baking powder
¼ teaspoon baking soda
¼ teaspoon salt
¼ teaspoon pepper
1 ¾ cup low fat buttermilk
2 tablespoons butter, melted
2 large eggs, lightly beaten
2 tablespoons minced jalapeno pepper
1 cup (4-ounces) Reduced-Fat Sharp Cheddar Cheese, shredded
Instructions
Preheat non-stick waffle iron to medium high.
Heat a non-stick skillet coated with cooking spray over medium high heat. Add chicken sausage to the pan and cook, crumbling as the sausage cooks through and is no longer pink. Remove from heat and allow to cool slightly.
In a large bowl, combine both flours, flaxseed, baking powder, baking soda, salt and pepper. In a separate medium bowl, beat buttermilk, butter, and eggs. Pour into dry ingredients and stir to form a stiff batter. Stir in jalapeno, shredded cheese and reserved chicken sausage.
Spoon batter onto preheated waffle iron coated with cooking spray. Spread batter evenly with a knife. Cook until golden-brown and crisp. Repeat with remaining batter, keeping prepared waffles in a 200 degree warmed oven until ready to serve
Serve with fresh pico de gallo (1/2 cup chopped yellow onion, 1 diced jalapeno, ½ cup chopped tomato, 3 tablespoons chopped cilantro, 1 teaspoon fresh lime juice) or real maple syrup.
Nutrition Information
Serve Size:
1 waffles (2 triangles) each
Calories:
213
Fat:
9 g
Carbs:
21 g
Fiber:
3 g
Protein:
14 g