SPONSORED POST: From Dijon Originale mustard to Cornichons, Maille has a rich heritage starting in 1747 that honors tradition. Check out these flavorful, fun recipes that are made with Maille and perfect for BBQ season. What can we say? Maille is BBQ's best friend. PLUS, be sure to enter for a chance to win an awesome grilling kit below.
This Grilled Broccoli Salad is drizzled with a creamy honey mustard dressing and tossed together with feta cheese, cranberries, and slivered almonds. The perfect veggie side dish to compliment your BBQing this summer!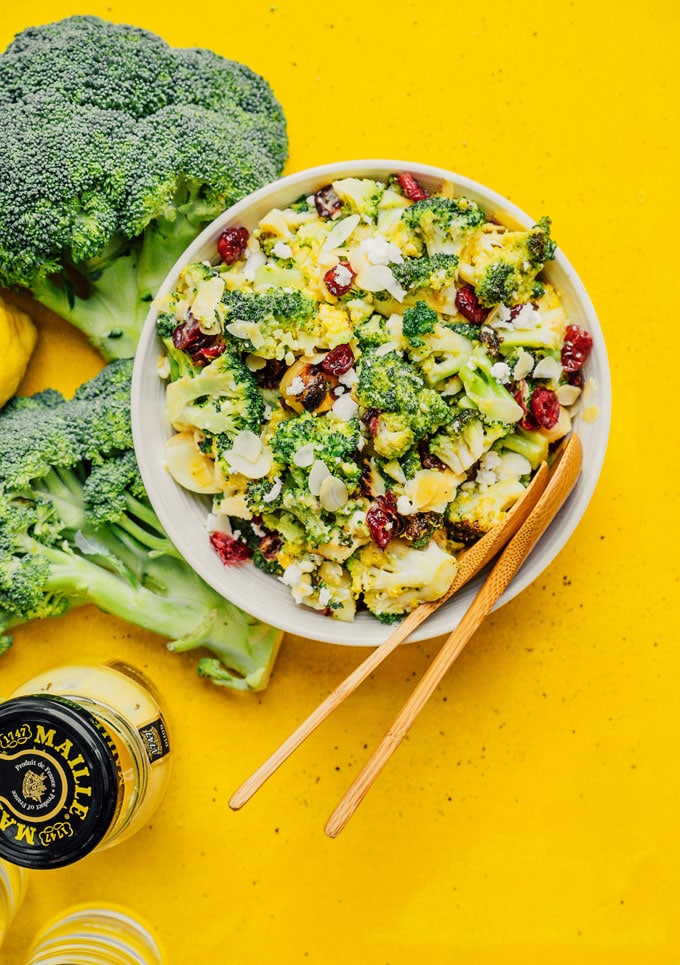 Barbeque season is upon us! And in celebration of this wonderful time of year, today we're whipping up an ultra-flavorful Grilled Broccoli Salad.
It's easy to forget to throw a healthy side dish on the table when you're grilling away, but with this broccoli salad there are no excuses. Because it is so easy friends. Basically throw the broccoli in aluminum foil, grill for a few minutes, and mix together with a few other yums. And it's drizzled with the most velvety Honey Mustard Dressing. Are you ready for all this tastiness?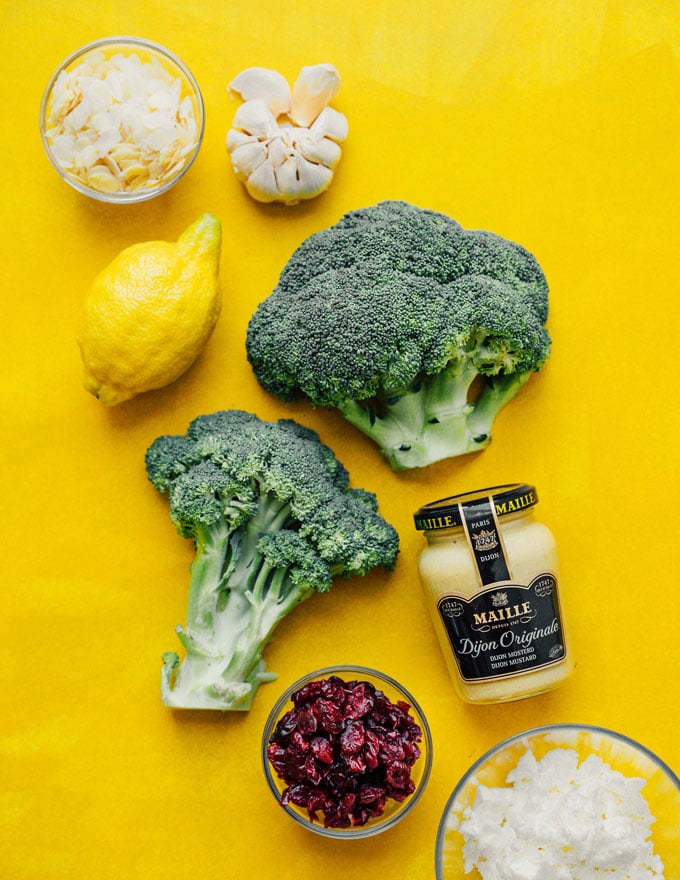 LET'S MAKE SOME HONEY MUSTARD DRESSING!
Before we get to making the broccoli salad, I like to get the dressing finished first. This Honey Mustard Dressing is rich and velvety (without any cream). The secret? Mustard!
Maille Dijon Originale works as an emulsifier, binding together the oil and lemon juice to create a smooth and silky sauce that will go perfectly with this broccoli salad. (BTW this dressing also goes with just about everything else you throw on the BBQ this summer. Basically Maille Dijon Originale is your BBQ best friend.)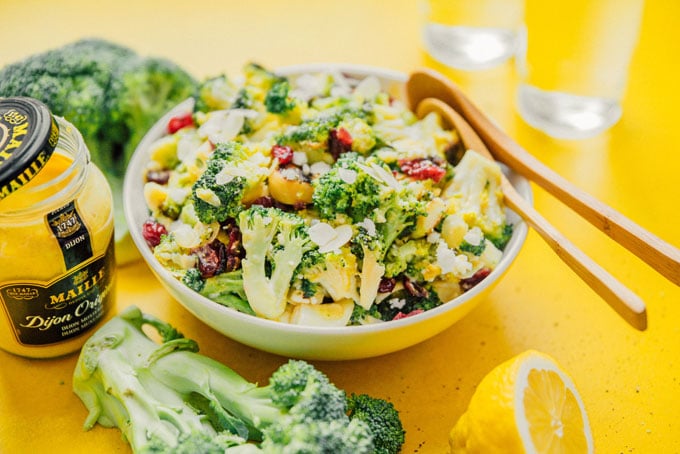 INGREDIENTS TO MAKE THIS GRILLED BROCCOLI SALAD
Broccoli: The broccoli will become slightly charred and tender, making this salad so tasty (while keeping it healthy too!)
Dried Cranberries: Cranberries add a nice bit of sweetness to the mix. You can substitute them with raisins if desired.
Feta Cheese: Feta adds some creamy tang. You can omit if needed for a dairy-free option.
Slivered Almonds: Finish it off with slivered almonds for a bit of crunch! You can also use roughly chopped whole almonds, or another nut/seed (walnuts, pumpkin seeds, and pine nuts would all be great).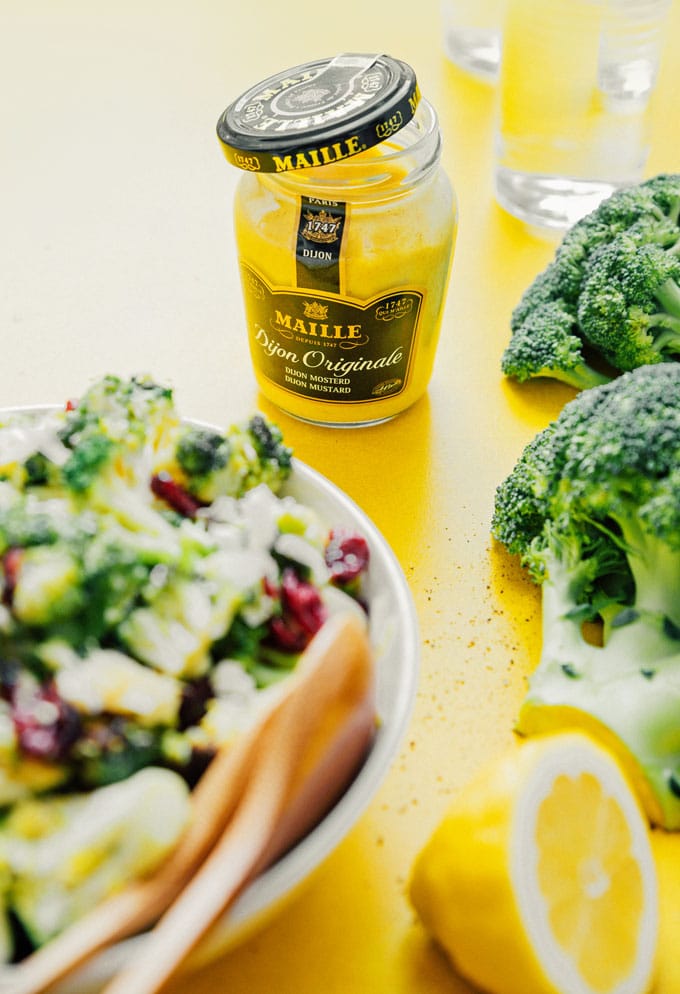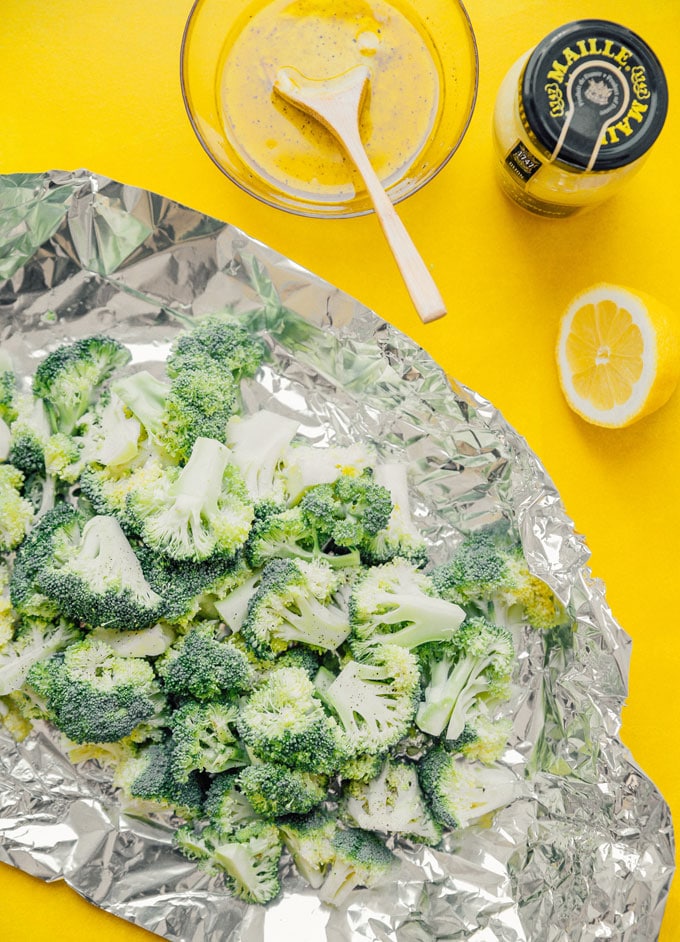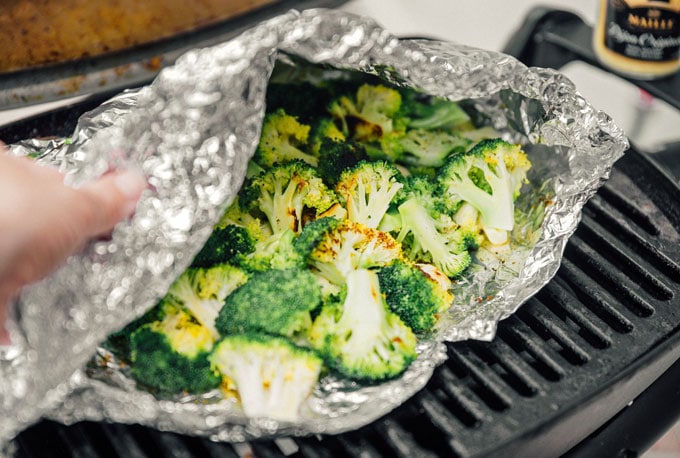 HOW TO GRILL BROCCOLI
It's easy to forget a healthy veggie side dish when you're grilling this summer, but fortunately broccoli is so easy to grill! To grill broccoli, simply cut it into florets, drizzle with olive oil, then wrap in aluminum foil.
Grill over medium/high heat for 5 minutes, flip the whole aluminum foil packet, then grill for another 5 minutes on the other side. The result is perfectly tender, slightly charred broccoli that's perfect on its own or in a dish (like this salad!)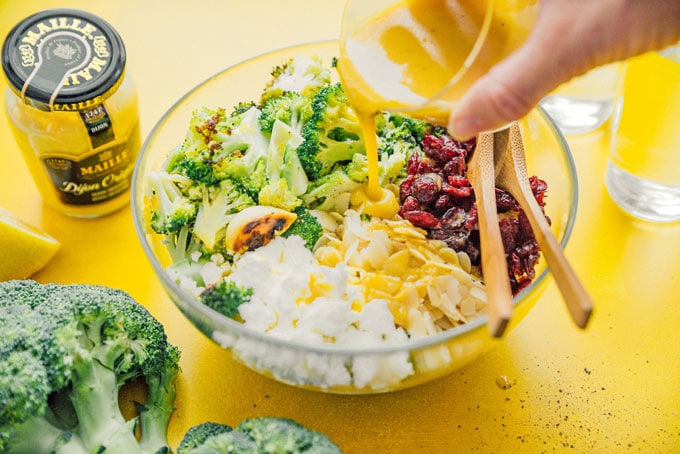 Our friends at Maille are giving away a $500 grilling makeover! Be sure to enter just in time for summer.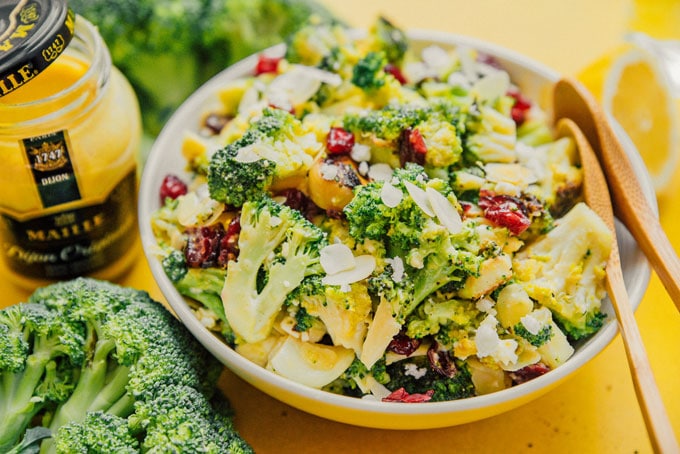 Grilled Broccoli and Honey Mustard Sauce
Ingredients
Honey Mustard Dressing
2 Tbsp Maille Dijon Originale 30 g
2 Tbsp olive oil 30 mL
2 Tbsp fresh lemon juice + 1 tsp zest 30 mL
1 Tbsp honey 15 g
Salt and pepper to taste
Broccoli Salad
1 head broccoli
4 cloves garlic
1 Tbsp olive oil 15 mL
¼ cup dried cranberries 40 g
¼ cup crumbled feta cheese 40 g
¼ cup slivered almonds 40 g
Instructions
Dressing: Whisk together all Honey Mustard Dressing ingredients until smooth. Taste and adjust seasonings as needed.
Prep: Chop broccoli into florets, then set on a large sheet of aluminum foil. Throw on the garlic (peeled but not minced) and drizzle with oil. Cover with more foil and pinch together to form a sealed pouch.
Grill: Set broccoli pouch flat on a heated grill set to medium/high heat. Cook for 5 minutes, flip, then cook another 5 minutes. Broccoli should be tender with a few slightly charred spots.
Assemble: Roughly chop broccoli into bite-sized pieces, then mix together with cranberries, feta, and almonds in a large bowl. Toss with half of the Honey Mustard Dressing, taste, and add more dressing as desired.