Castello Summer of Blue — Grilled Blue Cheese and Arugula Pita with Peaches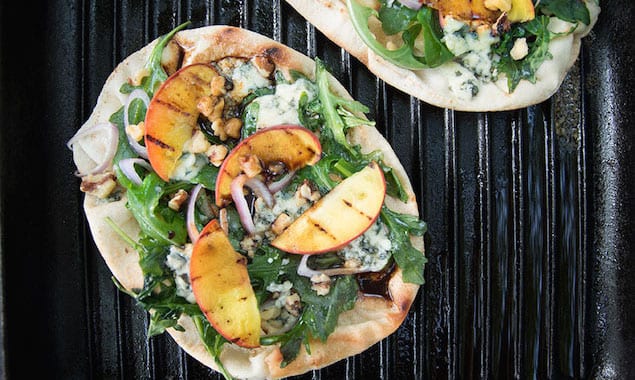 PARTNER POST – Get inspired with creatively crafted Castello Blue Cheese as we celebrate a Summer of Blue with #BluesdayTuesday.
Drizzled with vinegar, these pitas are topped with grilled peaches, creamy blue cheese, and crunchy walnuts for an easy and delicious appetizer or lunch.
By Justine Dungo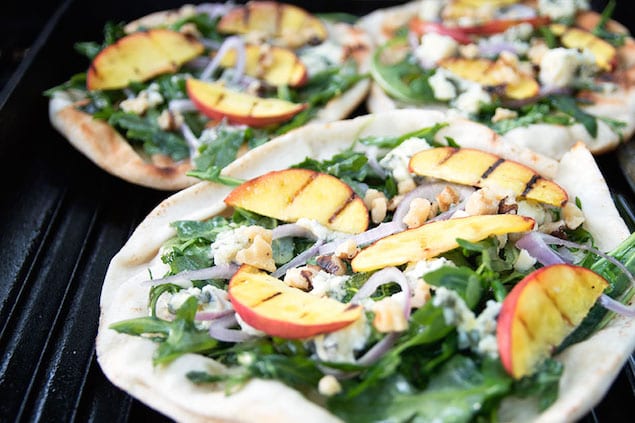 One of my favorite things about summer is being able to cook outdoors. This time around we set up a stove top and used a cast iron griddle to make these tasty flatbreads. It was the perfect snack for in between lunch and dinner. They are also simple to make, all you need is a grill or grill top and a handful of ingredients.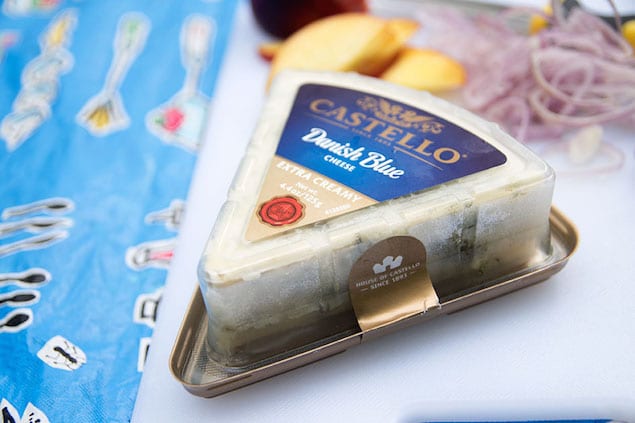 We used pita bread as the base and toasted it on the grill top to give it a little crunch. I absolutely love cheeses with distinct flavors so I chose to use Castello's extra creamy Danish Blue. I like the consistency of this cheese because it gets fairly soft and the flavor has just the right amount of strength.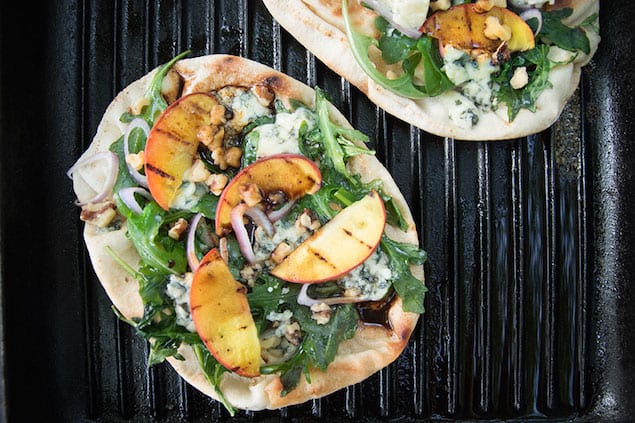 I then chose ingredients that paired well with blue cheese: arugula, grilled peaches, sliced shallots, walnuts, and a drizzle of balsamic fig vinegar. The juicy peaches were great for the warm weather and paired nicely with the Castello cheese.
What toppings would you use?
Castello Summer of Blue — Grilled Blue Cheese and Arugula Pita with Peaches
Drizzled with vinegar, these pitas are topped with grilled peaches, creamy blue cheese, and crunchy walnuts for an easy and delicious appetizer or lunch.
Recipe Type:
Main, Appetizer
Ingredients
2 tbls olive oil divided
3 regular pitas
1 small peach thinly sliced
¾ cup blue cheese
1 cup arugula
¼ cup walnuts chopped
1 tbls balsamic vinegar
Instructions
Spread 1 tablespoon of olive oil on the fronts and backs of the pita bread. Place the pita bread on the grill top. Flip each pita after 2-3 minutes.
Top each pita with a handful of arugula.
Top each pita with sliced shallots.
Crumble the blue cheese onto each of the pitas. Let pitas cook on low heat for 1-2 minutes or until the blue cheese starts to melt.
Remove from grill top.
Add walnuts and drizzle each pita with balsamic vinegar. I chose to use balsamic fig vinegar for extra flavor however, any balsamic vinegar is fine.
Slice and enjoy!
Justine Dungo
Justine is a lover of treats and all things creative. She is the blogger behind Pretty in Pistachio, a blog dedicated to cooking, crafting, and entertaining. Her inspiration comes from the styles and flavors of New York City, the city she calls home. When not whipping up a sweet new recipe in her pint sized kitchen, she can be found roaming the cobblestone streets for quaint coffee shops and new brunch spots.