Cooking the Magazines: Grilled Asparagus Salad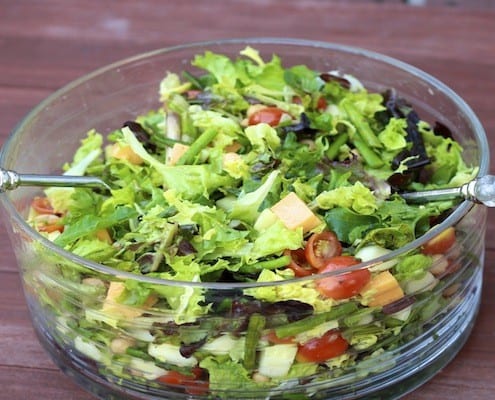 Natalie McLaury considers herself a bit of a hoarder when it comes to magazines. Never one to pass up a good deal on a subscription, it's to the point where she now finds herself receiving a magazine in the mail several times a week. Most of the time, she rips out pages of recipes but fails to actually create the recipe in her kitchen. Not anymore! Join Natalie as she cooks the magazines.
By Natalie McLaury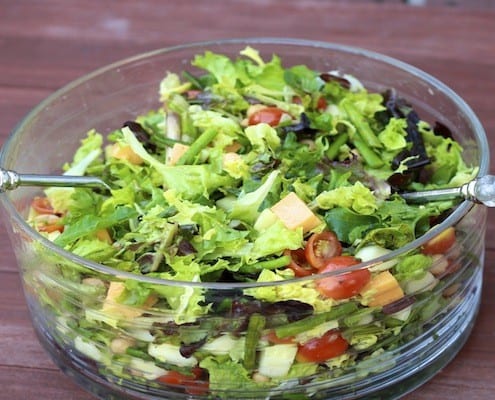 When I was in 7th grade, there was a kid, Matt, in my youth group. Problem was, I called him Mike for a good three or four weeks before he finally corrected me. Whoops. Now, more than ten years later, I think I'm finally getting the payback I deserve. At least once every couple of weeks, I get an email sent to me and addressed "Laura" or "Lauren". A far cry from Natalie! At least Matt and Mike started with the same letter! It seems people pull the "Laur" from McLaury and derive a new first name from it. I guess it could be worse, huh?, but I still shake my head every time I see "Dear Laura" at the beginning of an email.
This grilled asparagus salad goes by an accurate name–it is indeed grilled asparagus in a salad. However, I don't think the name completely encompasses all that's happening in this salad. It isn't just grilled asparagus…it also has cucumbers, tomatoes, chickpeas, kalamata olives, cheddar cheese, basil, and a citrusy vinaigrette to top it off. Oh, and don't forget the pita chips eaten alongside!
See Also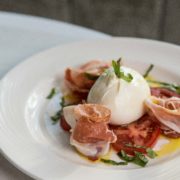 Sounds like good stuff, huh? I assure you, it is. This makes a rather large batch of salad, to serve at least 8 as a side dish. Its also hearty enough to serve as a main dish salad, and it (bonus!) requires no hot stove or oven, assuming you grill your asparagus outside.
A hearty main dish salad featuring grilled asparagus, olives, cheddar, tomatoes, and a citrus vinaigrette.
Recipe Type:
salad, main dish, entree
Ingredients
1 lb asparagus
½ cup extra-virgin olive oil, plus more for brushing
salt
freshly ground pepper
4-6 cups mixed greens
1 seedless cucumber, cut into ½-inch dice
1 pint grape tomatoes, halved
1 can drained and rinsed chickpeas
½ cup pitted kalamata olives, coarsely chopped
8 oz sharp white cheddar (I used regular cheddar), cut into ¼-inch dice
3 tbsp fresh orange juice
1 tbsp fresh lemon juice
1 tbsp red wine vinegar
2 tsp dijon mustard
1 tsp chopped basil
3 cups pita chips
Instructions
Light a grill. Brush the asparagus with the oil and season with salt and pepper. Grill over high heat, turning, until tender, about 5 minutes. Allow to cool before cutting into 1-inch pieces.
In a large bowl, toss the mixed greens with the grilled asparagus, cucumber, tomatoes, chickpeas, olives, and cheese.
In a small bowl, whisk together the orange juice, lemon juice, vinegar, mustard, and a pinch of salt and pepper. Gradually whisk in ½ cup olive oil until emulsified. Add the basil. Pour the dressing over the salad and toss. Serve with pita chips.
Notes
from Food & Wine Magazine July 2012
Natalie McLaury
Natalie McLaury is a St Louis based food writer with a passion for real food and experimenting in the kitchen. Her cooking ranges from healthy three course meals to decadent desserts, and she shares many of her food tips and recipes on her successful The Sweets Life blog . As an avid runner and fitness expert, she also gives the occasional tips on how to combine a serious interest in health with a sweet tooth.