PARTNER POST — Grilling season is here and it is time to explore Italian grilling with authentic ingredients from Colavita.
Conquer pizza on the grill with a perfect homemade crust for the barbecue dressed in classic margarita toppings or a spring pie with arugula and ricotta.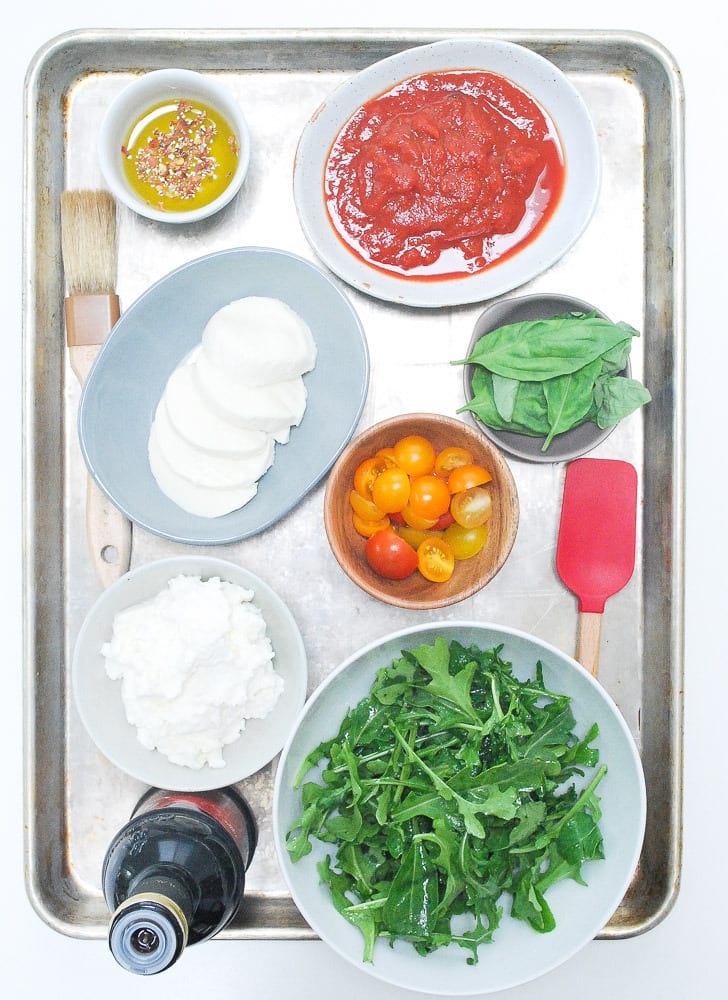 I don't care how good of cook you may be. Grilling pizza for the first time is SCARY! BUT, I'm so glad I did it, because not only is it easy, but it's AWESOME.
Thanks to Colavita and their amazing products, I was able to successfully grill homemade pizza. Two ways!
Which obviously means I get to eat two pizzas. That equals a good day in my book.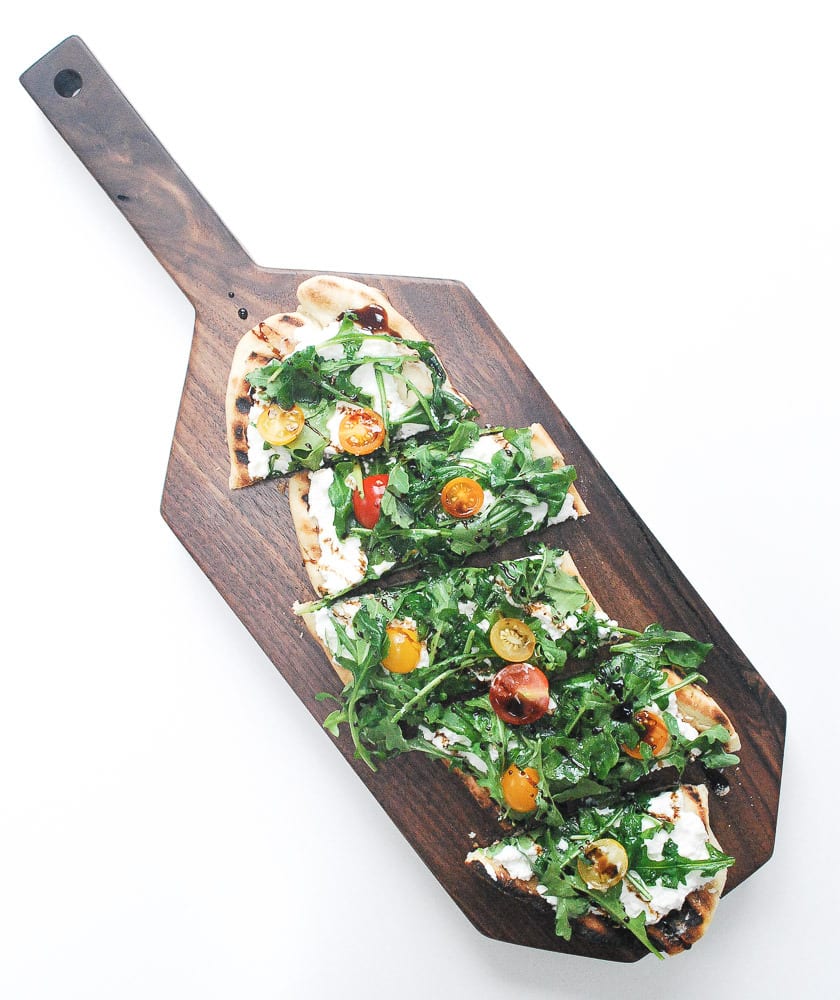 I'll be honest with you. I haven't been wildly successful with homemade pizza dough in the past. It's either too thick, too thin, too soft, or too crunchy. Finally, I think I've nailed it.
Plus, how cool do you feel when you make and shape your own dough? Well, I feel pretty cool.
Let me tell you the secret to grilling pizza.
Have ALL of your toppings prepared ahead of time and handy. This is a must!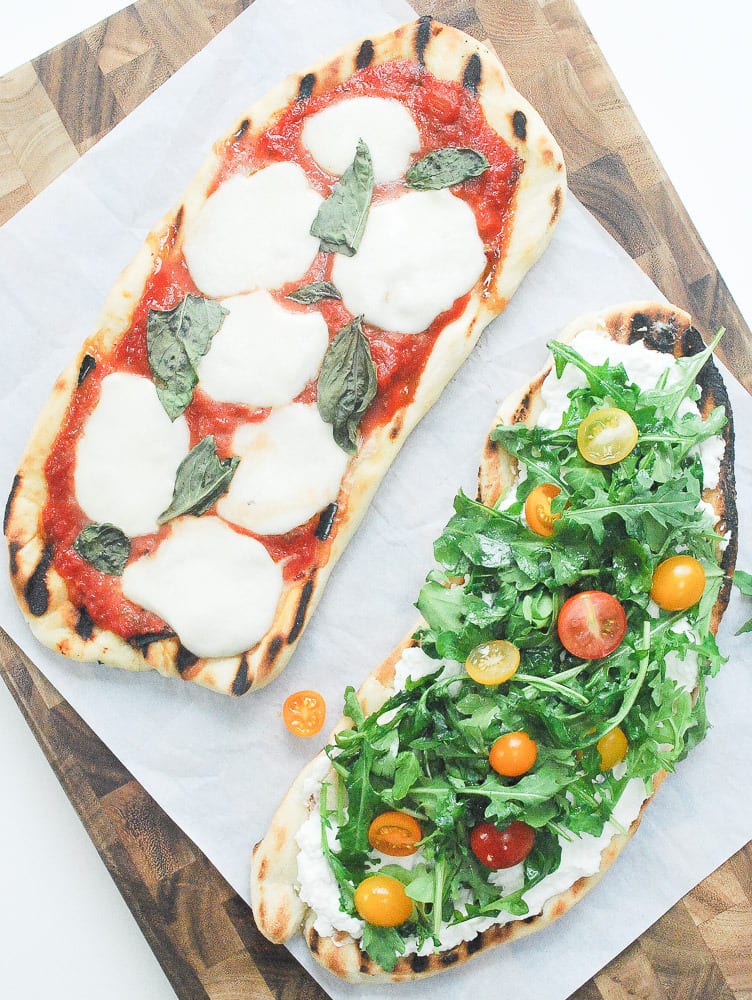 You gotta work fast, but once you get the hang of it, it's a piece of cake. Well, actually it's a piece of pizza.
See Also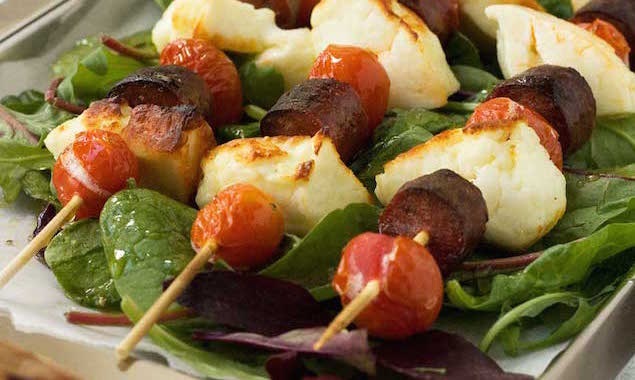 When it comes to pizza, or food in general, I'm all about simplicity. Good quality, fresh ingredients go a long way. So for me, I had to make a classic pizza margarita.
And to mix things up a bit, I also did a ricotta pizza topped with fresh arugula and mini heirloom tomatoes.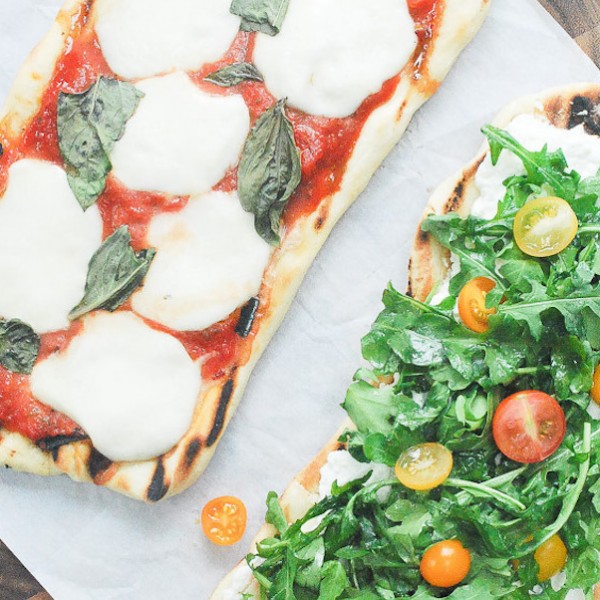 Laney Schwartz
Ingredients
For the dough
1 1/2

teaspoons

sugar

1 1/2

cups

warm water

1

teaspoon

active dry yeast

1/4

cup

Colavita organic extra virgin olive oil

5

cups

Colavita fine Italian "00" flour

2

teaspoons

salt
Margarita Pizza Toppings
2

tablespoons

Colavita garlic olive oil

1/2

teaspoon

red pepper flakes

1/4 - 1/2

cup

Cirio crushed tomatoes with basil

enough to cover the pizza

6-8

slices

of fresh mozzarella

about 4 ounces

Fresh basil
Ricotta/Arugula Pizza Toppings
1/2 - 3/4

cup

whole milk ricotta cheese

2

tablespoons

Colavita white balsamic vinegar

2

tablespoons

Colavita organic olive oil

1/4

teaspoon

salt

1

teaspoon

fresh lemon juice

1

cup

arugula

1/4

cup

halved mini heirloom tomatoes

Colavita balsamic glace
Instructions
For the dough
In a large mixing bowl dissolve the sugar in the warm water. Pour yeast into the water and let it stand for 10 minutes. Stir in the oil, then add the four and salt. Using a spatula, stir until dough begins to form.

On a well floured surface, knead the dough by hand for 8 minutes, adding more flour if necessary. The dough should feel soft and smooth.

Cut the dough into 4 equal parts. Lightly oil a baking dish, and place each ball of dough in the dish and put in the fridge overnight or up to 24 hours. If you want to freeze any of the dough at this point you can wrap in plastic wrap, then wrap with foil and freeze up to 3 months.
To Grill Pizza
Spray the grill with cooking spray. Preheat the grill for 10-15 minutes on high. Once preheated, create one side of the grill that is indirect heat by turning off the flames on that side. Have your toppings close by.

Using your hands, lightly pull and stretch the dough, letting gravity do most of the work. Once dough is big enough, gently drape it over your fists and carefully stretch dough until it's the size and thickness you desire.

Place dough onto direct heat, close the lid and grill for 1-3 minutes. Use tongs to flip onto the indirect heat side.

Quickly add toppings. Brush dough with garlic olive oil, sprinkle with red pepper flakes, spread crushed tomatoes, and top with fresh mozzarella slices and basil. Close grill and cook for another 2-3 minutes until cheese is melted.

Repeat steps 2 and 3 with a new pizza dough. Quickly spread a layer of the ricotta cheese on the dough, close the grill and let cook for another 2-3 minutes. In a small bowl whisk together the white balsamic vinegar, olive oil, salt, and lemon juice. Toss with arugula. Once pizza is cooked remove from grill and add the dressed arugula, tomatoes, and a drizzle of the balsamic glace.
Notes
*Every grill is different. So times may vary depending on how hot your grill gets.
* I froze the other two pizza doughs for later.
Laney Schwartz
Laney spends her time being a home cook, mom, wife, workout junkie, and ultra crazy food lover.