Grill Like an Italian with Colavita: Parrilla Mixta Italiana
PARTNER POST — Grilling season is here and it is time to explore Italian grilling with authentic ingredients from Colavita.
Argentina's parrilla receives an Italian twist as the steak and chicken is marinated with Italian seasonings and capers, Italian olive oils, and vinegars are included in the flavorful chimichurri.
By Becky Winkler
Click here to start grilling like an Italian and for a $1 off Colavita products or 15% off at their online store.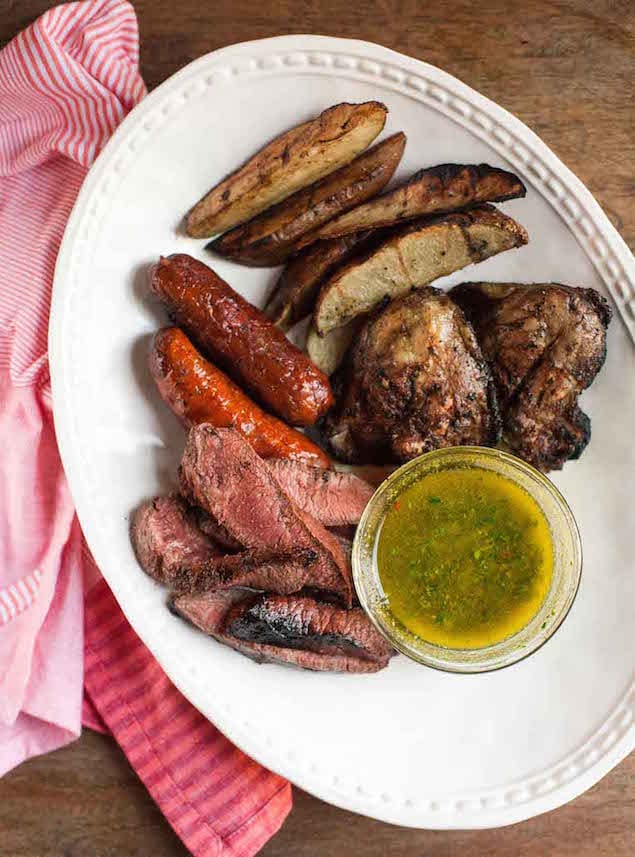 To me, a mixed grill is the epitome of summer eating. When I spent a semester in Buenos Aires during college, I loved to go out with friends and order a parrilla mixta, which usually consisted of grilled steak, chicken, chorizo, and often organ meats as well, with a big bowl of herby chimichurri sauce and an even bigger bowl of french fries on the side. Add a bottle of wine and you have yourself one happy evening!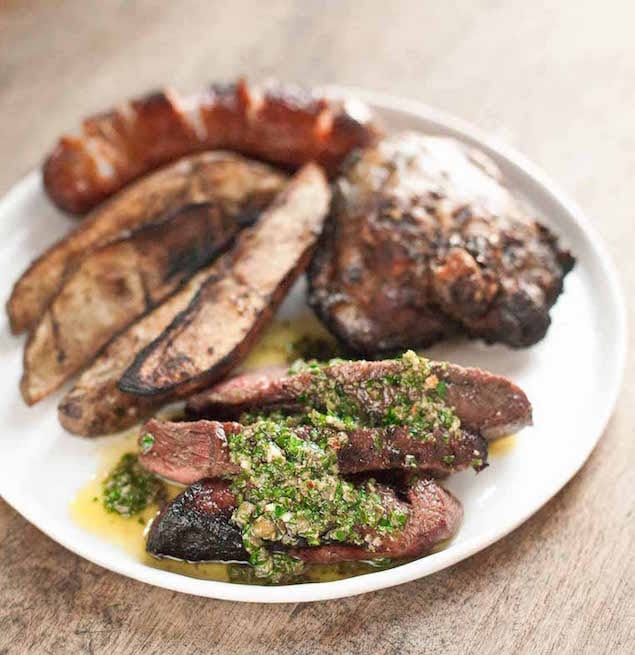 I don't know why it took me so long to recreate a parrilla mixta at home, but when Colavita asked me to write a post on the theme of Italian summer grilling, this was the first thing that came to mind.
Here I've given the Argentine parrilla an Italian twist, marinating the steak and chicken with Italian seasonings and adding capers to the chimichurri. Argentine cuisine is heavily influenced by the food of Italy to begin with–even the Spanish spoken in Buenos Aires sounds uniquely reminiscent of Italian–so Colavita's oils and vinegars work really well with all the components of this South American meal.
See Also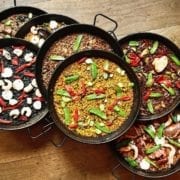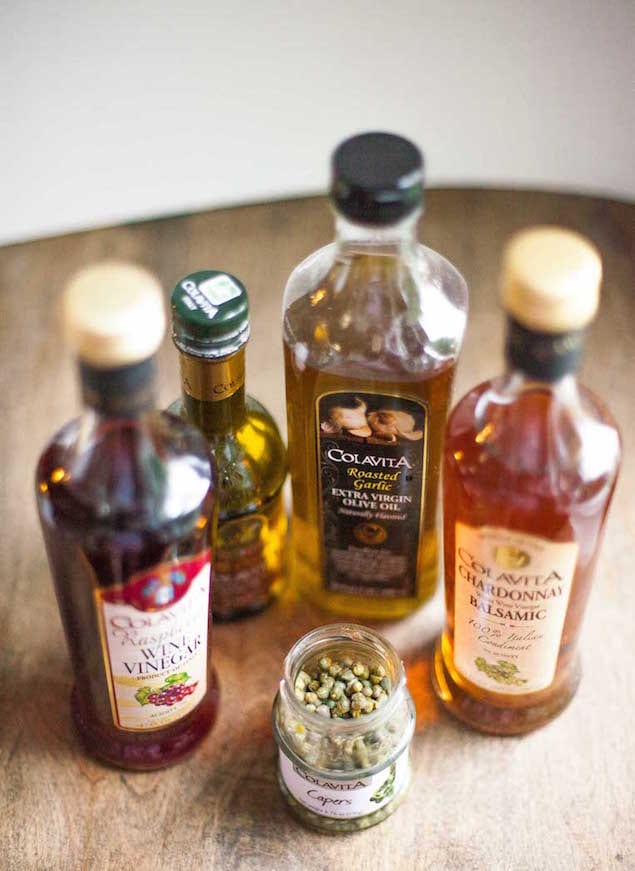 In attempts to make this a pure grill fest, with no stovetop cooking required at all, I grilled the potato wedges as well, and they were a huge hit: crisp on the outside and creamy in the middle, and with a smoky flavor no oven fry could even hope for. And while the chimichurri is designed as a sauce for the steak, it's pretty irresistible as a dip for the grilled potato wedges.
This parrilla mixta would be perfect for a Memorial Day barbecue, July 4th, or any special occasion this summer. And, of course, you don't have to go all out and make steak, chicken, sausage, and potatoes–even just the steak and potatoes would make a memorable meal! I have to ask though, that you please don't skip the caper chimichurri. It brightens up everything, and is super simple to make.

Grill Like an Italian with Colavita: Parrilla Mixta Italiana
Parrilla gets Italian flair of meats marinated in Italian seasonings and capers, Italian olive oils, and vinegars mixed into flavorful chimichurri.
Cuisine:
Italian-Argentine Fusion
Ingredients
For the steak:
3 tablespoons Colavita extra virgin olive oil
2 tablespoons Colavita raspberry wine vinegar
2 tablespoons lemon juice
1½ teaspoons honey
½ teaspoon sea salt
Freshly ground black pepper
1 to 1½ pounds flank steak
For the caper chimichurri:
⅔ cup lightly packed fresh parsley
2 tablespoons lightly packed fresh oregano
1 clove garlic, crushed
2 tablespoons drained Colavita capers
¼ teaspoon crushed red pepper flakes
1 tablespoon Colavita chardonnay white wine vinegar balsamic
1 tablespoon lemon juice
½ cup plus 2 tablespoons Colavita extra virgin olive oil
Sea salt and freshly ground black pepper, to taste
For the chicken:
1 teaspoon dried oregano
½ teaspoon garlic powder
½ teaspoon bittersweet smoked paprika
½ teaspoon sea salt
Freshly ground black pepper
1 tablespoon Colavita roasted garlic olive oil
4 bone-in, skin-on chicken thighs
For the grilled potato wedges:
4 large Russet potatoes, cut into 8 wedges each
½ teaspoon sea salt
Freshly ground black pepper
¼ cup Colavita roasted garlic olive oil
4 links fully cooked chorizo sausages
Instructions
To make the marinade for the steak, whisk together all the ingredients in a large bowl. Add the steak and toss to coat. Cover and refrigerate for at least 2 hours, or longer for even better flavor. Let the steak sit out at room temperature for 30 minutes before grilling.
To make the chimichurri, pulse the parsley, oregano, garlic, capers, and red pepper flakes in a food processor until finely chopped. Add the vinegar and pulse again. With the processor running, add the olive oil in a steady stream. Chimichurri can be made ahead of time and stored in the refrigerator for up to two days. Bring to room temperature before serving.
To prepare the chicken, mix the oregano, garlic, paprika, salt, pepper, and olive oil in a small bowl. Rub the mixture evenly onto the chicken.
To prepare the grilled potato wedges, toss the potatoes in a large bowl with the salt, pepper, and olive oil.
When you are ready to cook, prepare a charcoal grill for direct heat cooking in the middle by placing most of the coals there, so the edges will be cooler. When the grill is ready, place the chicken in the middle, skin side down, and cook for 3-5 minutes. Move the chicken to the edge of the grill, still skin side down, and cook for 10 more minutes. Flip and cook for 15-20 minutes, or until the chicken is fully cooked (it should register 165 on a meat thermometer). Transfer to a plate and cover with foil.
As soon as you move the chicken onto the edges of the grill, place the potato wedges in the middle (depending on the size of your grill, you may have to cook these in two batches). Grill for about 3 minutes per side to get some good grill marks, then move the potatoes to the edges of the grill and cook for about 10 minutes longer, until tender and cooked through. Transfer to a plate and cover loosely with foil until ready to serve.
Once the potatoes have moved to the edges of the grill, add the chorizo to the center. Grill for about 5 minutes per side, until charred to your liking, and then transfer to a plate and cover to keep warm.
Pat the steak dry and add it to the center of the grill. Grill for about 5 minutes per side for medium rare, or until cooked to your liking. Transfer to a plate, cover loosely, and let rest for at least 5 minutes. Slice against the grain.
Serve the steak, chicken, chorizo, and potatoes hot with the chimichurri spooned on top or in little bowls for dipping.
Becky Winkler
Becky Winkler is an enthusiastic eater who shares paleo and gluten-free recipes on her blog, A Calculated Whisk. She enjoys chopping chocolate, salting dessert, searing short ribs, and taking pictures. In her other life, she's a grad student in Boston.