PARTNER POST — Grilling season is here and it is time to explore Italian grilling with authentic ingredients from Colavita.
Grilled polenta slices add smokiness to arugula, creamy burrata and a tomato-caper salad. This flavorful side is sure to be a backyard classic.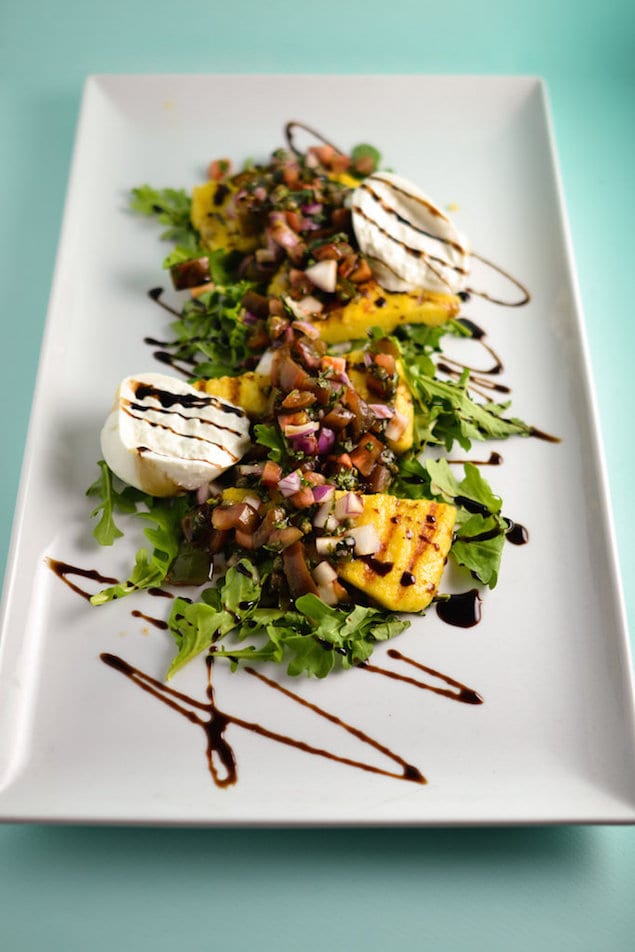 One of my favorite summertime activities is throwing impromptu BBBQs. I'm talking about those warm weekends where you realize you have nothing to do and neither do your friends. Mass texts are sent, side dishes are coordinated, and you end up with a backyard full of people and food. There are always brats on the grill (after all, I do live in Wisconsin), varieties of potato and pasta salads, corn on the cob, and good beer.
The first one of these is coming soon this year, I can feel it, and in preparation I've been dreaming up my ideal cookout menu.
To be included for sure this year is this grilled polenta salad with burrata. I teamed up with Colavita, a producer of some of the best olive oils and vinegars from Italy, to create an Italian summer grilling meal you'd be proud to share with friends.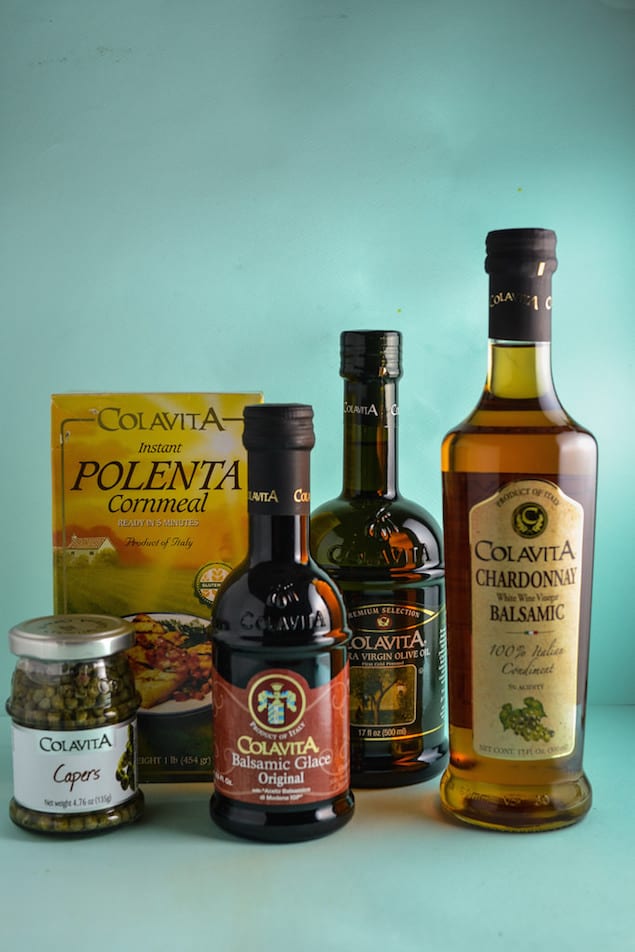 You'll start by cooking instant polenta, which only takes 5 minutes (instead of the 40 minutes you'd need to cook it from scratch). I'm usually a purist when it comes to this kind of stuff, but for this recipe, the instant version is better since you'll want it to set before you grill it and not be in its creamy form. Besides, it's summer, and even I don't want to be stuck in front of the stove stirring when I could be enjoying sunshine and cocktails.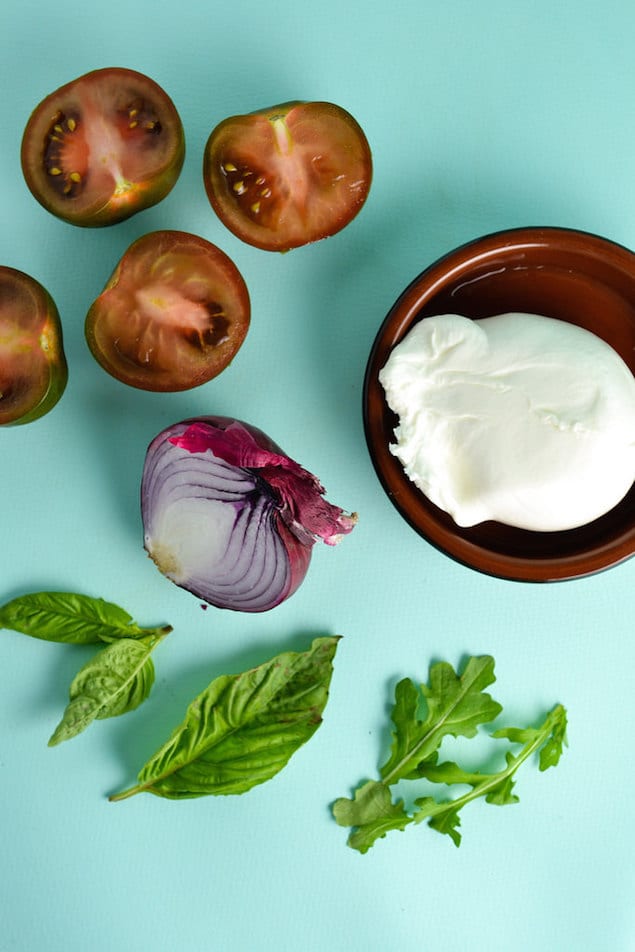 While the polenta is cooling down, you'll toss together the tomatoes, red onion, capers, and basil in a simple vinaigrette dressing and let that sit so you can get your grill ready.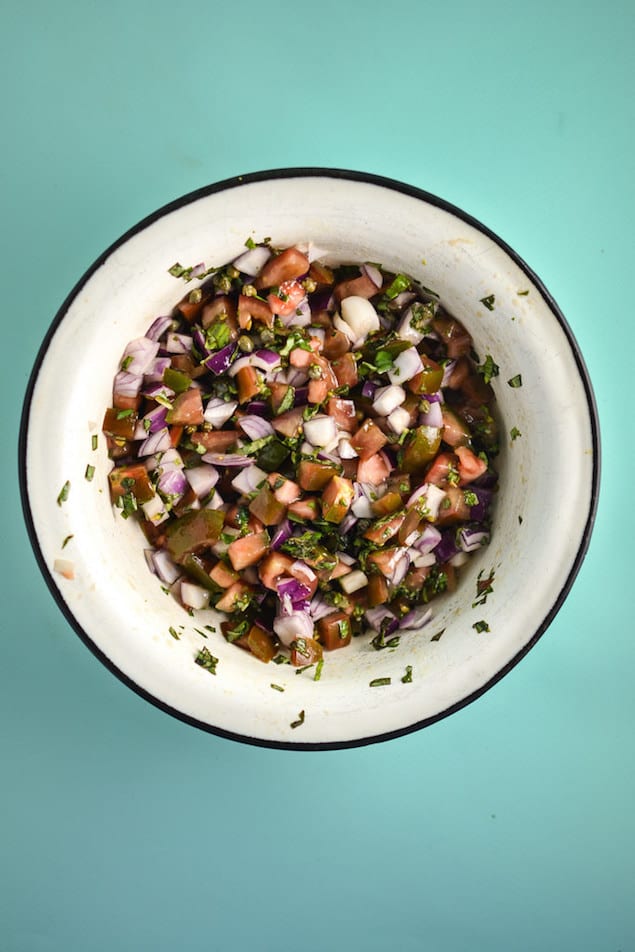 Once the polenta is cooled, you'll be able to slice it into wedges, brush them with olive oil, and toss it on the grill. It'll only take a couple minutes to get those beautiful grill marks, so don't get too distracted.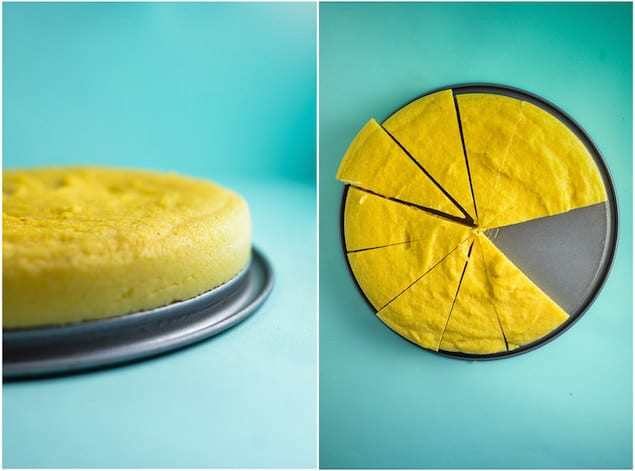 Then, right when you're ready to eat, you'll pull it all together. Throw down some arugula, add those grilled polenta wedges, and top with your vegetables. Then, of course, come the finishing touches that make this salad worthy of a spot on your cookout table: fresh burrata cheese for some creaminess and a balsamic glaze adding just a touch of sweetness to the dish.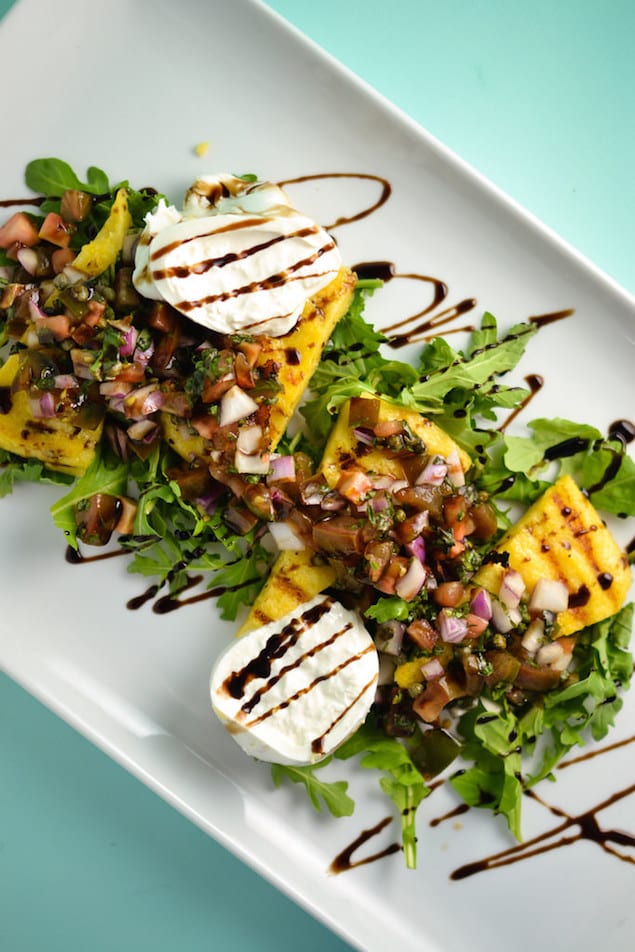 The salad is fresh, simple, and elegant all at the same time.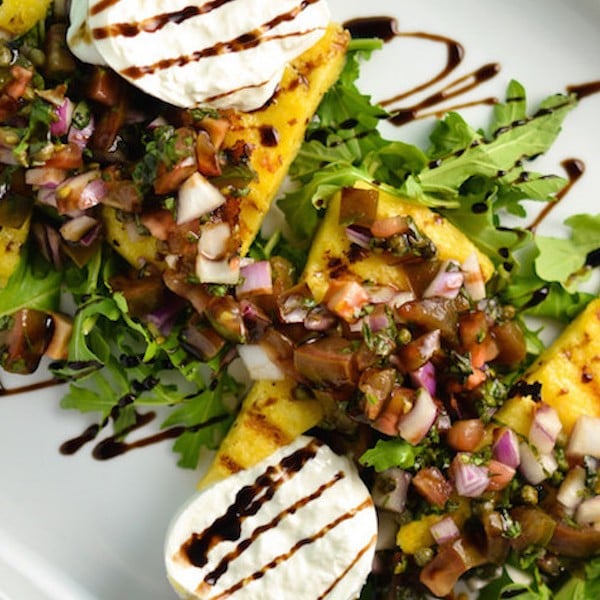 Vicky Cassidy
Course
Insalata, Primi, Side
Ingredients
2

cups

water

2

cups

2% milk

1

teaspoon

salt

1

cup

Colavita Instant Polenta Cornmeal

4

medium tomatoes

chopped

1

small red onion

chopped

¼

cup

basil

chopped

2

tablespoons

Colavita capers

2

tablespoons

Colavita Extra Virgin Olive Oil

plus more for grilling

1

teaspoon

Colativa Chardonnay White Wine Vinegar

salt and pepper to taste

handful of arugula

8

ounces

burrata

Colavita Balsamic Glace to drizzle
Instructions
In a medium saucepan over medium heat, bring water, milk, and salt to a simmer. Gradually whisk in cornmeal, making sure no clumps form. Cook for about 5 minutes, stirring occasionally, until cornmeal is cooked. Remove from heat, pour cornmeal into a 10 inch round pan and smooth out the surface with a rubber spatula. Let polenta cool to room temperature, then transfer to refrigerator for at least 2 hours.

In the meantime, mix together tomatoes, red onion, basil, and capers. In a small bowl, whisk together olive oil and vinegar. Pour over tomato mixture and toss to coat. Salt and pepper to taste and set aside.

Prepare grill or grill pan on stove top. Cut polenta into 12 even wedges and brush both sides with olive oil. Grill for 3-5 minutes per side, until polenta is golden brown.

On a large serving platter, scatter some arugula. Add grilled polenta wedges, then top with tomato mixture and burrata. Drizzle balsamic glace over dish. Serve immediately.
Vicky Cassidy
Vicky Cassidy can usually be found in her Madison, WI kitchen with cumin or paprika in her hair and olive oil smudges on her camera. She is a self-taught cook and the occasional baker, and she loves oversharing stories about her kitchen and life on Things I Made Today.