PARTNER POST — Grilling season is here and it is time to explore Italian grilling with authentic ingredients from Colavita.
Eggplant and sourdough are perfect candidates for the grill and add great smokey flavor to a black rice salad full of eggplant, artichoke hearts, and sun-dried tomatoes with a beautiful tomato and basil stack.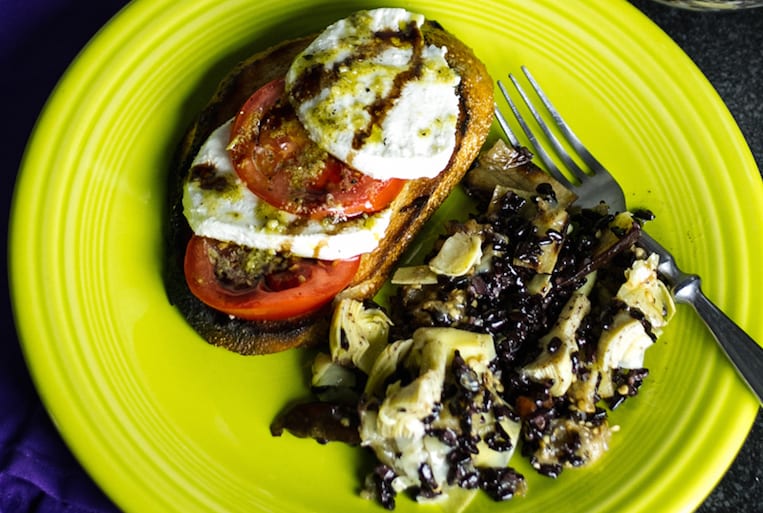 It won't be summer for another month, but here in Tennessee it's been feeling like summer for a couple of weeks. The temperature has been above 80 degrees, reaching 90 on some. And I am completely okay with that.
Because it's so hot around here, we like to avoid heating up our house by turning on the oven. Once the mercury goes above 80 degrees, I only turn my oven on if I have to bake something that I can't fit in my countertop oven. My summer cooking is done on the grill….especially when it involves Italian summer grilling with Colavita.
There's just something about the flavor of food off the grill that makes me crave summer. You can eat the same food week after week and never get excited about it…then put it on the grill and see it in a whole new light. When Colavita sent me a giant box of their amazing products to use to develop some Italian summer grilling recipes, I practically turned cartwheels!
Looking at bottle after bottle of high quality olive oil, vinegar, and vinegar glacé (reduction) plus pesto, sun-dried tomatoes, capers, black rice, pasta, salt and pepper, and 00 flour (superfine flour that I have never seen here in the U.S.), I decided that those ingredients to me said vegetarian grilling. Eggplant and sourdough bread seemed like perfect candidates to go on the grill, and nothing sounded better to me than a rice salad coupled with a beautiful tomato and basil stack on that grilled sourdough. I could have eaten that grilled sourdough all on its own, and the rice salad-full of eggplant, artichoke heart, and sundried tomatoes-was even better after a day or two reheated and topped with a fried egg. And I'm so excited to find even more uses for all of my Colavita products!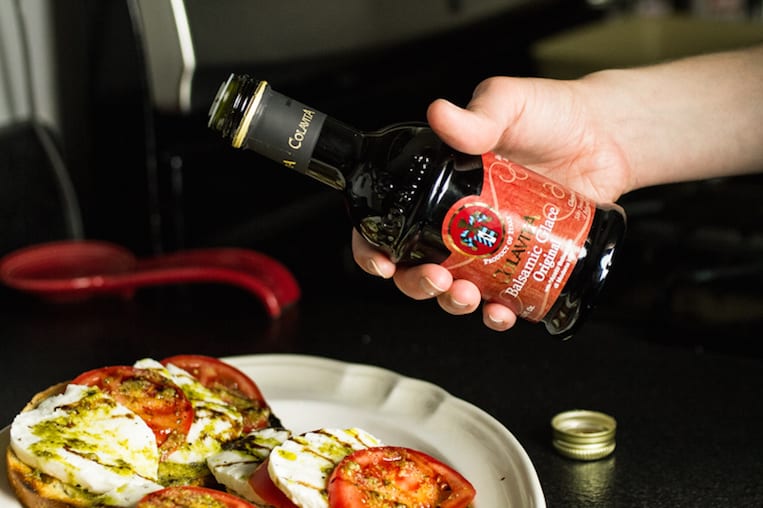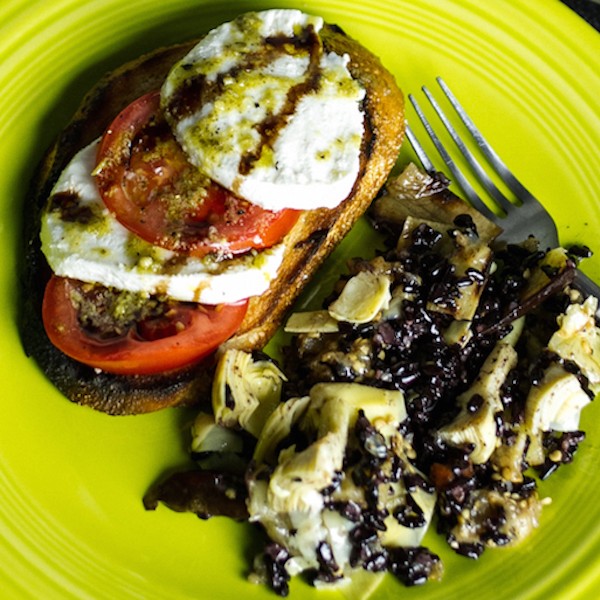 Mary Haymaker
Course
Antipasto, Primi, Vegetarian
Ingredients
For the Salad
1

large eggplant

2

teaspoons

salt

plus more to taste

1/4

cup

Colavita extra virgin olive oil

divided

black pepper

1 14.5

ounce

can artichoke hearts

well-drained and coarsely chopped

1

pouch Scotti 5-Minute Black Rice

cooked according to package directions

1/4

cup

[Colavita sun-dried tomatoes packed in olive oilhttp://store.colavita.com/specialty-items/vegetabes/sundried-tomatoes-9-8-oz.html]

coarsely chopped

2

tablespoons

Colavita white balsamic vinegar
For the sourdough Caprese stacks
4

large slices sourdough bread

2

tablespoons

Colavita garlic olive oil or unflavored extra virgin olive oil

1

large tomato

thinly sliced

4

ounces

fresh mozzarella

thinly sliced

2

tablespoons

Colavita extra virgin olive oil

2

tablespoons

Colavita pesto sauce

2

teaspoons

Colavita balsamic glacé
Instructions
Slice the eggplant into 1/4 inch thick slices. Sprinkle both sides of the eggplant with salt and place on a cooling rack over a sink. Allow to sit for 30 minutes. Rinse the salt off and pat the eggplant slices dry with paper towels.

Preheat the center burners of a grill over medium-high. Brush the eggplant slices with two tablespoons of the olive oil and sprinkle with salt. Place on the grill over direct until tender, about five minutes on each side. While the eggplant is cooking on the first side, brush the sourdough slices with the garlic olive oil. When you turn the eggplant, place the sourdough over indirect heat and grill, turning once, until lightly browned on both sides.

Cut the eggplant into 1-inch cubes and toss with the black rice, artichoke hearts, sundried tomatoes, white balsamic vinegar, and remaining olive oil. Add salt and pepper to taste.

Combine the 2 tablespoons of pesto with the remaining olive oil in a small bowl. Divide the tomatoes and mozzarella among the slices of grilled bread, staggering slightly. Lightly salt and pepper then drizzle with the olive oil/pesto mixture and the balsamic glacé. Serve immediately.
Mary Haymaker
Mary Haymaker is a teacher by day and a cook, food writer, and photographer by night. She has lived in the Chattanooga, Tennessee area her entire life and is dedicated to supporting the growing local food movement there. You can read more of Mary's writing at her blog, chattavore.com.