PARTNER POST — Grilling season is here and it is time to explore Italian grilling with authentic ingredients from Colavita.
An easy weeknight meal to throw on the grill that is made with quality ingredients for flavorful chicken with a rich white wine sauce.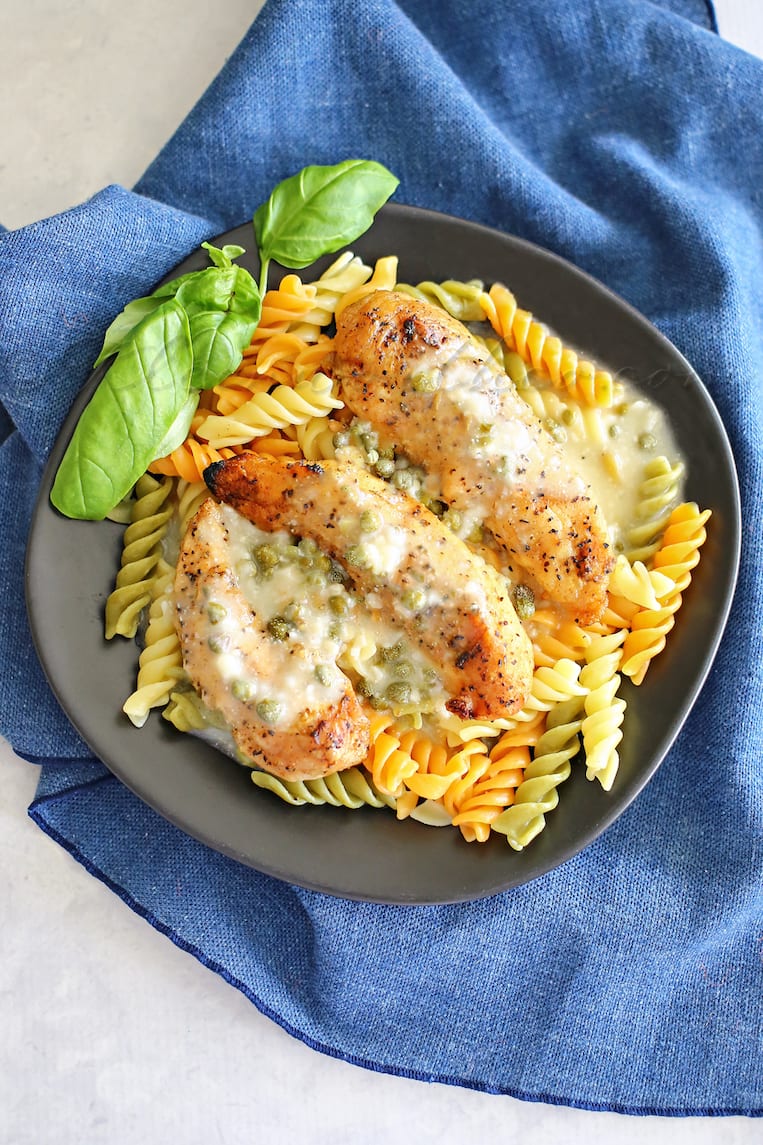 Grilled Chicken Piccata is just another one of my easy family dinner ideas that answers the question of what to make. I know you all face that question as often as I do.
With an abundance of wonderful Colavita ingredients to choose from – it was fun to come up with a great dish for dinner. I started with a few of their items paired with my grilled chicken.
Colavita was founded in the village of Sant'Elia a Pianisi, located in the Molise region of Italy, by the joining of two families. One family produced fine extra virgin olive oil from the local olives and the other milled durum wheat into semolina grain and to make fresh pasta for the village. As prominent producers in their area and with the same name, Colavita, the two became one company and today create a variety of gourmet ingredients for Italian cooking. A match made in heaven if you ask me!

A little grilled chicken with some pasta with a light sauce is my idea of a perfect summer dish. I love creating recipes to wow my guests. When they are asking for the details on how I whipped dinner together so easily I know I have a keeper.
Click here to start grilling like an Italian and for a $1 off Colavita products or 15% off at their online store.
Grill Like an Italian with Colavita: Easy Grilled Chicken Piccata
Cuisine:
Italian Inspired
Ingredients
2 lbs boneless skinless chicken tenders
Pasta
1 16 oz bag Colavita tri color fussilli
1 tbsp Colavita extra virgin olive oil
Sauce
1 tbsp Colavita extra virgin olive oil
1 tbsp minced garlic
½ cup white wine
1 tbsp Colavita fine Italian flour
1 cup chicken broth
1 tsp Colavita white balsamic vinegar
2 tbsp Colavita capers- drained
2 tbsp butter
3-4 leaves fresh basil for garnish
Instructions
Chicken
Preheat grill to 375F degrees
Grill chicken until fully cooked throughout & juices run clear
Pasta
Bring 2 qts of water & olive oil to a rolling boil in medium stockpot
Once boiling - add pasta & cook approx 9-11 minutes stirring occasionally
Remove & drain - set aside
Sauce
In a medium saucepan heat olive oil & garlic for approx 1 minute
Add wine - simmer 1 minute
Stir flour &1 cup broth together & slowly pour into saucepan
Cook & stir about 2 minutes or until thickened
Stir in white balsamic vinegar, capers & butter
To serve plate the chicken on top of a bed of cooked noodles & ladle sauce over the top
Add basil on the side