PARTNER POST — Grilling season is here and it is time to explore Italian grilling with authentic ingredients from Colavita.
Slightly charred, this grilled pizza with caramelized onions, sun-dried tomatoes, and walnuts is a culinary delight.
By Erin Rebecca
Click here to start grilling like an Italian and for a $1 off Colavita products or 15% off at their online store.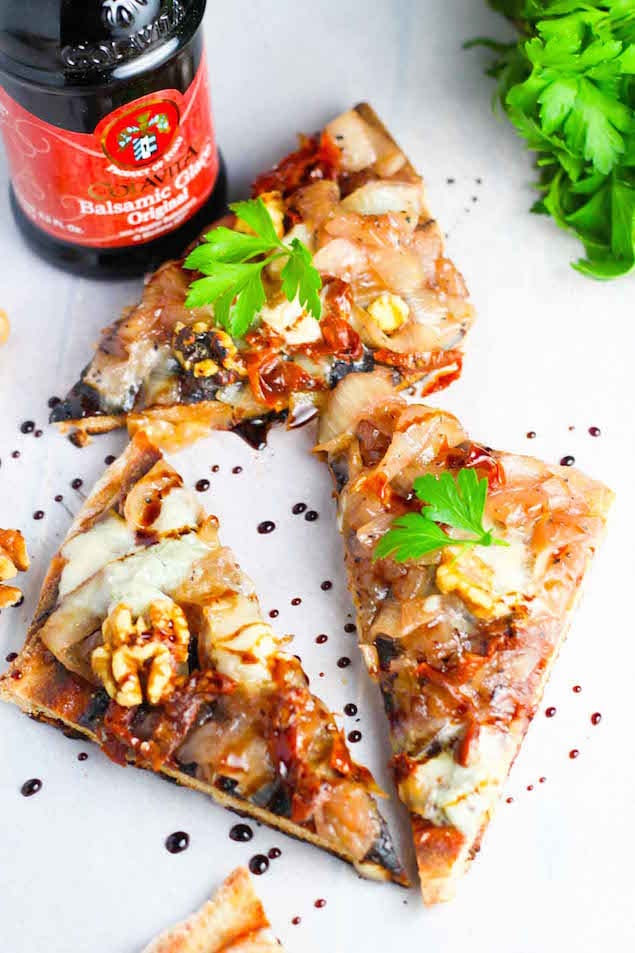 The lovely folks at Colavita challenged me to create an Italian summer grilling recipe featuring five of their fabulous ingredients. Immediately, my mind was drawn to my favorite summer grilling meal – pizza!
Cooking pizza on the grill not only keeps your house from getting overheated in the summer, it also gives you a great crispy and flavorful crust that can only be rivaled by the stone pizza ovens found in the best of pizza restaurants. Bubbly and slightly charred and completely irresistible.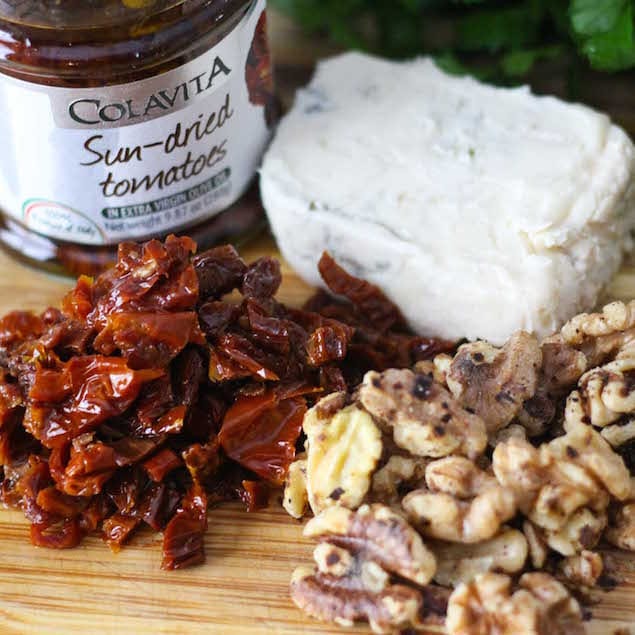 The dough comes together easily, with little prep work. It should be soft and smooth after kneading. If it's sticky, add some additional flour little by little until you can easily stretch the dough without leaving any sticky residue on your fingers. The Colavita Farina flour is great for this because it's extra fine and will really help you "fine tune" your dough. After you've got the dough into a pliable mass, cover it with plastic wrap and let it rise overnight in the refrigerator (at least 8 hours). Before cooking, you'll let it come back to room temperature on the counter. This helps make the dough easier to form.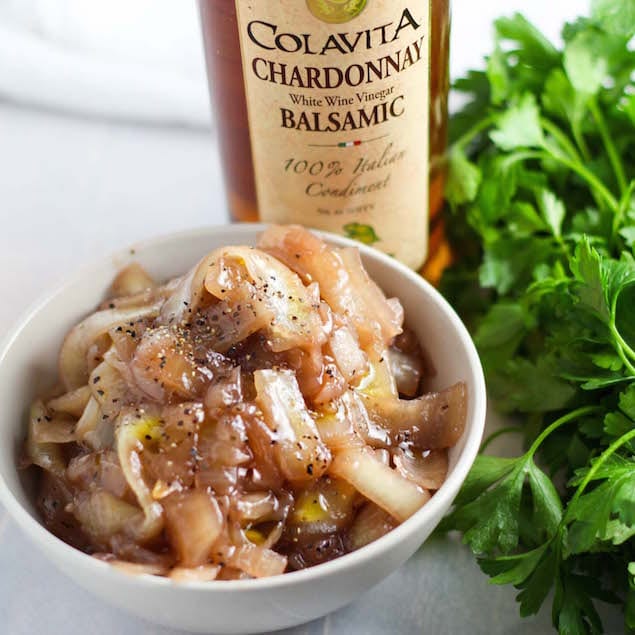 While your dough is coming back to room temperature, begin the prep work on your caramelized onions. This is a slow process, that can't be rushed. You've got to be the tortoise in this race, not the hare. It'll take about an hour to get those melty, glazed onions. However, you can be relatively hands off during this process. Just give them a good stir every now and then. I promise you won't forget about them, the amazing aroma that takes over your house will remind you… I used Colavita's Garlic Extra Virgin Olive Oil to start the process and add some additional flavor right from the outset. Once the onions get going, we'll add some Colavita Chardonnay Balsamic Vinegar. Its got a milder flavor than your traditional balsamic, reduces SO nicely, and coats those onions in a lovely shimmering glaze.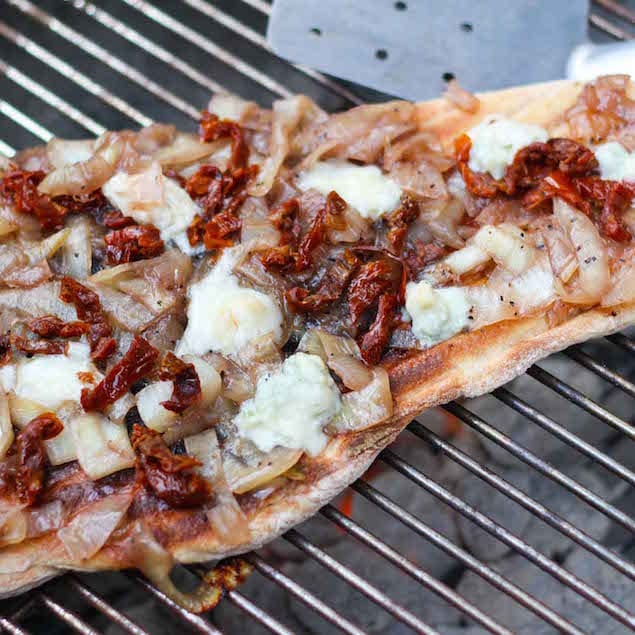 Once your dough is rolled out and ready to go, the finishing touches come together quickly. Throw that formed dough onto your hot grill and let it get crispy on one side. Once you see bubbles forming on the surface, flip it over and add your toppings. Spread on those lovely onions, sprinkle on the gorgonzola cheese, and top with some chopped sun-dried tomatoes and walnuts. Just another couple of minutes and you… are… good to go! Once off the grill, I added some chopped Italian parsley for an extra burst of fresh flavor. This final step is mandatory — Pour a glass of wine while letting the pizza cool just enough so that you don't burn the roof of your mouth and you are in pizza nirvana, on your back patio. Doesn't get much better! Cheers!
Grill Like an Italian with Colavita: Caramelized Onion, Balsamic Glace, and Gorgonzola Pizza
Slightly charred, this grilled pizza with caramelized onions, sun-dried tomatoes, and walnuts is a culinary delight.
Cuisine:
Italian-Inspired
Serves:
2, 12-inch pizzas
Ingredients
Pizza Dough
1 tablespoon instant yeast
¼ cup honey
1 tablespoon Colavita Extra Virgin Olive Oil
1 tablespoon salt
2 ½ cups Colavita Farina Di Grano Tenero flour (you may need to use more depending on how sticky the dough is)
2 ½ cups whole wheat flour
Caramelized Onions
2 tablespoons Colavita Roasted Garlic Extra Virgin Olive Oil
3 sweet onions, sliced thickly (about 5-6 slices per onion)
1 teaspoon kosher salt
freshly ground black pepper
2 Tablespoons sugar
½ cup Colavita Chardonnay Balsamic White Wine Vinegar
Toppings:
¼ cup Gorgonzola, crumbled
¼ cup chopped Colavita Sun Dried Tomatoes
⅛ cup chopped walnuts
1 tablespoon Colavita Balsamic Glace, for drizzling
¼ cup Italian parsley, chopped, for garnish
Instructions
Pizza Dough
In the bowl of an electric stand mixer fitted with the dough hook (or in a large bowl), combine the water, yeast, honey, oil and salt. Gradually add the flour until a soft dough is formed. Knead for 5-7 minutes.
Transfer the dough to a large bowl lightly greased with cooking spray. Spray the top of the dough with a light coating of cooking spray and cover with plastic wrap. Refrigerate for 8-24 hours.
Remove the dough from the refrigerator at least 2 hours prior to making the pizzas. It should be at room temperature.
Caramelized Onions
Heat oil in a large skillet over medium-low heat. Add the onions and season with salt & pepper.
Once onions are cooked down slightly add the sugar and stir to combine. Add balsamic and stir once more. Reduce heat to low and slowly cook onions, stirring every now and then, for an hour or so.
Grilling the Pizza:
Preheat your outdoor grill to medium heat for about 10-15 minutes.
While the grill preheats, grease a large baking sheet and press each piece of dough into a oval shape. Lightly brush the top of your dough with olive oil (or spray with cooking spray).
Grab two opposite edges of the dough and flip it onto your hot grill. Close the grill and let the dough cook for 2-4 minutes. The dough is ready to flip when bubbling slightly and grill marks have formed on the underside.
Using a pair of tongs, or large spatula, flip the dough over, so your grill marks are on top. Add your toppings – Spread on the caramelized onions, top with crumbled gorgonzola, sun dried tomatoes and chopped walnuts. Close the grill and let cook for an additional 2-3 minutes, until the cheese is melted. Take care to keep a close eye on the pizza so that it does not burn.
Remove your pizza to a cutting board using tongs or a large spatula. Let rest for a couple of minutes. Sprinkle on the chopped parsley and balsamic glace, then slice and serve.
Erin Rebecca
I'm Erin - a self-taught weeknight cook. I occasionally like to delve into the more complicated recipes, like homemade pasta, Cioppino, and boeuf bourguignon. But for the most part, I work full-time, come home, pour a glass of vino and start cooking away.